New information released by U.S. Customs and Border Protection reveals border apprehensions dropped in February to the lowest point in more than five years. Total apprehensions declined for the second straight month. These numbers cover the first full month since President Donald Trump was sworn in on January 20.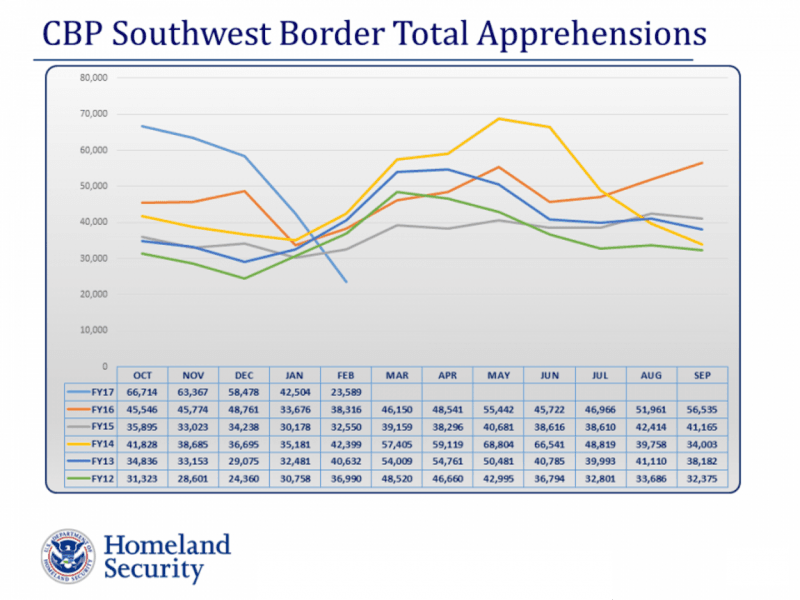 A total of 23,589 illegal immigrants were apprehended in February by Border Patrol agents between the ports of entry, according to information obtained by Breitbart Texas. The numbers represent a decline of 18,915 from January and 14,727 from February 2016.
The apprehension of Unaccompanied Alien Children (UAC) dropped by nearly 60 percent to 1,922 while Family Unit Alien (FMUA) apprehensions dropped by two-thirds to 3,124.
"The drop in apprehensions shows a marked change in trends," Department of Homeland Security Secretary (DHS) John F. Kelly said in a written statement. "Since the Administration's implementation of Executive Orders to enforce immigration laws, apprehensions and inadmissible activity is trending toward the lowest monthly total in at least the last five years."
Officials said the numbers are even more impressive when you realize the trend line normally increases from January to February. "Instead, this year we saw a drop from 31,578 to 18,762 persons – a 40 percent decline," Kelly explained.
In the three months leading up to President Trump's inauguration, CBP officials reported dramatically increasing numbers of apprehensions in all categories. Officials reported a 35 percent increase in apprehensions during the first four months of the fiscal year compared to the previous fiscal year. FMUA apprehensions increased more than 1oo percent, officials stated.
"However, since President Trump took office on January 20, we have seen a dramatic drop in numbers," the DHS secretary stated.
"As directed in my memoranda implementing the President's executive orders," Secretary Kelly concluded, "we remain committed to carrying out fair, impartial and humane enforcement of the nation's immigration laws. We will remain vigilant to respond to any changes in these trends, as numbers of illegal crossings typically increase between March and May. However, the early results show that enforcement matters, deterrence matters, and that comprehensive immigration enforcement can make an impact."
Bob Price serves as associate editor and senior political news contributor for Breitbart Texas. He is a founding member of the Breitbart Texas team. Follow him on Twitter @BobPriceBBTX.