HOUSTON, Texas — The line to get into the evacuation shelter at the George R. Brown Convention Center in Houston was long and growing, housing 10,000 and over capacity. Breitbart Texas went to the shelter and listened as people told their devastating stories. We also visited near flooded areas to capture victims being brought to safety. The photos and videos tell their story.
A now-homeless mother told Breitbart Texas that she came to the George R. Brown (GRB) Convention Center from another shelter because it was too dangerous for her and her three-year-old daughter Angel to stay there. Kristy Bell said evacuees were "crazy."
When asked to explain, Bell confirmed that people were at the shelter fighting and stealing, and there was a threat of general lawlessness. The young mother said most of the trouble-makers were from Louisiana and came to Houston during Hurricane Katrina in 2005. She said maybe they had PTSD, post-traumatic stress and were having to cope with flashbacks. In any event, she had to leave the shelter at the Turning Point Center to protect herself and her preschooler.
This mother and her daughter and three nephews told their story of waiting on a roof above flooded waters. They were trapped on the roof of her East Houston apartment at Woodforest with about 25-30 other residents.
Melissa Nelson told Breitbart Texas that the roof caved in and she and her family saw a little girl swept away in swift flood waters. A man and a woman both drowned after he tried to save her. "We seen people die. You couldn't do nothing,  you helpless because the current was so strong," she said. "Babies was dying, but there was nothing that we could do because anybody that would try to go in that water, was getting swept away."
Nelson has lost her job, her home, and she has been through this before, during Hurricane Katrina.
As we walked through the hallways of the GRB Convention Center, a four-year-old girl, Jamie, said she wanted her photo taken.
This woman, Kimberly Day, told Breitbart Texas that her neighborhood in the Fifth Ward was flooded and with many elderly people there. She said people in wheelchairs and walkers had no assistance. No one would come to the African-American neighborhood, she claimed. She argued that officials came only after looting began.
Day was very positive about the help at the George R. Brown, saying she received "excellent assistance." She got to the shelter by walking.
Fifty-six-year-old DeWayne Vergith spoke about homelessness and the problem in the city both before and after Harvey. Vergith also had very specific ideas on how to address it.
Although the stories were gut-wrenching, most everyone we talked to at the shelter was in good spirits. Survivors were grateful just to be alive, they said. They lost their property, but they still had their lives and each other.
Folks were playing music to either pass the time or to comfort those at the shelter.
Pictured are some volunteers going to their stations.
A doctor from New York flew to Houston to help take care of those at the evacuation center and was frustrated at the level of bureaucracy. He had a copy of his medical license and his qualifications could be verified online at the New York government website for licensed medical professionals. It was taking some time to get approved to volunteer. The doctor (a family practitioner) is also a retired New York Fire Department lieutenant who survived the 9-11 terrorist attack. He said he experienced the help that poured into his city after the attack and this is his way of returning the service. He flew to Houston at his own expense and wished to remain anonymous.
There was a large law enforcement presence, and officers with the Houston Police Department set up a table to help people find missing family members.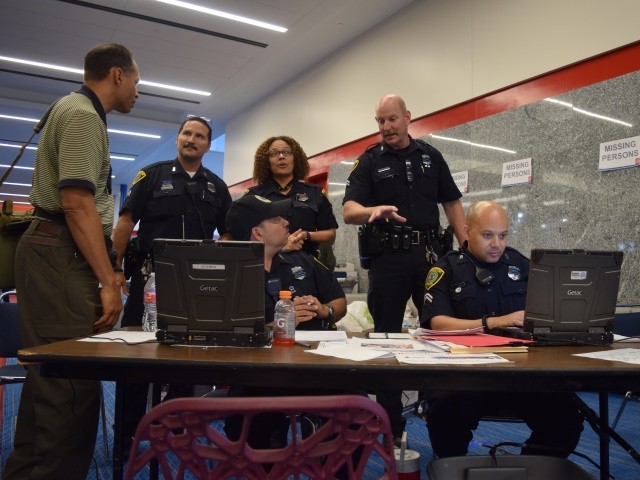 Texas Department of Public Safety (DPS) cadets were brought in by the busloads and helped in shifts. It was a good learning experience they said.
Ambulances and medical providers came in from all over the state and beyond to help at the GRB evacuation center and Houston neighborhoods.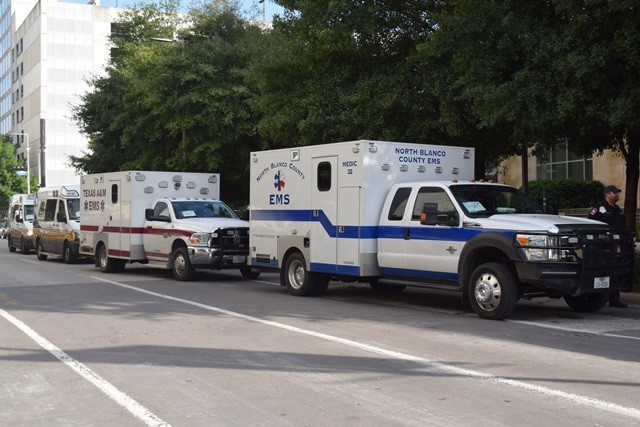 Breitbart Texas also went out into the streets to photograph folks from in and outside the state helping flood victims. A parking lot of a Kroger store and other businesses became an emergency staging area for boats and large trucks picking up those trapped in the flood waters.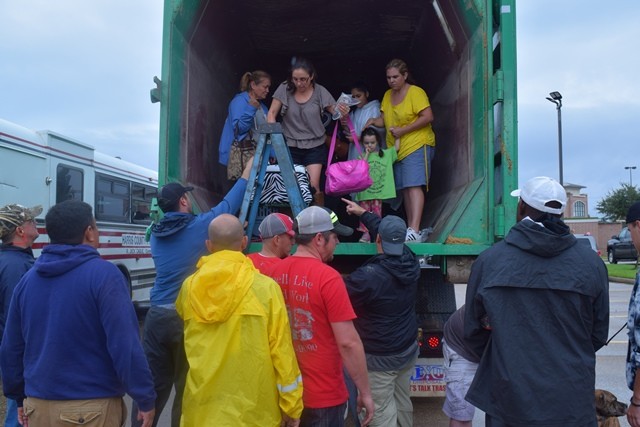 After being evacuated from their flooded homes by volunteer boat drivers, evacuees unload to begin the next step in rebuilding.
There were so many people and businesses that helped in this dire time of need.
Duracell provided a truck and was giving out batteries. The company was also charging cell phones – up to 60 at one time.
Verizon Wireless provided assistance to flood evacuees at the George R. Brown evacuation center. The company also granted employees a week off, with pay, to volunteer at shelters.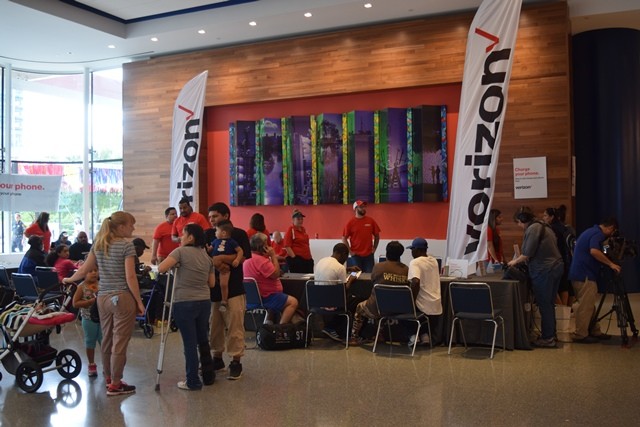 The Houston Children's Museum set up an area for children to play and provided games and entertainment. Breitbart Texas could not take photos in the area, or the sleeping area because officials asked us to be respectful of survivors' privacy. There was even an area for special needs children and adults. Jessie Rabalais, an expert in autism from CARE (Collaborative Autism Resources & Education), was volunteering there. 
One man had been at another shelter – Jim McIngvale's Gallery Furniture store. As reported by Breitbart News, McIngvale opened up his stores to house and feed those who did not have safe refuge after the storm.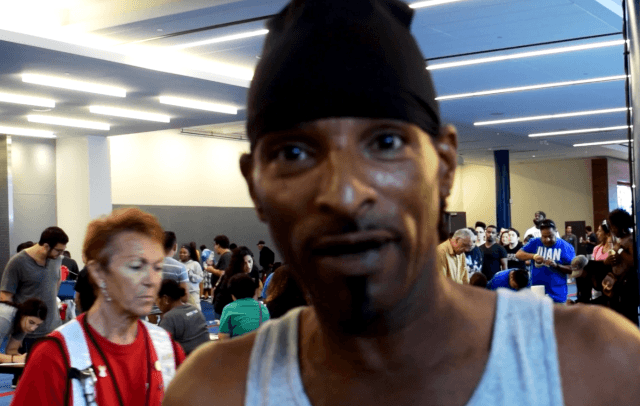 Randolph Day told Breitbart Texas he messed up by leaving "Mattress Mack's" shelter. "We had steaks to eat and comfortable mattresses to sleep on. I am going back to Mattress Mack!"
FEMA (Federal Emergency Management Agency) also had a large area, and there was a computer section, where those affected by the storm and hurricane could sign up for financial assistance.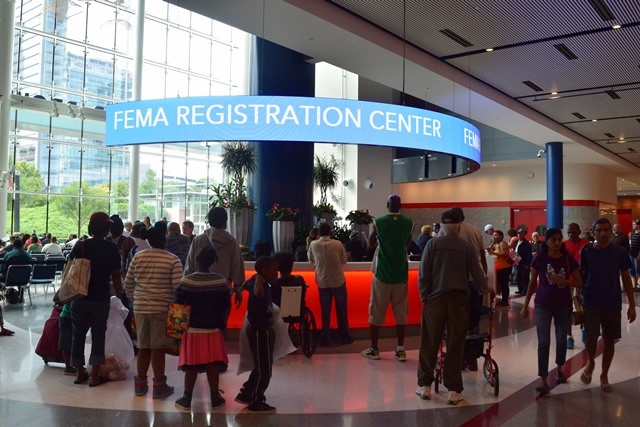 Photos and video by Lana Shadwick and Bob Price.
Lana Shadwick is a writer and legal analyst for Breitbart Texas. She has served as a prosecutor and associate judge in Texas. Follow her on GAB @lanashadwick and Twitter @LanaShadwick2.