President Donald Trump signed emergency declarations in advance of Hurricane Irma for Florida, Puerto Rico, and the U.S. Virgin Islands.
On Tuesday, Hurricane Irma grew to a major Category 5 hurricane with sustained winds of 185 mph. President Trump's declarations allow the Department of Homeland Security (DHS) and the Federal Emergency Management Agency (FEMA) to respond as quickly as possible after the storm moves through the affected areas.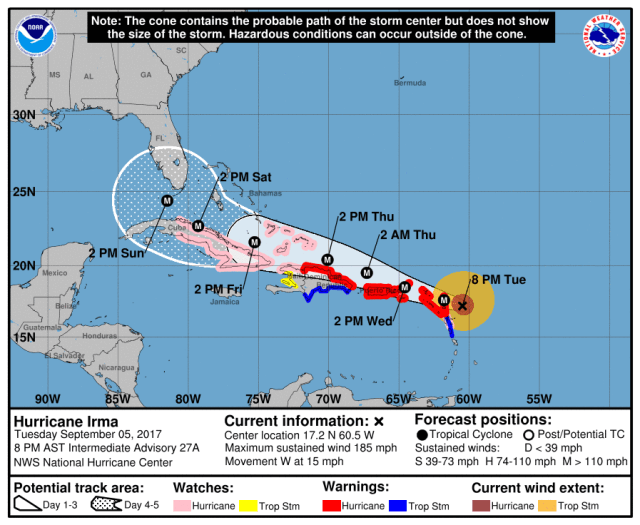 "Specifically, FEMA is authorized to identify, mobilize, and provide, at its discretion, equipment and resources necessary to alleviate the impacts of the emergency," the White House announced in a statement obtained by Breitbart Texas. "Debris removal and emergency protective measures, including direct Federal assistance, will be provided at 75 percent Federal funding."
The National Hurricane Center (NHC) reported that Hurricane Irma is moving to the west (280 degrees) at 15 mph. As of the 8 p.m. AST bulletin, officials reported the storm is located 85 miles east of Antigua. The barometric pressure continues to fall and is currently at 27.05 inches (916 mb).
The NHC reports:
A Hurricane Warning is in effect for…
* Antigua, Barbuda, Anguilla, Montserrat, St. Kitts, and Nevis
* Saba, St. Eustatius, and Sint Maarten
* Saint Martin and Saint Barthelemy
* British Virgin Islands
* U.S. Virgin Islands
* Puerto Rico, Vieques, and Culebra
* Dominican Republic from Cabo Engano to the northern border with
Haiti

A Hurricane Watch is in effect for…
* Guadeloupe
* Haiti from the northern border with the Dominican Republic to Le
Mole St. Nicholas
* Turks and Caicos Islands
* Southeastern Bahamas
* Cuba from Matanzas province eastward to Guantanamo province

A Tropical Storm Warning is in effect for…
* Guadeloupe
* Dominica
* Dominican Republic from south of Cabo Engano westward to the
southern border with Haiti

A Tropical Storm Watch is in effect for…
* Haiti from south of Le Mole St. Nicholas to Port-Au-Prince
The storm is expected to impact the northern Leeward Islands late Tuesday night and move on to the Virgin Islands on Wednesday. Puerto Rico should experience the catastrophic winds of Hurricane Irma late Wednesday or Wednesday night. Forecasters call for the storm to move on to Cuba and begin a slow turn towards the southwestern tip of Florida on Sunday.
Emergency Management officials in Florida's southernmost county issued mandatory evacuation orders in advance of the now-185 mph Hurricane Irma, Breitbart Texas reported. "You must evacuate, you cannot stay," officials warned.
"My wife is leaving the Keys today," Monroe County Emergency Management Director Martin Senterfitt said in a statement obtained by Breitbart Texas. "She would rather go to the dentist than sit in traffic. The sooner people leave the better. If ever there was a storm to take serious in the Keys, this is it."
Follow complete coverage of Hurricane Irma on Breitbart News.
Bob Price serves as associate editor and senior political news contributor for Breitbart Texas. He is a founding member of the Breitbart Texas team. Follow him on Twitter @BobPriceBBTX and Facebook.