BROWNSVILLE, Texas — While politicians in border cities often try to portray their region as safe, those areas are often home to some of the most dramatic crimes typically overlooked by legacy media. Breitbart Texas interviewed a recently retired homicide detective from Brownsville Police who recalled helping solve some of the most horrific crimes, including the beheading of three infants by their parents and other murders with direct ties to Mexican cartels.
After serving 28 years with Brownsville Police, Detective Chris Ortiz, 54, recently retired from the force and was widely praised by city officials. Toward the end of his career, Ortiz took another role, caring for his mother who ultimately lost her battle with cancer. After 28 years with a badge, the decorated detective left the force so he could fight his own battle with cancer.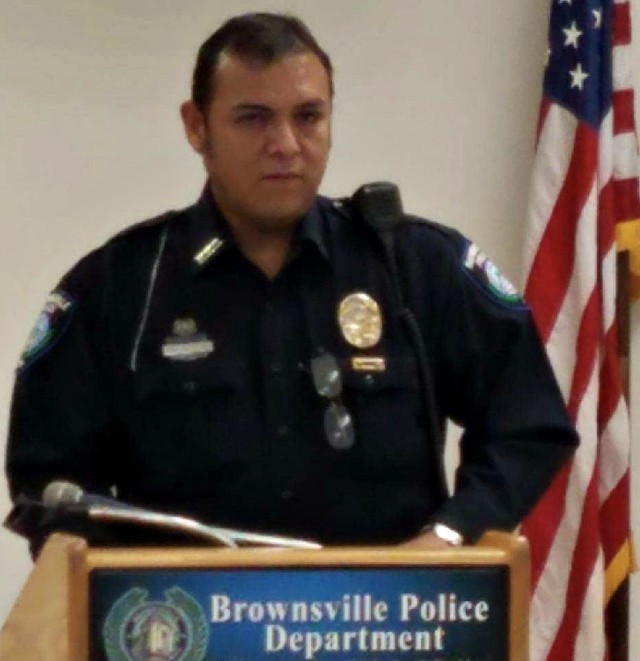 Throughout his career, Ortiz who is also a former musician, hunted down some of the region's worst murderers including convicted child killers, cartel hitmen, and others. Some of those cases took him to Mexico where, with the help of other law enforcement agencies from both sides of the border, he worked to track down suspects. 
One of Ortiz's major arrests took place in 1989 as a rookie officer when a call of shots fired placed him face-to-face with a hitman for a criminal organization that eventually became known as the Gulf Cartel. Ortiz and his training officer were responding to a local bar called Oasis. Ortiz drove his patrol car near the business when he saw two men walking down the street. As soon as he passed them, the men began to run.
"Something was off, I can't describe it but I turned around and went after them, they split up and ran in opposite directions," Ortiz said, recalling how he stopped his police vehicle and ran after one of the men.
After a short chase, Ortiz stopped the man and while placing him in handcuffs, found a large bayonet-style knife. When he turned the suspect around, Ortiz found a .45 caliber handgun.
"I could smell the gunpowder on it–it had just been fired," he said.
The suspect was Epifanio Alvarado, a known hitman for the precursor to Mexico's Gulf Cartel. Alvarado was the triggerman in the shooting that authorities were responding to; he remains in prison serving a 99 year sentence for that murder. 
In addition to being fast-tracked to detective, Ortiz was also one of the founding members of a federal task force aimed at tracking violent fugitives. One of the main targets was a 15-year-old who, in 1998, gunned down three teenagers in an attempted robbery before becoming a cartel enforcer. Known as "Boy," Ricardo Hernandez fled to Mexico after the murder, where he became close with accused drug trafficker Jose Alfredo Villarreal. Hernandez's boss, Villarreal, remains a fugitive on murder charges out of Brownsville. Ortiz spent several months trying to track down Hernandez and worked various operations aimed at capturing him. Many details on those operations could not be disclosed by Ortiz since the case against Hernandez remains active. One attempt the detective could reveal dealt with a trap he set with the help of informants so that Hernandez would swim the Rio Grande on the belief he would be able to go into hiding in Texas.
"I contacted Border Patrol so they could pull back," Ortiz said. "We were there, ready to get him … he got cold feet." Hernandez was eventually captured by Mexican authorities and extradited. As soon as he was in Texas, Ortiz was there to interview Hernandez, who is serving a 35-year-prison sentence as part of a plea deal.
One of the most tragic murders that Ortiz's recalled took place on March 11, 2003, when he responded to a home where three infants were beheaded by their parents and their remains placed inside trash bags.
The veteran detective arrived at a bedraggled apartment after hearing a distressed officer on the radio. Almost as soon as he entered, the detective saw what upset his fellow officer.
"It looked like a doll," Ortiz said. "They had washed the bodies, that's why there was a bucket with blood and the trash bags, they had just bought them."
Inside the trash bags, Ortiz found the remains of 3-year-old Julissa Quezada, one-year-old John Rubio, and two-year-old Mary Jane Rubio; the children were murdered by their parents John Allen Rubio and Angela Camacho–who claimed the toddlers were demonically possessed.
Even though another detective took the lead in the case, Ortiz questioned Camacho and moments later, he had her describing in gory detail how she smothered and beheaded her children.
"This is something I will never forget," Ortiz said as he began to quote Camacho in Spanish. "She sounded proud: 'My son, he was so strong, we couldn't hold him down, he was so strong.'"
Camacho pleaded guilty to the murders and is serving three life-terms in prison. Rubio was initially convicted in 2007 and sentenced to death. He received a re-trial in 2010 and was convicted with the same sentence.
Editorial Note: Detective Chris Ortiz is not related to Breitbart Texas' Ildefonso Ortiz.
Ildefonso Ortiz is an award-winning journalist with Breitbart Texas. He co-founded the Cartel Chronicles project with Brandon Darby and Stephen K. Bannon.  You can follow him on Twitter and on Facebook. He can be contacted at Iortiz@breitbart.com.
Brandon Darby is managing director and editor-in-chief of Breitbart Texas. He co-founded the Cartel Chronicles project with Ildefonso Ortiz and Stephen K. Bannon. Follow him on Twitter and Facebook. He can be contacted at bdarby@breitbart.com.