A top Los Zetas Cartel boss caught hiding near Houston, Texas, was sentenced to two terms of life in prison for his leadership role in the international criminal organization.
At a federal courthouse in Waco, U.S. District Judge Alia Moses sentenced 38-year-old Juan Francisco "Kiko" Trevino Chavez to two life terms in prison, a $2 million fine, and a $2 million money judgment. As Breitbart News reported, Trevino was convicted in July on multiple counts of drug trafficking conspiracy, weapons charges, money laundering, and other conspiracies.
Breitbart News was the first news outlet to report on Trevino's arrest after agents with Homeland Security Investigations caught him near Houston.
Law enforcement sources revealed to Breitbart News at the time that Trevino was forced to leave Nuevo Laredo following a series of rival clashes and near captures. Seeking refuge, the cartel boss tried to keep a low profile in Baytown, Texas. Through the Cartel Chronicles project, Breitbart News exclusively reported when Trevino's rivals forced him to flee a hideout and leave behind his grandmother. The move was mocked in narco-banners.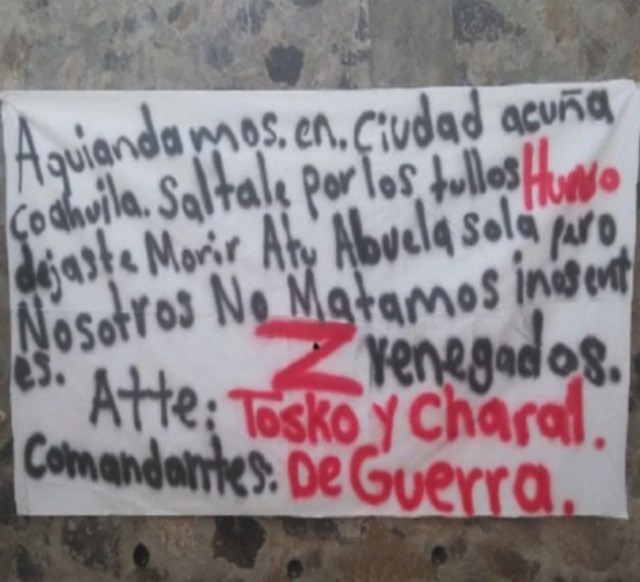 "Trevino … is a leader for a major transnational criminal organization that is responsible for smuggling literally tons of drugs into South Texas," said Homeland Security Investigations Special Agent Shane Folden. "HSI specializes in complex cross-border conspiracy investigations targeting violent and dangerous individuals who threaten or violate the national security if the United States."
Trevino had been a member of Los Zetas since 2004, operating primarily south of the region between Laredo and Del Rio, Texas. The convicted drug lord is the nephew of captured Los Zetas bosses Miguel Angel "Z40" Treviño Morales and Omar "Z-42" Treviño Morales, the leaders of Los Zetas. During his role as a top operative, prosecutors revealed that Kiko was responsible for moving more than 250,000 kilograms of cocaine (550,000 pounds), hundreds of tons of marijuana, and more than 800 firearms.
After the capture of his uncles, Los Zetas split into two separate cartels with Kiko taking over one faction known as Cartel Del Noreste (CDN). The CDN and their rivals, Los Zetas Vieja Escuela, fight throughout Mexico for control of lucrative drug trafficking and human smuggling routes.
Ildefonso Ortiz is an award-winning journalist with Breitbart Texas. He co-founded the Cartel Chronicles project with Brandon Darby and Stephen K. Bannon.  You can follow him on Twitter and on Facebook. He can be contacted at Iortiz@breitbart.com. 
Brandon Darby is the managing director and editor-in-chief of Breitbart Texas. He co-founded the Cartel Chronicles project with Ildefonso Ortiz and Stephen K. Bannon. Follow him on Twitter and Facebook. He can be contacted at bdarby@breitbart.com.