BOSTON—Dominick Cruz refused to say if T.J. Dillashaw earned the right to a rematch after their bantamweight championship bout at TD Garden that ended early this morning.
Cruz danced, head-bobbed, and pot-shotted his way to regaining the title he lost through injury. Despite the judges offering a split verdict, and the crowd expressing its appreciation for the bout with roars to begin and end the final round, the Dominator remained as slippery in his answer to Breitbart Sports' question about a rematch as he looked in the fight last night.
"I haven't even gotten a pat on the back for the win," reasoned to Breitbart Sports. "I'm already getting asked about who I'm fighting next."
UFC President Dana White curiously ducked the question of a rematch after the fight. "I don't know," he said. "We'll see what happens." This followed White's praise of Dillashaw. He called the former champ's performance "amazing" and "awesome."
Cruz arrived to the postfight presser late and with a limp. He says Dillashaw's kicks to his surgically-repaired knee did not cause the limp. He instead attributed it to plantar fasciitis.
"Nothing really belongs to you because right when you hold the belt up Dana [White], Lorenzo [Fertitta], media, everybody in the world already has come up with three other matchups for you," the new champion offered. "People start yelling at you. There's a target on your back. 'He didn't really win. I could do better.'"
Three other money matchups for Cruz besides the rematch include a return-engagement rubber match with nemesis Urijah Faber, a bout with former champion Renan Barao, or an outside-the-box superfight with Conor McGregor for the 145-pound belt. Cruz owns wins over Faber, Dillashaw, and Demetrious "Mighty Mouse" Johnson and a 21-1 record. Last night was just his second fight since 2011. Cruz avoided naming his preference for a future foe.
Cruz-Dillashaw, a fight between a slick, mouthy challenger returning from an injury layoff and a workmanlike, no-nonsense champion, evoked a Hagler-Leonard vibe, with Dillashaw playing the Marvelous One stalking and occasionally landing shots and Cruz playing the victor in that 1987 superfight by wowing with his defense. Last night's decision, like the one nearly three decades ago, evoked debates and wild scoring differentials.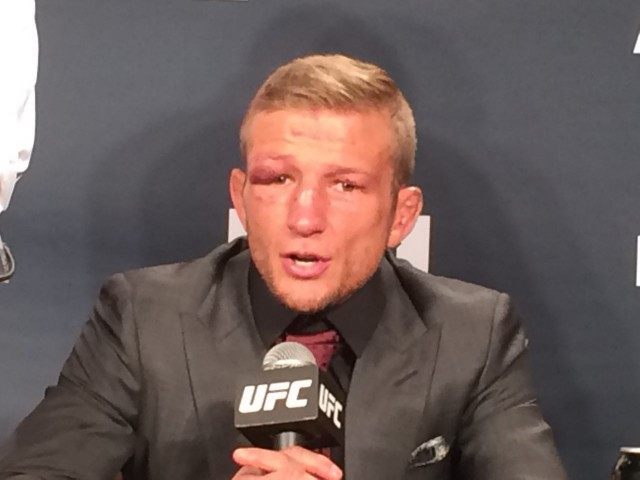 "He had nothing on his punches," Dillashaw maintained in Hagler-like fashion after the fight. Whether Cruz grants him a rematch, the former champion believes he deserves one: "I do feel I won the fight."
"I'll worry about fighting next when it comes," Cruz told Breitbart Sports about possible opponents. "I don't care right now and I just want to be here and be in the moment."