Fashion designer Diane Von Furstenberg posted and then deleted a photograph on her Instagram page Tuesday of Bruce Jenner's head superimposed onto her body, modeling her signature wrap dress.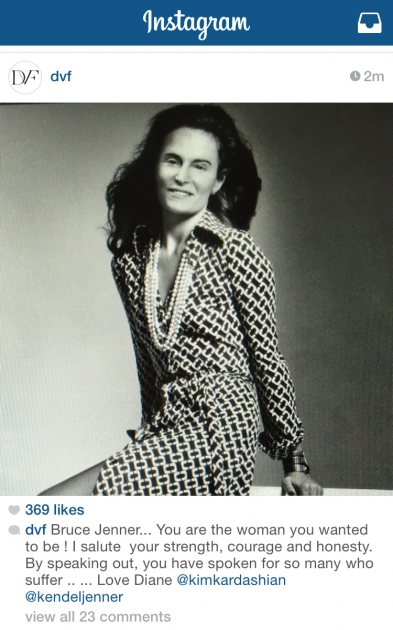 While deleted, the image was saved and is now circulating online.
"Bruce Jenner… You are the woman you wanted to be ! I salute your strength, courage and honesty. By speaking out, you have spoken for so many who suffer.. … Love Diane," she wrote in the caption.
The 1974 black and white advertisement, which originally features Diane, bares the tag line, "Feel like a woman, wear a dress."
Furstenberg is best known for her famous wrap dress, but also owns a global luxury lifestyle brand.
Jenner's daughter, Kendall, has modeled Furstenberg's designs in the past, most recently during New York Fashion Week in February.
Access Hollywood asked the iconic designer to comment on her Instagram post, to which she replied:
I admire Bruce Jenner's strength, courage and honesty and have so much respect [for] him using his voice to speak for people who have none. I wish him nothing but a lifetime of happiness.
Bruce ended months of speculation last Friday during a televised interview with Diane Sawyer by confirming he is in the process of transitioning into a woman.
Sawyer had called the interview a "farewell to Bruce," but the former Olympian said he is only "saying goodbye to people's perceptions of me… I'm just doing what I have to do."