The Young Messiah almost didn't make it to the screen.
When pre-production problems forced a shutdown in 2013, the film's producers huddled together. The result, says writer-director Cyrus Nowrasteh (The Stoning of Soraya M., The Path to 9/11), was a tighter, more focused script, and the film quickly found financing and distribution through Focus Features.
"I think we ended up with a better script," Nowrasteh, who wrote the film along with his wife Betsy Giffen Nowrasteh, tells Breitbart News in an interview. "We were able to forge ahead and get this thing going when everybody thought we were done. We thought we were done."
The finished product, due out Friday on more than 1,700 screens nationwide, is a beautifully filmed, meticulously acted snapshot of one year in the life of 7-year-old Jesus Christ (Adam Greaves-Neal), as he travels from Egypt to Nazareth with his earthly parents Joseph (Vincent Walsh) and Mary (Sara Lazzaro). When the villainous Herod (Jonathan Bailey) learns of Jesus' existence, he sends the Roman Centurion Severus (Sean Bean) to track him down and kill him.
The film is based on Anne Rice's 2005 novel Christ the Lord: Out of Egypt, though some of the elements of the story have changed (the character of Severus does not appear in the book, for one). Adapting the book into a film was a challenge, says Nowrasteh; but an even bigger challenge was finding the right boy actor to play Jesus. The director estimates that nearly 2,000 young actors auditioned for the part.
"We were auditioning, and looking, and searching all over the world for a young actor to play this part," says Nowrasteh. "Israeli kids, kids from Jordan, Pakistan, Australia, Greece, Italy, the U.S., all over. And we finally hit upon this young man, who was far and away the best. It wasn't even close. He had this special quality. You could just tell the minute he walked into the room."
"He's a great kid," he added. "It's a heavy responsibility when you're that age and you're being asked to portray Jesus. I tried to lighten up the atmosphere for him and make the set a fun place for him to be."
Breitbart News caught up with Nowrasteh for a brief interview shortly before the premiere of The Young Messiah in Los Angeles Thursday night. The following interview has been slightly condensed for readability but has not otherwise been edited.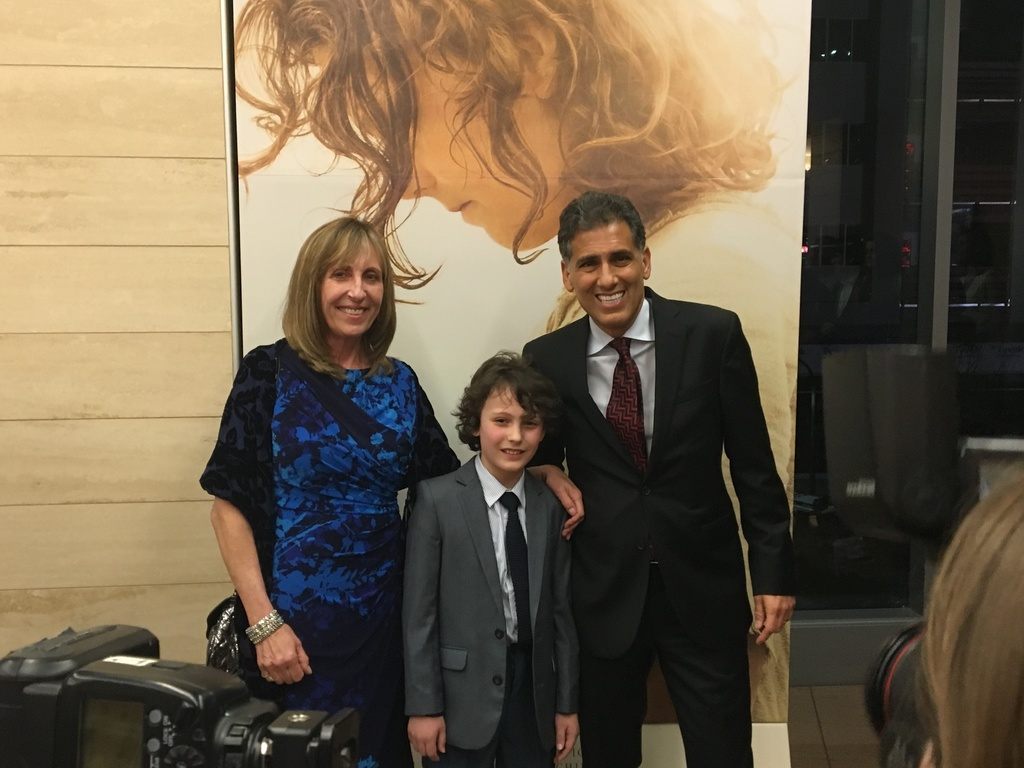 (Left to right: writer Betsy Giffen Nowrasteh, actor Adam Greaves-Neal and director Cyrus Nowrasteh, at the Los Angeles premiere of The Young Messiah. Daniel Nussbaum/Breitbart News)
Breitbart News: I had some technical problems while watching the movie, so I may have missed some snippets of scenes here and there. But I really enjoyed it. I wanted to ask: What drew you to this project?
Cyrus Nowrasteh: It's a great story. It's an original story, it's fresh. It's never been done. I read the novel by Anne Rice and I thought, 'Wow.' And the thing that's amazing about the novel is, she wrote it in the first-person voice of young Jesus. I mean, talk about a challenge.
Now, movies are external and when you're adapting a book into a movie, you always have to make certain choices and decisions. This one was more complicated, really, because there's also theological issues at play. But from the beginning I just thought, this is fresh, this is original, this has never been done. And that's reason enough to do it. I also just thought, hey, it's a beautiful story. The bottom line is you want to do things that you care about, that you think have value, that are enriching. And this was a journey into the light, this movie.
BN: You based most of the film on Rice's Christ the Lord: Out of Egypt. How did you reconcile the differences between the novel and what we know from Canon about Jesus' childhood?
Nowrasteh: Well, the Bible doesn't say much about Jesus' childhood at all. It mentions him at birth and it mentions him at age 12 in the Temple. So the film is basically informed conjecture; educated fiction. We're trying to depict a character who is as consistent as possible with Jesus as he's revealed in the Bible. You're asking people to take a bit of a leap. We say very clearly upfront in the movie that we're imagining one year in the boyhood of Jesus. But you get theologians and scholars and pastors and friends to look at early drafts of the script, to see early cuts of the movie and say, 'Hey, are there any red flags here, are there any problems?' And for the most part we found we were able to navigate it pretty well.
A lot of the religious influencers came in with plenty of skepticism. Plenty. But they tossed that theological checklist out the window once they started to watch the movie, because they embraced these characters.
BN: Faith-based movies are starting to become big business, it seems, with successes like God's Not Dead, War Room, Risen and some others. The highly successful War Room got an 1,100-screen release; Young Messiah is rolling out on more than 1,700 screens. Do you think the success of these movies is finally getting the attention of the larger studios and distributors? Because obviously people want to see these films.
Nowrasteh: I think it has been for a while. It's been going on since 2004, with the success of The Passion of the Christ. I'm surprised these films aren't more prevalent. We get our faith-based movies primarily around the Easter holiday; why aren't we getting a bunch during Christmas? I think there should be more, but I do think there is that recognition out there that there's an underserved audience interested in going to these movies.
But The Young Messiah isn't just for faith-based audiences. This movie is just as much for secular folks, atheists, anybody really. Because bottom line, it's a story about family. It's a story about people, about connecting.
BN: Hollywood has been scrambling to up its diversity ever since the #OscarsSoWhite controversy. In her review of The Young Messiah, the Anglican Journal's Michelle Hauser wrote that that the film was "yet another 'whitewashed' production in which 'all principal players have British accents and could easily pass for guest stars on Downton Abbey.'" She called the lack of diversity an "unfortunate distraction." How would you respond to that?
Nowrasteh: She's obviously never had to cast a seven-year-old lead. It's just amazing to me that these people don't even think beneath the surface for a second. They're looking at everything through a racial lens. If indeed they're looking at everything through a racial lens, they should check out a photograph of the director. He's very brown. Maybe that'll compensate.
I cast this movie for one reason, and one reason alone. I was going to find the best actor I could, I didn't care what he looked like, what he sounded like, just the best actor I could find. I cast on merit, period.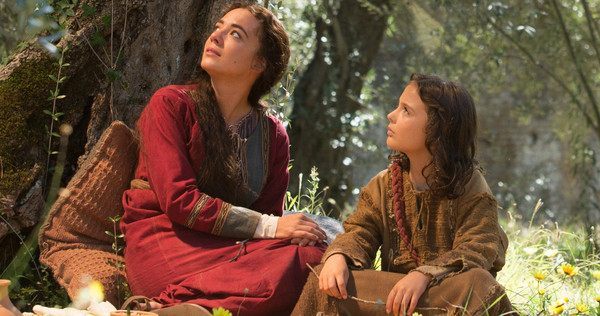 (Actress Sara Lazzaro and actor Adam Greaves-Neal in Focus Features' The Young Messiah. Credit: Focus Features)
 BN: Before The Young Messiah, you've courted some controversy with your earlier films. You've been accused of having both a "liberal bias" (for the 2001 TV movie The Day Reagan Was Shot) and of having a "conservative bias" (for 2006's banned miniseries The Path to 9/11). My question is: what do you think you'll be accused of this time?
Nowrasteh: (laughing) I don't know, I hope I won't be accused of anything except making a good film. I want people to see the movie and enjoy it. We were concerned about some possible resistance or backlash regarding the fact that we're dramatizing a period of Jesus' life that is not revealed in the Bible. But what I have found is that so many of these religious influencers who've now come forward and endorsed the movie were really willing to give the film a chance. You couldn't ask for more than that.
BN: We're coming up on the 15th anniversary of 9/11. I just covered an interview you had done with KSFO detailing how your miniseries The Path to 9/11 was essentially banned by Disney/ABC. The studio spent about $40 million making this series,  and then scrapped it essentially at the request of Bill and Hillary Clinton.
Nowrasteh: It's freaking great. It's riveting. Nobody would get that upset unless it was effective.
BN: Do you think ABC will ever re-air it? Or it's going to be locked away forever.
Nowrasteh: (sighing) I don't think they'll ever re-broadcast it. That would shock me. I mean, as long as Bob Iger is there, we don't have a chance. He's a good friend of the Clintons. Been carrying their water for a few years now.
BN: What's next for you? I know at one time you wanted to make a movie about Andrew Jackson called Battle of New Orleans, with Gerard Butler starring.
Nowrasteh: Yeah, we're talking to him. I'd still love to do that movie. It's a favorite project of mine. Big project, expensive project, but we're gonna give it a shot.
The Young Messiah is in theaters nationwide on Friday, March 11.