U.K.-based department store chain Primark has pulled an official Walking Dead t-shirt from its stores after the shirt was branded "racist" and "fantastically offensive" by a concerned customer.
The T-shirt in question features the phrase "Eeny meeny miny moe," taken from the well-known nursery rhyme, alongside the spiked bat used by the popular AMC television show's nefarious villain, Negan.
Negan (Jeffrey Dean Morgan) uttered the phrase during The Walking Dead's sixth-season finale, as he contemplated which of the show's protagonists he would murder.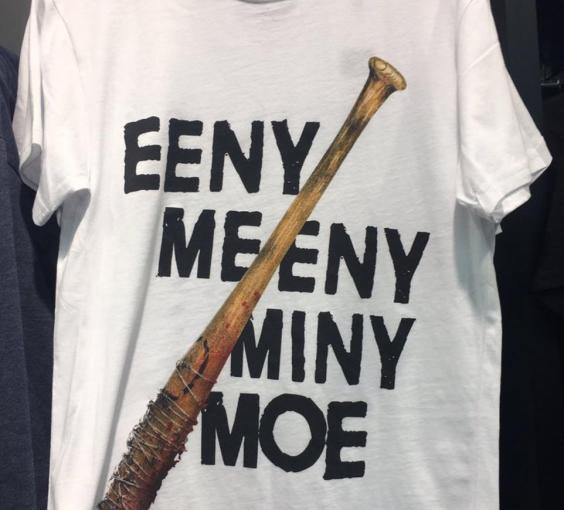 According to the Sheffield Star, customer Ian Lucraft was shopping in a Primark store with his wife when he spotted what he called the "fantastically offensive" t-shirt. Lucraft told the Star that the original "Eeny meeny miny moe" nursery rhyme often featured a racial epithet in place of the word "tiger."
"The graphic has a large American baseball bat, wrapped round with barbed wire, and covered with blood. This image relates directly to the practice of assaulting black people in America," Lucraft said. "It is directly threatening of a racist assault, and if I were black and were faced by a wearer I would know just where I stood."
Lucraft added that he assumed "no one in the process of ordering [the t-shirt] knew what they were doing, or were aware of its subliminal messages."
In a statement Wednesday, Primark apologized for stocking the shirt and said it had removed the item from all of its stores.
"The T-shirt in question is licensed merchandise for the U.S. television series, The Walking Dead, and the quote and image are taken directly from the show," the department store chain said in a statement. "Any offense caused by its design was wholly unintentional and Primark sincerely apologizes for this."
As the BBC notes, many social media users found Primark's decision to pull the shirt to be an overreaction, including Negan himself, the actor Jeffrey Dean Morgan.
Holy crap people are stupid. 'Walking Dead' Shirt Pulled From Stores After Complaint of Racism https://t.co/cpeIqcxTwJ

— Jeffrey Dean Morgan (@JDMorgan) February 22, 2017
That Walking Dead shirt isn't racist. Bring it back.

— Bobby Lawson (@BLawson92) February 23, 2017
https://twitter.com/HawtScribbles/status/834569961788026881
In the wake of the store's decision, at least one Walking Dead fan has launched a petition to convince Primark to re-stock the shirt.
"I, as a consumer and fan of the Walking Dead feel that this is not the right response," wrote the petitioner, one Jasmine Williams. "The complaint called it 'Racist' despite the fact that those buying the shirt are buying it for the sake of the show as it's an officially licensed product."
As of Wednesday evening, Williams's petition had gathered 483 signatures.
Follow Daniel Nussbaum on Twitter: @dznussbaum