Offers for print photo copies of Kathy Griffin holding up the fake, bloody severed head of President Donald Trump have exceeded $100,000, TMZ reported Thursday.
Artist and photographer Tyler Shields, who took the infamous photo, has reportedly received over 1,000 offers from people interested in buying a print of his controversial image.
One art collector, the celebrity gossip site notes, offered Shields $150,000 for an original print.
Griffin's photo sparked a national firestorm earlier this year. She was fired from CNN where she co-hosted the network's annual New Year's Eve broadcast, faced a social media-fueled boycott that led to her stand-up shows being canceled, and was the subject of a Secret Service investigation.
President Trump fired back at Griffin, tweeting that she "should be ashamed of herself" and that her photo had been difficult for his children, including his 11-year-old son, Barron.
In a June press conference, Griffin admitted that her photo had gone "too far" and that she had "crossed a line."
In August, however, the My Life on the D-List star was unrepentant, saying she's "obligated" to criticize Trump from the stage at future stand-up shows.
"Comedians talk about what their audience is faced with every day, we try to relate to our audience. I'm obsessed with politics. I always have been, and now, with Trump, many people are obsessed with politics, so that's going to be a big part of my act," Griffin said in a lengthy interview in August with New York magazine's The Cut.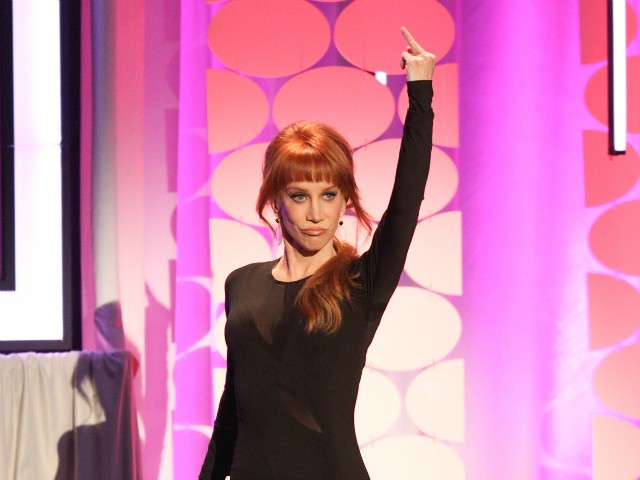 Griffin recently appeared on Australian morning show Sunrise and slammed President Trump and his supporters.
The 56-year-old comedian refused to apologize for her Trump photo and degradingly compared Sunrise host Sam Armytage to "a white Trump voter in America."
"No, I don't apologize for that photo anymore and I think the outrage is complete BS because we have real things to deal with," Griffin said.
Follow Jerome Hudson on Twitter @jeromeehudson