GRIMSBY, ENGLAND: It was only last month that outgoing Grimsby MP Austin Mitchell was quoted as saying the constituency would stay Labour even if its candidate was a "raving alcoholic sex paedophile". It's in stark contrast to UKIP leader Nigel Farage's view of the seat. He told me: "If we don't get Great Grimsby then the plan won't have worked."
And there is a serious chance that Great Grimsby, which has been held by Labour since the war, is about to go purple: It certainly will if UKIP candidate Victoria Ayling has anything to do with it.
Chatting to Ayling at home you could conclude that she is one of those women who have had everything handed to them on a plate; called to the bar, three sons and the only female candidate in UKIP's top target seats.
But it doesn't take long to realise that she's a woman who has had to fight for everything – even battles with those who should automatically be on her side.
Grimsby's an area Ayling knows well: she fought it in 2010 for the Conservatives, missing out by only 714 votes to Mitchell, who is stepping down after 38 years in Parliament. In his place, the party selected their candidate from an all-female list, choosing Melanie Onn, an employee of Unison.
But then Ayling hasn't had a great deal of luck in her married life, either.  While many people have to contend with the tears and heartache of an unfaithful spouse, the feisty 'kipper' has a  transvestite ex-husband she claims is in league with her estranged mother and expelled party members on Lincolnshire County Council doing their utmost to ruin her political career.
I met up with her the day after a nasty Sunday tabloid story – a secret recording captured some months ago and released just in time for the General Election. "It has just given me an opportunity to do loads of interviews and plug UKIP" she says, as though the article, which made mention of 'saucy photos' her ex-husband claims he is in possession of,  was just coverage of a local village fete.
It harks back to the obsessive Mail on Sunday pursuit of the aspiring MP over cutting room floor clips of her Conservative candidate selection video where she is rehearsing articulating how she would deal with illegal immigrants. "Send them back" she says, resulting in calls for her to step down because she is 'racist'.
That was then and this is now. Today UKIP has a huge amount of backing from across the community, from the unemployed , desperate for work who live in East Marsh, one of the most run down areas in the country according to Monica Brasted who runs a successful firm of local florists.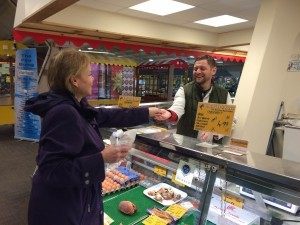 Victoria Ayling at Freeman Street Market
While Monica is happy she can offer jobs and training , she told me she found it "heartbreaking" that within two hours of a part time driving job at the company being advertised in the job centre, there were already 68 people desperate for any kind of work. It's the same with the apprenticeships she runs: every vacancy has 50 or 60 candidates from young people desperate to have a chance of learning a skill that can get them a career.
A recent open day at the job centre to recruit 30 members of staff for a new Holiday Inn hotel saw queues of desperate job seekers lining up, standing for hours for the chance of a minimum wage job. Unlike claims from other parties that many of the unemployed Brits in this country just don't want to work, one said "the size of the queue is a good indicator that people do want to work in Grimsby."
There are plenty of people who have hit rock bottom at our next appointment: a cup of coffee at a newly opened soup kitchen run by Canon John Ellis where lunch of sausages and mash and builders tea is being served to people, some are homeless, others drug addicts and some drinking in the afternoon, unemployable in a town where even qualified people struggle to get a job.
It's a desperate scene, but everyone chats to each other and there is no trouble until a BBC radio journalist turns up to interview the Canon and shouts at some of the kids outside as if they were going to steal his car. And that's the extent of his interaction. He doesn't want to talk to people whose lives have reached the stage where afternoon drinking or poverty have reduced them to needing charity just to get a meal. But Victoria does: she sits there amongst the sometimes a bit smelly clientèle, asking how she can help.
The question I want answered is how anyone from Labour can walk around without hanging their head in shame. The constituency has returned a Labour MP since 1945, but it is filled with estates where no-one works, where shops are closed down and the once thriving high street leading down from the docks is now occupied by Polish corner shops, halal kebab shops and barbers where the curtains twitch upstairs yet, oddly, no one appears to sit down to have their hair cut.
And the seedy, criminal side of life in a poor town isn't hidden away: there are stories of Eastern European girls coming to the area for work who sit on walls, open legs and no knickers, holding up signs saying '£25 an hour': It's fair to assume they aren't offering cleaning services.
But voting Labour for so many of these people is deeply entrenched, they probably couldn't even tell you what the party stood for. Most of the people at the soup kitchen won't bother voting. It's this pattern that leads to entrenched politics and lazy politicians when a constituency like Grimsby is desperately crying out for is change.
"Who would invest in Grimsby when it's quite clearly 'the end of the line'?" Ayling asks, as we drive along the main road going north to south, stuck behind a lorry.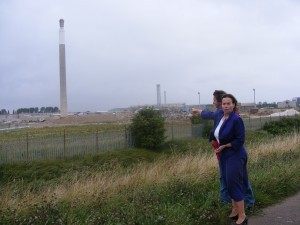 An area of the constituency came last in an online table of 7,137 best places to live in England and Wales
"The journey should take about half the time, but we don't even have a dual carriage way let alone a quick train line into London. Why would someone seriously invest in an area that even the government clearly doesn't care about?"
Ayling understands business. She understands what a place needs to change its fortunes and she's working hard to break the mould here and be one of the first constituencies to return a UKIP MP in May.
But it's that passion which clearly some people in the management of UKIP have a problem with. She could be the only female UKIP MP yet she claims she is constantly passed over for prime TV slots.
She tells me the only reason she did Any Questions on BBC Radio 4 in January was because the producers came straight to her, bypassing the national press office.
It's an odd strategy which has a whiff of the sort of media management Farage himself says he can't stand. He wants candidates with life experience and passion, not the 'college kids' the other parties wheel out.
The UKIP leader is set to be in Grimsby at the beginning of April and although the subject has only just been mentioned, already people are clamouring for a ticket to the event. Farage is one of the few politicians who has the 'x-factor' but in Grimsby it's more than that. It's the politics of hope which this town has virtually given up on that's ensuring that in the early hours of the 8th May, the most exciting place to be might not be Westminster, South Thanet, Doncaster or Gordon, but Grimsby Auditorium.