LOS ANGELES — Los Angeles Mayor Eric Garcetti was on hand Tuesday night to christen the Los Angeles headquarters of Hillary Clinton's presidential campaign, where he praised the former Secretary of State and ripped her Republican frontrunner rival, Donald Trump.
"Hillary Clinton loves California. And California loves Hillary Clinton," Garcetti said. "We know a thing or two about building in this city, and that's what this country needs. We don't need somebody who's going to talking about building walls, we need somebody who's going to help us build bridges, and help us build buildings, and help us build roads, and help us build our transit networks. That's what these laborers, these working men and women, know something about. That's what Hillary Clinton knows something about."
In a brief speech in the courtyard of Laborers Union Local 300 near downtown Los Angeles, Garcetti excoriated Trump, who just one hour earlier had won a decisive victory in the Indiana primary. Trump has led most polls in California ahead of the state's June 7 primary, as does Clinton. A poll released Monday found Clinton with a 57-38 lead over her chief rival, Vermont Sen. Bernie Sanders.
"We don't need a candidate who's going to say 'You're fired.' We need a candidate who's going to say 'You're hired!'" exclaimed a fired-up Garcetti. "We don't need a candidate obsessed with the size of his hands, or of his fortune, we need a candidate obsessed with the size of the middle class and the minimum wage. That's Hillary Clinton."
"This is a man who would set women back three decades," the mayor said of Trump. "This is a man who — just like we saw during desegregation, when people talked about men of color coming after your women — that's what he said about us who are people of color, Mexicans who come here, working hard, and he wants to demonize us? Not in our state, Mr. Trump."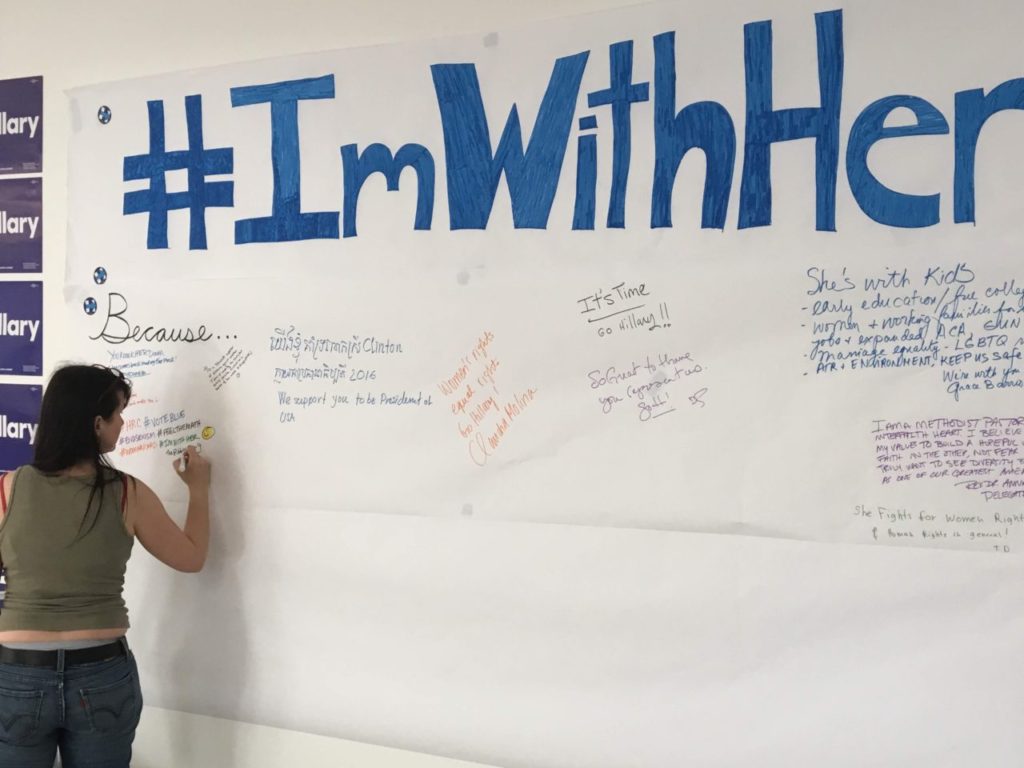 Garcetti was joined at the groundbreaking by other elected officials and labor leaders, including longtime Los Angeles County Democratic Party Chair Eric Bauman, Councilman José Huizar (D-CA) and activist Dolores Huerta.
Bauman called on Californians to reject Trump's "sexism, misogyny and racism," while Huerta implored the GOP candidate to recognize that labor "is not a special interest."
"It is very shameful and I think it's kind of sad that Donald Trump has never had to work a day in his life," Huerta said, calling Clinton "the most qualified candidate" in the race.
Meanwhile, outside the building, a small group of Sanders supporters held signs reading, "Viva Bernie!" and "Deport Her!"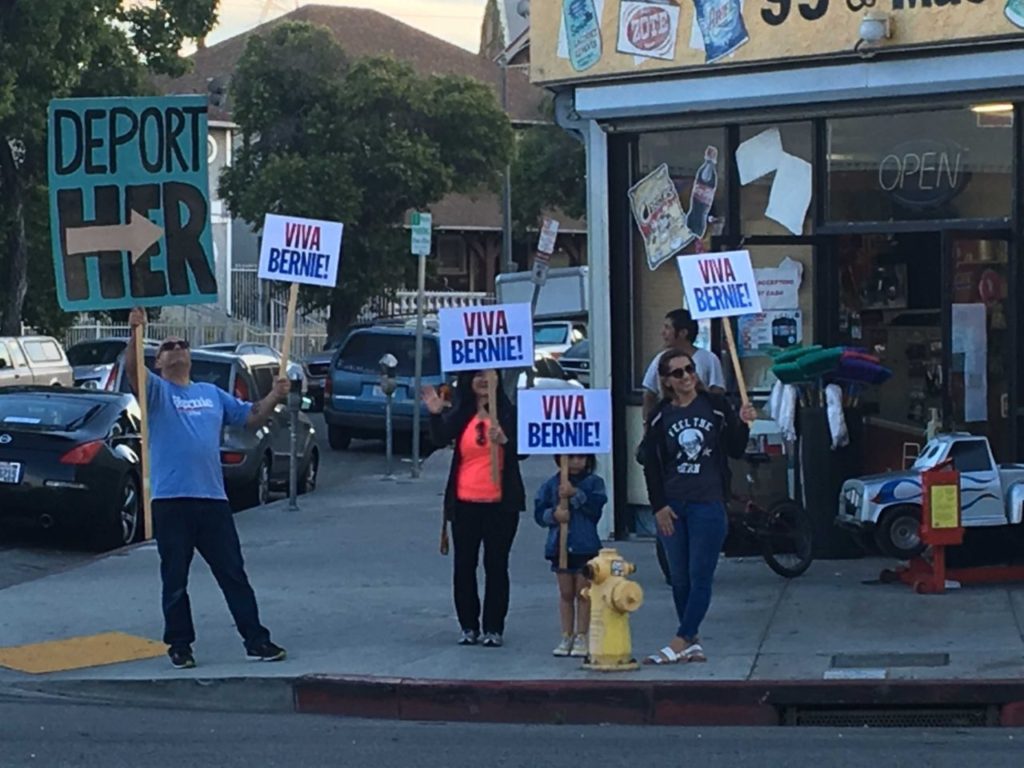 The opening of Clinton's Los Angeles headquarters comes as the Democrat presidential frontrunner is set to kick off a week of campaigning in the Golden State. On Thursday, Clinton will host a rally at East Los Angeles College before heading to a pair of fundraisers in the evening, while top Clinton aide Huma Abedin will be the guest of honor at another event that night.
Former President Bill Clinton will make two stops in San Diego and Los Angeles on Wednesday. On Friday, Bill Clinton will host a fundraiser at the Los Angeles home of Sandy and Laura Michelman, while Hillary Clinton will attend a sold-out fundraiser with actress Elizabeth Banks and California Senators Dianne Feinstein and Barbra Boxer.
Follow Daniel Nussbaum on Twitter: @dznussbaum