Islamic State sympathizers and militants predictably reacted angrily to President Donald Trump's temporary halt on refugees while the government revamps its flawed security screening process.
Breitbart Jerusalem obtained access to correspondence posted in a closed chat group that utilizes the encrypted Telegram messaging service. The chat group serves as an internal Twitter of sorts for IS jihadists and sympathizers, and it has been used in the past to issue IS communications.
"The madman Trump is still ignorant of politics, science and culture," IS supporter Abu Maslama wrote to his associates on the Telegram app. "That Islam-hating Crusader prevents Muslims from entering America. That failed Nazi thinks that this will stop the mujahedeen from striking his country. Doesn't he understand that his country will implode? When that happens, he'll panic and backpedal on his Islam-hating policies."

Maslama offered no explanation as to how the U.S. will purportedly implode from implementing stricter security screening procedures aimed at keeping terrorists out of the country. He also falsely claimed that Trump was preventing Muslims from entering the country. In actuality, Trump's executive order halts visas for 90 days for "immigrants and non-immigrants" from Syria, Somalia, Sudan, Libya, Yemen, Iran, and Iraq. The order further suspended the entry of all refugees for 120 days, indefinitely blocked Syrian refugees from entering and lowered the ceiling to 50,000 for refugees allowed to enter the U.S. during Fiscal Year 2017.
Meanwhile, Telegram user Omra Alfarouq, another IS supporter, wrote: "The decisions made by that fool (Trump) will drag America and its supporters into a war against each other that will be sparked by the mujahedeen, who will take advantage of it to settle in."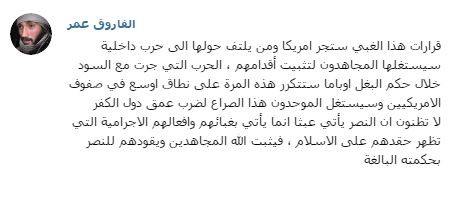 Utilizing racist language, Alfarouq continued, "The confrontations with the blacks that started under the donkey Obama will repeat itself, but this time in a much broader way among the Americans. And the Muslims will exploit these confrontations to strike in the heart of the infidel country. Don't think victory will come on its own. It will emanate from their stupidity and their criminal acts that attest to their hatred of Islam. Allah in his wisdom will strengthen the mujahedeen and lead them to victory."
An IS supporter who messages under the name "IS Will Live Forever" wrote: "Trump and (Vladimir) Putin the Crusaders' hatred for Islam is conspicuous and their policies only prove it. The war against the Crusaders began and will end with their defeat. We are at the end of times, and what times they are – the times of the oppressed mujahedeen on the face of the earth. The wisdom of Allah will allow the mujahedeen and the oppressed to rise up and cut off the heads of Crusaders… and whoever supports them among those who falsely claim to be Muslim."

IS, al-Qaida and other terrorist groups have reportedly been seeking ways to take advantage of the Middle East refugee crisis with the goal of infiltrating Western nations.
Last November, a car-ramming and mass stabbing attack was carried out at Ohio State University by Somali refugee Abdul Razak Ali Artan, who was reportedly inspired by IS.
In 2013, ABC News first revealed that two years earlier, the State Department imposed a freeze over the processing of Iraqi refugees for six months. The halt was the result of the discovery of two al-Qaida members admitted as refugees from Iraq who were living in Bowling Green, Kentucky and who had admitted to targeting U.S. troops in Iraq.  The network at the time also cited FBI agents conceding that "several dozen suspected terrorist bombmakers, including some believed to have targeted American troops, may have mistakenly been allowed to move to the United States as war refugees."
Aaron Klein is Breitbart's Jerusalem bureau chief and senior investigative reporter. He is a New York Times bestselling author and hosts the popular weekend talk radio program, "Aaron Klein Investigative Radio." Follow him on Twitter @AaronKleinShow. Follow him on Facebook.