TEL AVIV — Amid reports that a 2005 photograph of Barack Obama posing with Louis Farrakhan, the notorious anti-Semitic, anti-American leader of the Nation of Islam, was deliberately suppressed, it may be instructive to recall the former two-term president's larger ties to Farrakhan, radical associations that run deeper than one picture from 13 years ago.
On January 20, the Trice Edney News Wire published the 2005 photo of Obama with Farrakhan. The news agency quoted photographer Askia Muhammad as saying that after the picture was snapped at a meeting of the Congressional Black Caucus, Muhammad was approached by a caucus member who asked him not to use the image.
"I gave the original disk to him and in a sense swore myself to secrecy because I had quietly made a copy for myself," Muhammad told Fox News. Muhammad further said that the Congressional Black Caucus expressed concern the photo could harm Obama's future presidential aspirations.
As far back as May 2008, this reporter documented Obama's connections to Farrakhan, which largely ran through the former president's pastor and spiritual advisor for 20 years, Rev. Jeremiah Wright, Jr.
During the 2008 presidential campaign, Obama distanced himself from Wright months after soundbites of the pastor making anti-American and racist remarks first surfaced in the news media. Obama sat in the pews of Wright's Trinity United Church for nearly two decades despite the pastor's openly extremist positions.
Obama's face was featured on the cover of Wright's Trumpet magazine alongside Farrakhan and Nation of Islam founder Elijah Muhammad for a 2006 issue titled, "The legacy lives on." The issue was first discovered by BizzyBlog.com.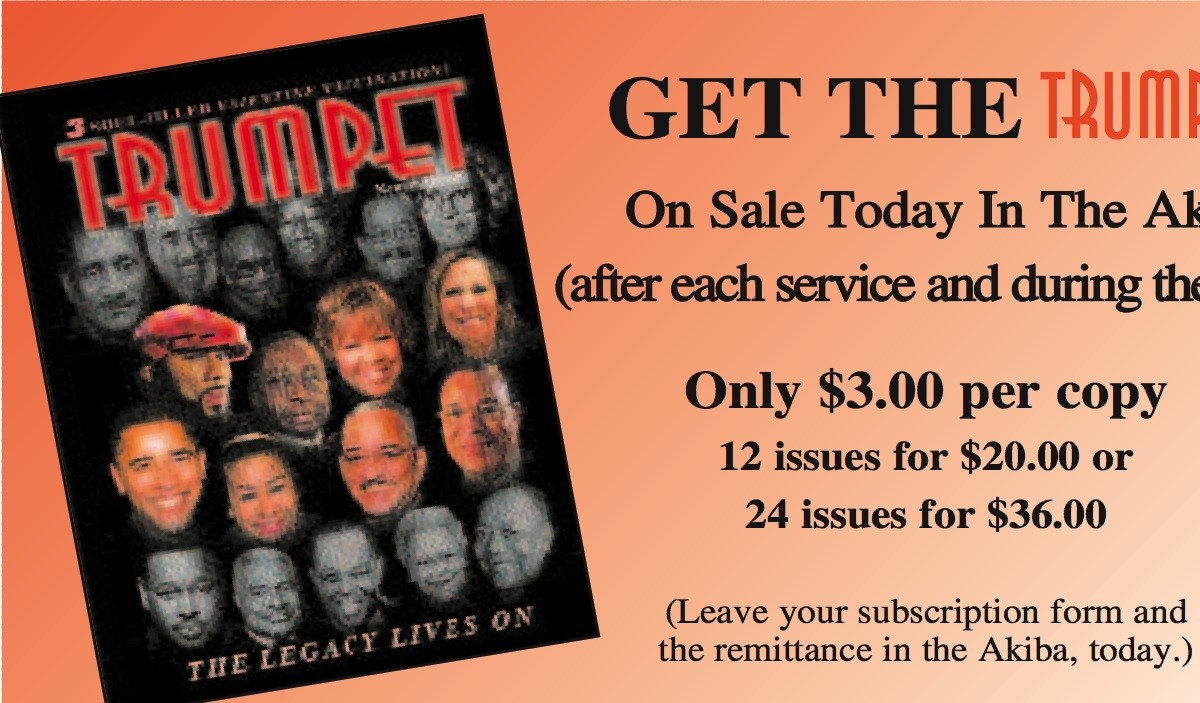 At the time of the discovery, Obama's 2008 presidential campaign did not return a request from this reporter seeking comment on whether the politician was aware that his face had appeared on the cover of Wright's magazine alongside Farrakhan's image.
Obama was featured on the cover of Wright's magazine at least three times, including once with his arm around Wright, and Obama gave an interview to the radical publication.
Farrakhan also made the cover of a special November/December 2007 Trumpet edition promoting Wright's Empowerment Award, which was handed out that year to Farrakhan. The publication hailed Farrakhan as a 20th and 21st century "giant."
"It seems inconceivable that, in 20 years, Obama would never have picked up a copy of Trumpet," wrote Stanley Kurtz in a lengthy Weekly Standard expose of Wright's magazine. "Obama himself graced the cover. … There can be no mistaking it. What did Barack Obama know and when did he know it? Everything. Always."
Besides gracing the cover of Trumpet with Farrakhan's image, Obama in 1995 discussed attending the Million Man March, which was organized by Farrakhan.
During the 2008 presidential campaign, a 2004 picture surfaced showing Michelle Obama attending an event hosted by Jesse Jackson's Citizenship Education Foundation. Michelle Obama was photographed there with Farrakhan's wife Mother Khadijah Farrakhan and five other women.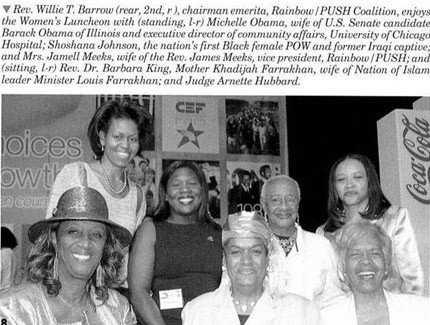 During that year's presidential campaign, this reporter also documented the ties of David Axelrod, who served as chief strategist to Obama's presidential campaigns and a White House senior adviser, to a church that was closely aligned with Farrakhan.
I reported at the time:
Although he is Jewish, Axelrod sits on the finance committee of St. Sabina, the Chicago Catholic parish that was led by controversial pastor Michael Pfleger, an outspoken Farrakhan supporter who hosted the Nation of Islam chief at his parish several times.

The Archdiocese of Chicago temporarily removed Pfleger from his duties at St. Sabina in 2008 following a well-publicized guest sermon at Trinity church in which Pfleger claimed Hillary Clinton cried in public because she thought being white entitled her to the Democratic presidential nomination.

Pfleger hosted Farrakhan at his church several times, including one May 2007 sermon that was Farrakhan's first public appearance since he announced in 2006 he had been suffering from prostate cancer and was seriously ill.

According to reports, Pfleger spent hours with the Nation of Islam chief during his illness. Pfleger previously enlisted Farrakhan's support for several of his initiatives, including an anti-gun protest in 2007.
In 2015, the Anti-Defamation League released an updated, 32-page pamphlet titled "Farrakhan: In His Own Words," extensively documenting the Nation of Islam leader's anti-Semitic, racist, homophobic statements.
Here are just three paragraphs of that 32-page report, which is filled with Farrakhan's hateful quotes:
In recent years, Farrakhan has embarked on a wide-ranging campaign specifically targeting the Jewish community, which has featured some of the most hateful speeches of Farrakhan's career as head of the NOI. Farrakhan has alleged that the Jewish people were responsible for the slave trade and that they conspire to control the government, the media, Hollywood and various Black individuals and organizations. He also frequently denies that Jews have a legitimate claim to their religion and to the land of Israel, claiming that Judaism is nothing more than a "deceptive lie" and a "theological error" promoted by Jews to further their supposed control over America's government and economy.

Farrakhan often promotes such messages at public speeches and sermons, some of which attract thousands of followers. During Part 2 of his 2015 Saviours' Day keynote address at the Mosque Maryam in Chicago, Illinois, Farrakhan used his platform to discuss the supposed role of Israel and Jews in orchestrating the 9/11 attacks, claiming that "Israelis had foreknowledge of the attacks" and that Jews were warned ahead of time not to come to work that day. He then went on to speak more broadly of Israeli control of the American government, stating that Israel and Jews "don't fear America because they control it from within."

Such conspiratorial and hateful rhetoric is frequently a central part of Saviours' Day sermons. During his keynote address to 18,000 people at the NOI's 2014 Saviours' Day convention at Joe Louis Arena in Detroit, Farrakhan likened himself to auto magnate Henry Ford, who promoted anti-Semitic conspiracies in the 1920s in The International Jew: the World's Foremost Problem. Farrakhan called Ford "a great man who was called an anti-Semite" and added, "I feel like I'm in good company." In Part 2 of his Saviours' Day address at Mosque Maryam in Chicago, Farrakhan received a standing ovation after telling his audience that "the Satanic Jews that control everything and mostly everybody, if they are your enemy, then you must be somebody."
Aaron Klein is Breitbart's Jerusalem bureau chief and senior investigative reporter. He is a New York Times bestselling author and hosts the popular weekend talk radio program, "Aaron Klein Investigative Radio." Follow him on Twitter @AaronKleinShow. Follow him on Facebook.