A visiting Bangladeshi woman stabbed a sleeping man in the neck in Melbourne, Australia, in what police allege is an Islamic State-inspired terrorist attack.
The 24-year-old attacker, identified as Momena Shoma, was arrested at the scene and charged with engaging in a terrorist act. ABC News reports she is a Bangladeshi national who travelled to Melbourne on February 1 on a student visa and was renting a room in the home of her victim, a man identified by neighbours as a 56-year-old nurse.
The victim was taken to the Royal Melbourne Hospital where he underwent surgery on Saturday for non-life threatening injuries and is expected to make a full recovery.
Immediately after the attack, Shoma allegedly told a neighbour that she had "purposefully come here [Australia] to kill."
"We will allege this was a standalone, Islamic State-inspired attack, designed to cause harm to our community," the Australian Federal Police acting deputy commissioner of national security, Ian McCartney, said on Saturday.
"We deplore any attempt to intimidate our community."
Neighbours said Ms Shoma had arrived the day before the incident and had planned to stay for around 10 days.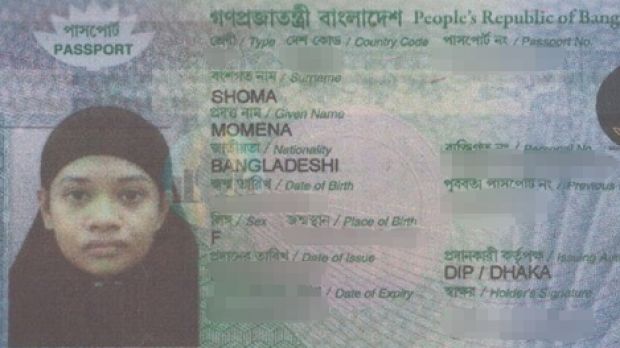 Police said she had been enrolling in a course at La Trobe University and that it was understood she was wearing a black burka at the time of the attack.
Victoria Police Acting Deputy Commissioner Ross Guenther also pointed to radical Islamic State motives for the attack.
"We're confident this person acted alone and it was an inspired attack by a person who had become radicalised over a period of time," he said.
"We have evidence that supports that contention which will later be brought before the court.
"We have a well-established Bangladeshi community and we strongly advise that we don't want any retaliatory action against that community because as part of our broader social fabric they're very important to the health of this city of Melbourne."
Since September 2014, when the national terrorism threat level was raised, police have charged 85 people, including this woman, following 36 counter-terrorism operations around Australia.
Follow Simon Kent on Twitter:

Follow @SunSimonKent

or e-mail to: skent@breitbart.com