Police in Rio de Janeiro, many who have not received salaries in months, staged multiple protests throughout the city, demanding the government pay them and warning off Summer Olympics tourists with signs reading, "Welcome to Hell."
The "Welcome to Hell" sign appeared this week in Rio de Janeiro's international airport, held up by police. "Police and firefighters don't get paid, whoever comes to Rio de Janeiro will not be safe," the sign reads.
The airport protest was one of a succession of pop-up messages surfacing in the city warning tourists to stay away. "Welcome, we don't have hospitals!" another graffitied sign on a highway read Wednesday, this one a reference to the siege of a major hospital by drug traffickers who were helping their boss, a gang member known as "Fat Family," to escape after getting shot.
Welcome, we don't have hospitals! – "Aviso" na estrada do Galeão. (Foto: Tiago Bla) pic.twitter.com/NfnrEukkuT

— Cecília Olliveira (@Cecillia) June 26, 2016
An estimated 300 police officers in Rio also staged a protest in front of the state's assembly headquarters, waving banners reading, "The police's priority is the people. The government's priority is the Olympics."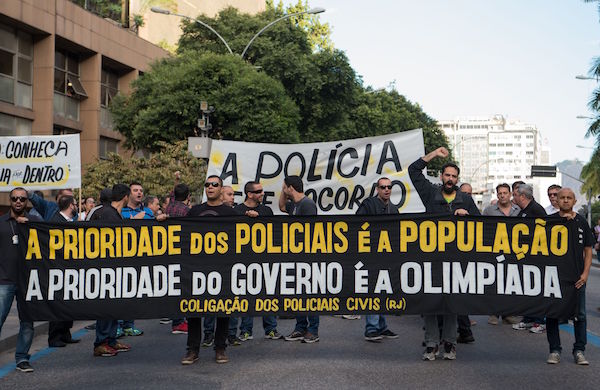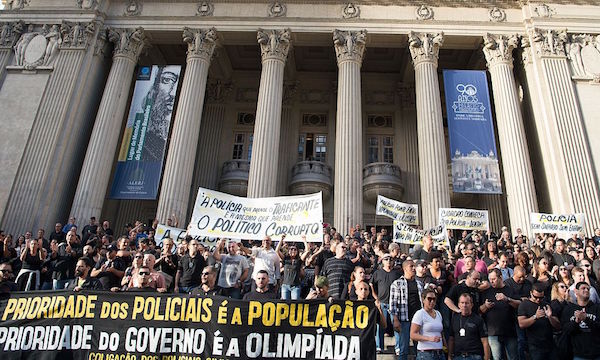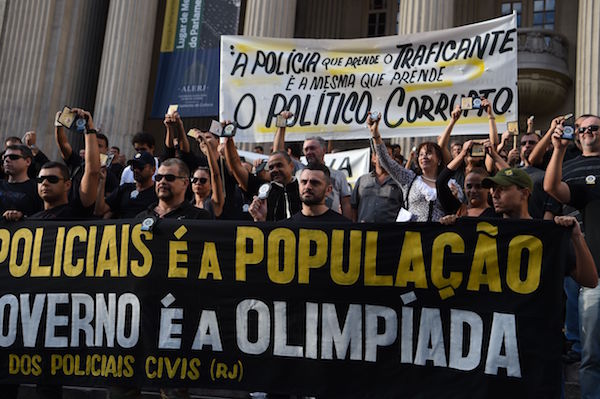 Speaking to the Agence-France Presse, police are complaining that they do not have the basic items necessary to do their jobs. "At the stations we don't have paper or ink for the printers, there's no one to come in to clean and some stations don't have a water supply anymore so the toilets are not functioning," an officer told the agency. "Members of the public bring toilet paper to us."
The government of Rio de Janeiro has run out of money for a variety of items needed to serve the public good, among them gasoline for police patrol cars and basic stationary items. The money for these has been diverted towards a number of Summer Olympics projects, including the still-incomplete subway line designed to connect major hotels and the Olympic village with new sports venues. The Games are set to begin in August, leaving little time to complete the infrastructure necessary to host the event.
Rio de Janeiro Governor Francisco Dornelles has demanded the federal government in Brasilia release $900 million in emergency funding to pay construction workers and keep the police forces running. Without the money, he stated in his demand, Rio could be facing a "total breakdown in public security."
"We can make a great Olympics, but if some steps are not taken, it can be a big failure," he stated earlier this week. "How will people get to places without underground transportation?" he added. "How will people feel protected in the city without security? We have to give proof that we are equipping security and the ready mobility for people to come to the country."
In the same interview with Brazilian newspaper O Globo, Dornelles also described the health situation as "calamitous." The declaration is cause for alarm, given the current outbreak of Zika virus in Brazil. Zika has profoundly affected Rio de Janeiro in particular and the "Fat Family" assault on a hospital designated for the use of Olympians and tourists. Adding to fears is a new assault on a pharmacy in the city; this week, robbers stormed into a pharmacy in Rio's North Zone, armed with a blowtorch to open the business's safe. Four of the pharmacy's employees were held hostage during the robbery.