If Fidel Castro's death, plus the arrival of a new U.S. administration, are the double whammy that finally brings change to Cuba, here are five dissident artists who will help usher in the post-Castro era.
And if Cubans end up stuck in a "post-Fidel but still tyrannized by Raul" era, these five will demand something better.
Tania Bruguera: This Guggenheim Fellowship performance artist was jailed for a work that consisted of nothing more than one minute of unrestrained free speech for everyone who stepped up to her microphone. That was too much for Havana to handle, so she was whisked off to Castro's dungeons in the wee hours of the morning, and soon found herself with plenty of company.
The Obama State Department pronounced itself "deeply concerned," which wasn't much help to Bruguera, but also came as no surprise – her free-speech project was meant as a response to President Obama's concessions to Cuba. In the debate over whether Cuba had really changed, Tania Bruguera decisively defeated the Obama administration.
Her prize was a full set of interrogations by the Cuban secret police. "At one point I wondered, do they not notice they are making the piece even better?" she said later. The secret police didn't take it well when she made that point to them… and thanked them for making her a better person.
Her next piece of performance art will be running for president of Cuba when Raul Castro steps down in 2018. (He said he would, and a communist would never break his word, right?) It will be fun watching Castro apologists in the U.S., Canada, and Europe splutter when the regime explains to her that "elections" in Cuba don't involve debates, campaign platforms, or opposition candidates.
Danilo "El Sexto" Maldonado Machado: This defiant graffiti artist was on the phone with the New York Times on Saturday morning when state security goons broke into his hotel room, beat him up, and dragged him off to jail. It took them a while to decide what offense to charge him with, but they eventually settled on "chanting slogans critical of Fidel Castro and his brother Raul," according to Apollo Magazine.
A week earlier, Machado was pinched at the airport for the crime of attempting to fly to Miami for an exhibit of his art, even though he had been given permission to travel by the regime. Castro apologists often forget how whimsical tyranny can be, and how difficult life is for the victims of a dictatorship's whimsy.
Machado has been on the regime's radar screen since spending ten months in jail for the crime of posting a photograph of two pigs with the names "Fidel" and "Raul" written on them. After his release, he received the Vaclav Havel Prize for Creative Dissent from the Human Rights Foundation.
He's also noted for spray-painting such messages as "Peace, Love, Without Fear" on the dilapidated walls of Havana, and creating a flyer that could be folded into a paper airplane branded "Freedom." "But just like Cubans, this plane doesn't fly very far," he explained.
"It's not creative to have fear. Fear affects creativity, and liberty. If you want to reach liberty, fear is an important thing to eliminate," he told the New York Times in a video interview, on the occasion of President Obama's visit to the island. The other Cubans approached by the NYT were afraid to discuss freedom of speech at all.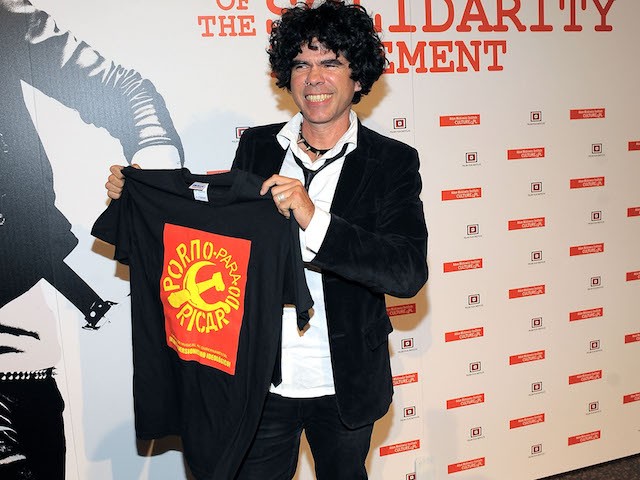 Gorki Aguila and Lia Villares: This punk rock duo called attention to Castro's repression by staging an hour-long concert that was entirely silent. They stood on a balcony holding their instruments for an hour with their mouths taped shut. In a novel twist, the regime didn't arrest them – it threatened to arrest anyone who looked at them.
Don't worry, the musicians have been arrested as well, on other occasions. Aguila was once arrested for standing in front of a museum next to some of El Sexto's artwork. During one of his detentions, the police told him to cease his activism, or else "those who invite you to visit another country will have to come looking for you in a boat."
Aguila and Villares perform under the name Porno para Ricardo, producing music that is often slyly critical of the Castros, such as a song entitled "Down with You-Know-Who."
Aguila called out the Rolling Stones for playing a concert in Cuba without raising their voices against the suppression of free speech: "In Cuba, musicians are censored. Musicians can't play. Women are beaten. I would love to say that to artists: inform yourself first about what is happening in Cuba. At least throw a little "down with Castro' in there, a little one. Keith Richard, the craziest one, he can do it. Can you imagine?"
Apparently Mr. Richards could not.
Angel "The Art Critic" Yunier Remon Arzuaga: Arzuaga raps his criticism of the Castro regime, which responded by giving him a rap sheet. After he became part of a peaceful dissident group called the Patriotic Union of Cuba, he was beaten, tear-gassed, and thrown in jail for six years. He was able to continue communicating from prison, ultimately getting the U.S. government involved in his case.
Among the specific offenses cited for his arrest was writing "Down with the dictatorship" on the door of his house. He also has "No to the Castros" tattooed on his arm.
The Critic is now living in Miami, thanks to a program for political exiles. He said he was forced to leave Cuba by constant harassment, from both officials and rock-throwing goons.
"Never, never, while there is a Castro regime, will there be a change in human rights. The Cuban government will not change nor will it allow a political opening," he has said.
Ruben "Candyman" Cuesta Palomo: A reggaetón star who discovered the Castro regime can silence musicians without officially banning them. "They never tell you but you come to realize it because you are no longer hired to perform; you get vetoed. The censorship was lifted after eight years but I continue dragging that chain," he explained during a visit to Miami last summer.
"They know that culture, the arts, is the most dangerous weapon they can have in their own yard, because they can't take an artist and beat him up for singing," he continued, a point upon which The Critic might disagree. "They can do it with a dissident, or a homosexual, if they do something, like making a scandal in the streets. But if an artist makes a scandal in the streets they treat him differently."
As the Miami Herald noted during Palomo's visit, reggaeton also has sexually explicit lyrics that challenge Cuba's morality police, and themes of "consumption and material desires" considered "dangerously subversive in the context of scarcity Cubans are experiencing."
Like Angel Arzuaga, Palomo has become affiliated with the Patriotic Union of Cuba, an organization that seems to have a keen appreciation for the subversive power of music and video. Another member, singer Liettys Rachel Reyes, told the Miami Herald that "every day, more and more Cuban youth get together to express their true feelings; they are realizing that time is running out for the regime."
Perhaps due to the popularity of their music with young people, the reggaetón artists seem to get away with more open defiance of the Castro regime than many other artists, especially when they travel overseas. Another musician, Mucho Manolo, taunted the Cuban government while talking to the Miami Herald: "Look at the world we're living in, a world where people are figuring out how to get to Mars, and you are concerned about banning a musical genre? You guys are burned out."
To paraphrase a song from another musical genre, now that the Castros are burned out, let's hope they fade away.