American Thinker offers some interesting background on Shirley Sherrod.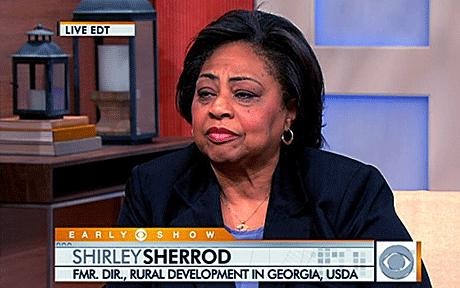 The Thinker quotes from veteran Democrat Pol Willie Brown on her firing by the Obama Administration:

"This past Sunday, in his weekly

column

for the San Francisco Chronicle, 'Willie's World,' veteran black politico Willie Brown confirmed that 'there is more to the story than just [Sherrod's] remarks.'
'As an old pro,' Brown acknowledged, "I know that you don't fire someone without at least hearing their side of the story unless you want them gone in the first place.' Brown observed that Sherrod had been a thorn in the USDA's side for years, that many had objected to her hiring, and that she had been 'operating a community activist organization not unlike ACORN.' Although Brown does not go into detail, he alludes to a class action lawsuit against the USDA in which she participated some years ago."
The Thinker goes on to describe Sherrod's involvement in the Pigford case, in which black farmers charged racism and won a settlement from the Department of Agriculture. Sherrod and her husband were beneficiaries of the suit.
"More to the point, out of about $1 billion paid out so far in settlements, the largest amount has gone to the Sherrods' New Communities Incorporated, which received some $13 million. As Time Magazine approvingly reported this week, $330,000 was 'awarded to Shirley and Charles Sherrod for mental suffering alone.'
Unwittingly, Charles Sherrod shed light on the how and why of the settlement in a speech he gave in January 2010. As he explained, New Communities farmed its 6,000 acres successfully for seventeen years before running into five straight years of drought. Then,
according
to Sherrod, New Communities engaged in a three-year fight with the USDA to get the appropriate loans to deal with drought.
Said Sherrod, 'They were saying that since we're a corporation, we're not an individual, we're not a farmer.' Nevertheless, the Sherrods prevailed, but the late payments 'caused us to lose this land.' In other words, the bureaucratic delay over taxpayer-funded corporate welfare payments cost them their business.
Then, thanks to their 'good lawyers,' said a gleeful Sherrod, who seems to have fully recovered from his mental suffering, the Sherrods successfully sued the government for 'a large sum of money — a large sum of money.' While saying this, he made hand gestures suggesting $15 million. The land itself was admittedly worth no more than $9 million."
The Thinker goes on to note that Sherrod and her husband have apparently been awarded an FCC license for a radio station. Their message?
"Sherrod gave this talk to announce that the FCC had awarded New Communities a radio station in Albany, Georgia, still another race-based corporate welfare boondoggle. Before the award of this station, he added, the Sherrods 'had no means of communicating with our people.'
The 'our people' in question, of course, are black people. With this new voice, the Sherrods will help '

stop the white man and his Uncle Toms

from stealing our elections. We must not be afraid to vote black.'"