The crusade against for-profit colleges has been raging for the better part of a year with Congressional hearings and the potential for new regulations making financial aid for students attending those school impossible to get. Democrats have declared for-profit schools unworthy of educating students in need of financial aid, which would disproportionally harm lower income and minority students, who make up a large percentage of their student body. But while these for-profit school have be fighting for their lives, others, with the apparent help of regulators from the Department of Education, have been fighting "for profits" of their own, and this starting to catch the eye of elected officials in Washington.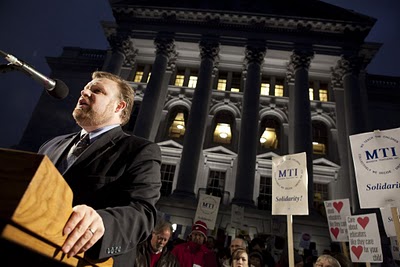 The first red-flag in the crusade against for-profit colleges came when Senator Tom Harkin (D-IA) held a hearing where Steven Eisman, a noted Wall Street short-seller, was called to testify against for-profit colleges, something about which he had zero expertise. Then the group Citizens for Responsibility and Ethics in Washington (CREW) discovered the possible explanation as to why Mr. Eisman was so interested in an issue in which he had no expertise. From documents obtained through a Freedom of Information Act (FOIA) request, CREW discovered that, as the Daily Caller described it, "…Eisman and other short sellers may have been given advanced notice of key regulatory moves by the agency, which would have allowed them to position themselves early in the market, and profit handsomely."
This used to be called "insider trading," a term from the 80s that seems to have gone out of vogue, but is still illegal.
CREW sent a letter to Robert Khuzami, Director of the Division of Enforcement at the Securities and Exchange Commission, informing him of their findings and calling for an investigation into possible illegal activities by Eisman and several people inside the Department of Education who, as the emails and documents they obtained suggest, may have fed Eisman and his colleagues the information.
A further investigation by the Daily Caller found that, in addition to Eisman, another short-seller, Manuel Asensio, a man "securities regulators debarred…from employment as an investment banker for the rest of his life for refusing to answer questions and provide documents about his investment practices," is now lobbying against for-profit colleges.
All these shady dealings and characters have not gone unnoticed on either side of Capitol Hill.
Congressman Glenn Thompson (R-PA), in a hearing of the Higher Education and Workforce Training Subcommittee, questioned Kathleen Tighe, Inspector General of the Department of Education (DoE), about whether or not she saw contacts between the short-sellers and DoE officials, which show a knowledge of reports that were not yet public, as worthy of investigation. Her answer was yes.
You can see the exchange below.
Taking it a step further, Senator Tom Coburn (R-OK) at a hearing of the Homeland Security and Government Affairs Committee said, "Utilization of facts in the Department of Education in advantaging investors in one segment to make significant dollars over something the government's thinking about doing is highly unethical and if proven to be the case, some people ought to be going to jail in the Department of Education."
Senator Coburn was the first to introduce the concept of some DoE officials going to jail, but it hardly seems like he will be the last.
The coordinated attack on for-profit colleges is unravelling, and may end up exposing an alliance between DoE officials and Wall Street that proves to be not only unethical, but illegal. The concept of insider trading was the basis for the original move "Wall Street," but don't expect Oliver Stone to take this bit of greed at the expense of the poor to the silver screen. A scandal that would've been all over the nightly news were a Republican President in the White House has yet to register much of a blip on the radar of most mainstream media outlets at this point. But the pressure is building from Capitol Hill to expose this seeming corruption. Whatever the end result of an investigation is, an investigation is warranted. It's the least should expect from the "most transparent administration in history."
Stalk Derek on Twitter by clicking here @derekahunter