Almost everything you think you know about the Matthew Shepard narrative is false.
Matthew Shepard was the winsome young homosexual in Laramie, Wyoming who in October 1998 was tortured, killed, and left hanging grotesquely from a fence. He was discovered almost a day later and later died in the hospital from his horrific wounds.
On the night of October 6, Shepard met "two strangers" in the Fireside Lounge in Laramie. The two men offered Shepard a ride home but instead drove him to a remote area, robbed him, beat him with pistols, and left him splayed on a fence.
Cops found the bloody gun along with Shepard's shoes and wallet in the truck of the two men — Aaron McKinney and Russell Henderson.
McKinney and Henderson claimed the "gay panic" defense, that they freaked out when Shepard came onto them sexually and killed him in a rage. They made other claims, too, but were convicted and sentenced to life in prison.
Almost immediately Shepard became a secular saint, and his killing became a kind of gay Passion Play where he suffered and died for the cause of homosexuality against the growing homophobia and hatred of gay America.
Indeed, a Mathew Shepard industry grew rapidly with plays and foundations along with state and even national hate crimes legislation named for him. Rock stars wrote songs about him, including Elton John and Melissa Etheridge. Lady Gaga performed John Lennon's "Imagine" and changed the lyrics to include Shepard.
Thanks to a new book by an award winning gay journalist we now know that much of this narrative turns out to be false, little more than gay hagiography.
As gay journalist Aaron Hicklin, writing in The Advocate asks, "How do people sold on one version of history react to being told that the facts are slippery — that thinking of Shepard's murder as a hate crime does not mean it was a hate crime? And how does it color our understanding of such a crime if the perpetrator and victim not only knew each other but also had sex together, bought drugs from one another, and partied together?"
This startling revelation comes in The Book of Matt to be published next week by investigative journalist Stephen Jiminez, who over the course of years interviewed over 100 people including Shepard's friends, friends of the killers, and the killers themselves.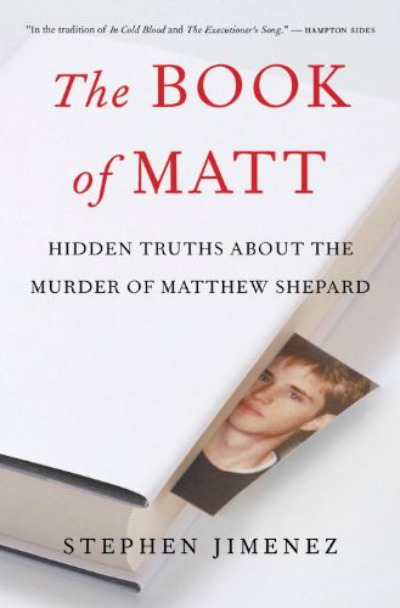 According to The Advocate, one of the premier gay publications in the country, Jiminez "amassed enough anecdotal evidence to build a persuasive case that Shepard's sexuality was, if not incidental, certain less central than popular consensus had lead us to believe."
Even before Shepard died, two of his friends were peddling the narrative that he died at the hands of vicious homophobes. Within days the gay establishment latched onto what would drive the hate crimes story for years to come; even now, the Laramie Project, a stage play about the killing is performed all over the country. Indeed, it will be performed next week at Ford's Theater in Washington DC.
But what really happened to Matthew Shepard?
He was beaten, tortured, and killed by one or both of the men now serving life sentences. But it turns out, according to Jiminez, that Shepard was a meth dealer himself and he was friends and sex partners with the man who led in his killing. Indeed, his killer may have killed him because Shepard allegedly came into possession of a large amount of methamphetamine and refused to give it up.
The book also shows that Shepard's killer was on a five-day meth binge at the time of the killing.
As to be expected, Matthew Shepard Inc. is rallying to denounce the new narrative that his homosexuality had little or nothing to do with his murder. The Matthew Shepard Foundation released this statement:
Attempts now to rewrite the story of this hate crime appear to be based on untrustworthy sources, factual errors, rumors and innuendo rather than the actual evidence gathered by law enforcement and presented in a court of law. We do not respond to innuendo, rumor or conspiracy theories. Instead we recommit ourselves to honoring Matthew's memory, and refuse to be intimidated by those who seek to tarnish it. We owe that to the tens of thousands of donors, activists, volunteers, and allies to the cause of equality who have made our work possible.
The agenda of the sexual left lives on lies. As we all know now, the back-story that brought us Roe v. Wade was a lie. And here we find the Matthew Shepard story was also a lie.
The sexual left approves of such lies because they get to what they consider to be an underlying truth. The author of The Advocate piece writes, "There are valuable reasons for telling certain stories in a certain way at pivotal times, but that doesn't mean we have to hold on to them once they've outlived their usefulness."