Breitbart News is providing live coverage of Winter Storm Juno, which is expected to bring blizzard conditions to much of the northeastern United States.
7:45 PM EST: New Jersey Governor Chris Christie fearlessly tackles vital issues in advance of Snowmageddon:
no. (So am I) RT @Roadshow_Heavey: @GovChristie Do you happen to know if Dunkin donuts will be open tomorrow? I'm serious.

— Governor Christie (@GovChristie) January 27, 2015
7:35 PM EST: Some more storm effects reported by the Associated Press include the interruption of jury selection in the Boston Marathon bombing trial and the "postponement of opening statements in the murder trial of former NFL star Aaron Hernandez in Fall River, Massachusetts."  However, the New England Patriots "got out of town just in time" via Logan Airport for the Super Bowl, and the New York Stock Exchange is expected to open for business as usual on Tuesday.
7:30 PM EST: According to a Weather Channel update, the Maine Department of Transportation is advising essential travel only on Tuesday, as plows work to clear the roads.  Sadly, it was necessary to cancel the 46th annual Maine Winter Games of the Special Olympics due to the storm. A significant number of flights have been canceled at Manchester-Boston Regional Airport in New Hampshire for Monday night and Tuesday.  Travel is permitted on Tuesday in Vermont, but commuters were advised to use caution. Amtrak has suspended service between Boston and New York City for Tuesday, along with several other Amtrak runs in Massachusetts, including the Vermonter and Springfield Lines and the Lake Shore Limited, according to an update at MassLive.
6:30 PM EST: The entire New York City subway system will be shut down at 11 PM Monday night, according to the New York Post, with the cars moved into storage.  Governor Andrew Cuomo was uncertain as to when the system would be brought back on line, but it seems likely the trains won't run again until Tuesday evening at least. The city streets are going under a general travel ban at 11 PM as well, with the prospect of misdemeanor charges with a $300 fine facing violators.  
"As the evening progresses and the snow intensifies, it will not be an optional matter," said Mayor Bill de Blasio. "At 11 o'clock tonight, our streets will only be available to emergency vehicles … and we will continue that emergency declaration until further notice.  You cannot be on the roads after 11 p.m."
The New York Daily News provides a list of final train departures from Grand Central Terminal, for those hoping to get out of the city before service is discontinued:
The last train to New Haven will depart at 9:39 p.

m.

This train usually terminates at Stamford, but will be extended to New Haven, and will also be the last to

 provide a connection to Danbury.

The last train that will provide a connection to New Canaan will depart at 9:06 p.m.

The last outbound train that will provide a connection to Waterbury will depart at 6:53 p.m.

The last northbound train to North White Plains will depart at 9:25 p.m.
The last northbound train to Southeast will depart at 9:52 p.m.

The last northbound train to Wassaic will depart at 8:52 p.m.

The last northbound train to Poughkeepsie will depart at 9:20 p.m.
The last train that will connect with the Ossining-Haverstraw ferry departs at 7:28 p.m.

The last train that will connect with the Hudson Rail Link at Spuyten Duyvil and Riverdale departs at 9:20 p.m.
 6:00 PM EST: A snow emergency and parking ban are now in effect in Boston, where the public works commissioner said 250 sanders plus 600 other pieces of equipment would be on the streets shortly.  A full travel ban is scheduled to begin at midnight.  Residents are encouraged to notify city authorities when streets need plowing, instead of trying to shovel the streets themselves.  Boston public schools will be closed through Wednesday.
5:40 PM EST: Connecticut Governor Dan Malloy announced that Bradley Airport would close to passenger flights at 7:00 PM Monday night, and a travel ban would go into effect at 9:00 PM.  Non-essential state employees were told not to report for work on Tuesday. 
Travel ban is in effect as of 9PM. If you are on the road after 9, you are not only placing your life in danger but lives of 1st responders — Governor Dan Malloy (@GovMalloyOffice) January 26, 2015
5:15 PM EST: New York magazine has more scenes from the food stampede, which brought big crowds, empty shelves, and a few forlorn, abandoned shopping baskets to grocers across the city.  "If you're just gearing up to go out now, you're probably out of luck," advises writer Katie Savadski, "but it's not too late to observe the chaos from the safety of your snuggie."
5:00 PM EST: From Mashable deputy managing editor Amanda Willis comes this photo of a line stretched around the block at Whole Foods in New York City, reminding us once again that shopping for supplies in advance of a crisis predicted days in advance is an excellent idea: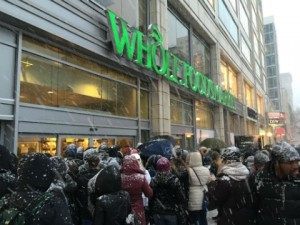 4:55 PM EST: A message from New Jersey Governor Chris Christie via Twitter:
The storm is expected to be at its worst from 9pm tonight until 9am tomorrow. Please stay off the roads during those times. #blizzardof2015 — Governor Christie (@GovChristie) January 26, 2015
In case you were wondering, yes, the global-warming nuts are already trying to claim Winter Storm Juno is evidence of man-made "climate change," as if there were no nor'easters before the internal combustion engine came along.
4:45 PM EST: Updated storm summary from the National Weather Service, which continues to warn of "crippling snowfall amounts and life-threatening blizzard conditions" for much of the Northeast:
BLIZZARD WARNINGS ARE IN EFFECT FOR THE COASTAL AREAS OF NEW
JERSEY NORTHWARD THROUGH MAINE... EXCLUDING NANTUCKET ISLAND.

WINTER STORM WARNINGS ARE IN EFFECT FROM NEW JERSEY AND EASTERN
PENNSYLVANIA NORTHWARD TO MAINE. WINTER STORM WARNINGS ARE ALSO IN
EFFECT FOR A SMALL AREA OF THE APPALACHIANS IN WEST VIRGINIA AND
MARYLAND.

WINTER WEATHER ADVISORIES ARE IN EFFECT FOR MUCH OF THE
MID-ATLANTIC STATES AND CENTRAL APPALACHIANS...AS WELL AS IN THE
NORTHEAST ALONG THE WESTERN PERIPHERY OF THE WINTER STORM
WARNINGS. WINTER WEATHER ADVISORIES ARE ALSO IN EFFECT FOR THE
HIGHER ELEVATIONS OF THE SOUTHERN APPALACHIANS IN
TENNESSEE...NORTH CAROLINA...AND GEORGIA.

COASTAL FLOOD WARNINGS AND ADVISORIES ARE IN EFFECT FROM DELAWARE
TO THE COAST OF MAINE.
The Weather Channel now predicts 6 inches of snow for Philadelphia; a foot or more for New York City; 2 feet for Boston, Providence, Rhode Island, and Portland, Maine, with even more possible in eastern Massachusetts; and a peak snowfall rate of 2 to 4 inches per hour overnight.
4:35 PM EST: New York City Mayor Bill de Blasio has announced that "streets will only be available to emergency vehicles starting at 11 p.m. due to the massive snowstorm heading to the area," as reported by the Associated Press.  Subway service will become limited after 7:00 or 8:00 p.m. Monday night.  All city public schools will be closed on Tuesday.
"Please stay off the roads.  Everyone should expect impassable roads starting at midnight tonight," said Massachusetts Governor Charlie Baker at a press conference.  "We are also preparing for flooding along the coast," as well as widespread coastal power outages that could last for several days.
4:25 PM EST: Among other storm fallout related by AFP, the United Nations headquarters in New York closed early on Monday, "forcing the cancellation on Tuesday of an important event to commemorate the 70th anniversary of the Holocaust."
4:20 PM EST: The worst of Juno will be felt along the northeast coast, but there's trouble in Virginia, too.  With 2 to 4 inches of snow expected, the Virginia Department of Transportation is encouraging commuters to head home early on Monday afternoon.
"Travel will be impossible.  Forget about it on Tuesday," AccuWeather meteorologist Tom Kines said of Philadelphia, New York, and much of New England to USA Today.  "The sun will come out on Wednesday, and they can all start digging out."
Another AccuWeather meteorologist, Henry Margusity, compared Juno to "a tidal wave of snow into New England tonight into Tuesday."  The National Weather Service is describing anticipated conditions in the hardest-hit coastal regions as "life-threatening."
The same article reported that New York City's Department of Homeless Services "activated its 'Code Blue' winter weather emergency procedure, making it possible for homeless people to stay at any city shelter, regardless of which one they're assigned to. The department said it would double the number of 'outreach vans' on the streets overnight through Wednesday and said another 10 vans will be out finding homeless New Yorkers along the city's subway system."
4:15 PM EST: If you've ever wondered what it would take to halt construction on a major project like the New Tappan Zee Bridge in New York, here you go.  That's one of the largest cranes in the world you can barely make out through the wind-driven snow.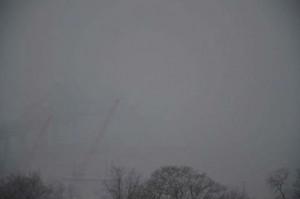 3:55 PM EST: Syracuse.com collects Twitter messages and photos from across the Northeast, as grocery stores are "overrun and cleaned out" by customers bracing for the storm.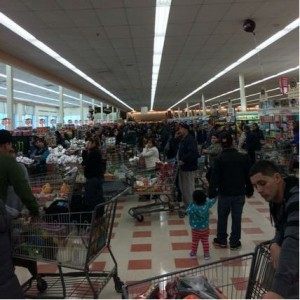 It's unclear if this is a Photoshop or someone having a bit of fun with a road sign, but ABC News in Boston relays this image: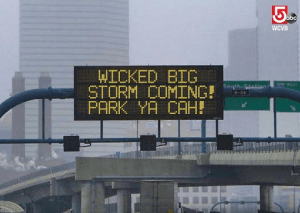 3:45 PM EST: Not surprisingly, given the travel restrictions in effect in New York City, all Broadway performances for Monday night have been cancelled.  The fate of Tuesday's shows remains undecided.
The scope of the blizzard warning seems to have expanded since Monday morning; Reuters reports that it now covers as many as 50 million people living in the Northeast.  (It's possible that media sources reporting this much larger number are conflating estimates of how many people will be significantly affected by Juno with the official blizzard and winter storm warning areas.) Reuters also reports that New Jersey commuter trains will "stop running for at least one day, beginning at 10 p.m. on Monday."
3:15 PM EST: Having caught a good deal of grief for its "surge pricing" increases during previous crises – notably Hurricane Sandy and the recent Sydney hostage crisis – the Uber ride-sharing service has announced it will cap surge prices for duration of Winter Storm Juno.
American and Southwest Airlines have canceled most flights throughout the northeastern United States for Monday and Tuesday.  The Dallas Business Journal mentions an extra headache facing airline planners: not only do they have to keep aircraft from flying into dangerous areas of the blizzard, but they must consider canceling flights into the affected area that might leave planes stuck on snow-bound runways during and after the storm.
3:00 PM EST: New York, New Jersey, Rhode Island, and Massachusetts have declared states of emergency in advance of the storm.  Some schools are closing early in those states on Monday, and are likely to remain closed on Tuesday and Wednesday.
Connecticut Governor Dannel P. Malloy has issued a travel ban for his state, beginning at 9:00 PM Monday night.  Similar travel restrictions are in effect for Rhode Island and Massachusetts, while the governors of other states in the path of Juno have asked for residents to refrain from unnecessary travel.
New York's subway system will go to limited service after 8:00 PM Monday night, with a complete shutdown of some railroads likely later in the evening.  [Update – it appears the Long Island Railroad will shut down by 11:00 PM.]  Amtrak has announced a "modified schedule" of reduced service in the affected area for Monday evening, with no firm announcement about Tuesday service as of yet.  The number of flights canceled through Wednesday in advance of the storm has reached 6,175, with a complete shutdown of airports in New York, Boston, and Philadelphia likely.
1:30 PM EST: As is usually the case with major weather events, there is some question about the severity of Juno and whether it will be a "historic" storm or not.  The Washington Post has a good run-down on the debate, which kicked into high gear when the National Weather Service called Juno a "crippling and potentially historic blizzard" early Monday morning, even though the forecast severity had already been downgraded somewhat from weekend predictions.  Of course, a storm can be very bad news for those in its path without reaching "historic" or "storm of the century" proportions.  The latest satellite image from NASA doesn't look good: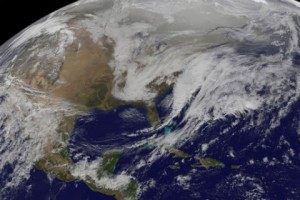 12:45 PM EST: CBS News in Philadelphia reports the city will declare a snow emergency at 6:00 PM tonight.  The governor of Massachusetts has announced the state's MBTA mass-transit system will shut down at midnight, and will not offer service on Tuesday.
12:00 PM EST: The National Weather Service has issued blizzard warnings for the coastal regions of New Jersey, up through Maine, with the exception of Nantucket Island.  Winter Storm warnings extend from Maryland through West Virginia, including Nantucket Island and the northern mid-Atlantic region.  Winter weather advisories are in effect for the Ohio Valley and southern Appalachians.
The storm is driven by a low pressure center that formed near North Carolina, which is pushing northeast and driving a large, snow-laden frontal boundary.  The low-pressure area is expected to intensify considerably as it moves.  The hardest-hit areas are forecast to experience not only heavy snow, but nearly hurricane-force winds, plus thunder and lightning.  Snowfall totals of one to three feet are possible.
The Weather Channel warns that "at least 28 million people are in the zone of potential blizzard conditions, and millions more will see enough snow to complicate travel."  The most serious pockets of storm activity are expected to begin arriving late Monday afternoon.  Residents in Juno's path are advised to complete all storm preparations by then, cancel travel plans for late Monday and Tuesday, and prepare for possible power outages.  Severe airline delays are expected, while over 3.500 flights have already been canceled.