As he's become the 2016 GOP presidential campaign's clear frontrunner—before even announcing a candidacy—Wisconsin Gov. Scott Walker's 2016 team just made a huge pickup, Breitbart News has learned exclusively.
Shirley & Banister Public Affairs will be handling strategic communications for Walker's Super PAC, the Unintimidated PAC, and providing historical context that will prove crucial for the campaign. Since the firm's two partners—Craig Shirley and Diana Banister—are extraordinarily connected among major players in the conservative movement, they'll be filling a key gap in Walker's growing team of influential staffers.
"We're delighted to join this fantastic team working on behalf of Governor Walker," said Banister, President of SBPA.  "His refreshing approach to important national issues, shows Governor Walker is a strong leader who is truly unintimidated by powerful political forces and the Washington-knows-best-mentality that often leaves behind the best interests of the American people.  We gladly join him in this fight."
"One of the hallmarks of SBPA is we only work with people with whom we agree and we not only agree with Governor Walker, we admire him," Shirley said in an emailed statement to Breitbart News. "He is a conservative, he is honest, ethical, tough and principled. We are proud of our new association with Governor Walker."
The firm has been active in the conservative movement since 1984, helped Reagan's re-election, has represented groups like the National Rifle Association, Tea Party Patriots, the Club For Growth, and more. Instead of focusing on mainstream media efforts, Shirley & Banister focuses much of its resources on new media like conservative online media, talk radio and other grassroots-centered materials–yet another sign that Walker doesn't care about the Washington establishment way of doing things.
It's worth noting that communicating in the new media world is much different than working with dinosaur-era old media, and it takes a certain kind of savvy to do it. Many other campaigns are working on doing the same thing, trying to bridge gaps into the conservative movement and media.
Shirley is a widely-acclaimed biographer of the now late Ronald Reagan, and his being on Team Walker will go a long way for the Wisconsin governor in what's sure to be a race between many different Republicans in 2016 to claim the Gipper's mantle. Sens. Ted Cruz (R-TX) and Rand Paul (R-KY) also frequently compare themselves to Reagan, and many of the other candidates are likely to try to do the same.
In 1980, Shirley noted while explaining his role with Team Walker of providing a historical perspective that looks forward to the future of the country, Reagan said: "I don't want to go back to the past; I want to go back to the past way of looking at the future."
Shirley expects Walker to be able to do that, and he's someone who'd absolutely know: he's written two biographies of Reagan already and has another in the pipeline set to hit shelves in October.
Shirley shared on Thursday the just-approved cover art for that forthcoming book, "Last Act: The Final Years and Emerging Legacy of Ronald Reagan."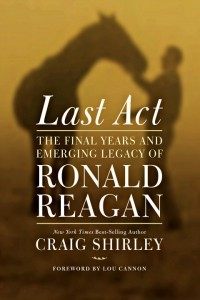 Last week, the Associated Press' Scott Bauer detailed the formation of the Unintimidated Super PAC, noting that two of Walker's former campaign managers have joined forces to create it.
"The super PAC will be headed by Keith Gilkes, a longtime Walker adviser who ran Walker's 2010 campaign and previously served as his chief of staff," Bauer wrote. "He was working for Walker when he successfully stripped the collective bargaining rights of public sector workers in Wisconsin, which generated massive protests and catapulted Walker onto the national stage.
That fight led Walker to face a 2012 recall election, which he won. Gilkes also ran that campaign. Stephan Thompson, who ran Walker's 2014 re-election campaign and was a former Wisconsin Republican Party executive director, will serve as Gilkes' assistant at the super PAC. James McCray, a GOP fundraiser who previously worked John McCain's presidential campaign, will be its national finance director.
The pipeline that Team Walker will now have in and out of the conservative movement rounds out one of the final missing pieces of a winning presidential team. He's got on his official campaign-in-waiting team, currently under the banner of Our American Revival PAC, former RNC spokeswoman Kirsten Kukowski and former Sen. John Thune (R-SD), spokeswoman AshLee Strong serving in communications roles, a likely campaign manager in former RNC political director Rick Wiley, and a coalitions director in people like Gregg Keller—former American Conservative Union (ACU) executive director.