Correction–6/21: The original attribution of this memo to Goldman Sachs was erroneous, according to Professor Robert George of Princeton, the source providing it. The corrected story follows:
A document provided to Breitbart News shows the investment banking behemoth JP Morgan Chase has joined a long line of major corporations in putting pressure on employees to sign up for the cause of gay rights. And they have not-so-subtly let each employee know not signing up will be noted.
Employees are being told "to help create an environment for open and honest dialogue." The document notes descriptors such as "wife" and "boyfriend" are frowned upon, and "partner" is preferred. Not referring to your wife as your wife "offers up the opportunity for more inclusive conversations."
See a screen shot of the document: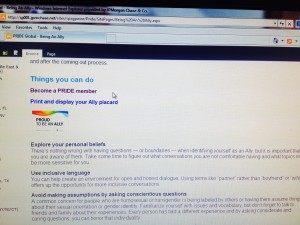 JP Morgan urges employees to "print and display your ally placard," which implies the recalcitrant will be noticed.
The document tells employees to "explore your personal beliefs, use inclusive language, avoid making assumptions by asking conscientious questions, increase your awareness about issues impacting the gay community, include LGBT issues in your everyday life, attend events that celebrate diversity and inclusion, and speak out against hurtful comments."
Employees are supposed to familiarize themselves with "issues and vocabulary" but the document proceeds to make an enormous politically incorrect boner. It uses the term "homosexual," which many gays now consider a slur.
A surprise to JP Morgan clients may be its call for putting "your money where your mouth is! If you know of stores or companies that practice discrimination, don't buy their products or patronize their locations." It is entirely possible that some of JP Morgan's clients are on the LGBT Human Rights Campaigns list of gay-unfriendly companies.
Besides the gay pride placard each employee is supposed to display in their workspace, perhaps the most intrusive article in the documents calls upon employees to "include LGBT issues in your everyday life." JP Morgan brass want employees to "include [LGBT issues] in your life and conversations, just as you would any other topic."
Employees are urged to "take some time to listen to music, see movies or read books and magazines by and about gay people…there's no substitute for knowledge."
The document does not take into account the beliefs of other JP Morgan employees , those who might be devout Muslim, Orthodox Jews, pious Christians and who may object to the mainstreaming of a habit of life they find morally objectionable. Even these employees are urged, though some might say coerced, into flying their rainbow colors.
JP Morgan Chase is one of the most powerful investment banking firms in the world with more than 30,000 employees and reported 2013 revenues of $18.7 billion.
This follows a controversy last year when JP Morgan Chase sent each employee a survey asking them if they were a "gay ally." JP Morgan employees reached out anonymously to Breitbart News and other outlets about the pressure put on them to violate their own religious consciences.