AUDUBON, Iowa — GOP presidential candidate and former Arkansas Gov. Mike Huckabee told Breitbart News exclusively that he's against increasing the number of H-1B visas to import foreign workers, unlike Sen. Marco Rubio (R-FL) and Sen. Ted Cruz (R-TX), who both have advocated for increasing H-1B visas.
"I think it's a huge mistake," Huckabee said of importing the foreign workers. "We have a lot of Americans who are being displaced from the workforce."
"I'd love those Senators [to] tell me why they'd like to be president so we can ship more jobs to Mexico, Chin,a or Indonesia. I'd like to see a few more jobs here," he challenged. "Honestly, I don't give a rat's rear whether they get wealthy in China. I don't care whether they make it in Mexico – but I doggone sure care that people make it in America."
In an exclusive interview with Breitbart News on the factory floor of Quality Machine of Iowa, Inc. – a manufacturing plant for military parts and heavy equipment in Audubon, Iowa – Huckabee commented on how other GOP presidential candidates – such as Sen. Marco Rubio (R-FL) and Sen. Ted Cruz (R-TX) – have supported increasing the number of H-1B visas to import foreign workers.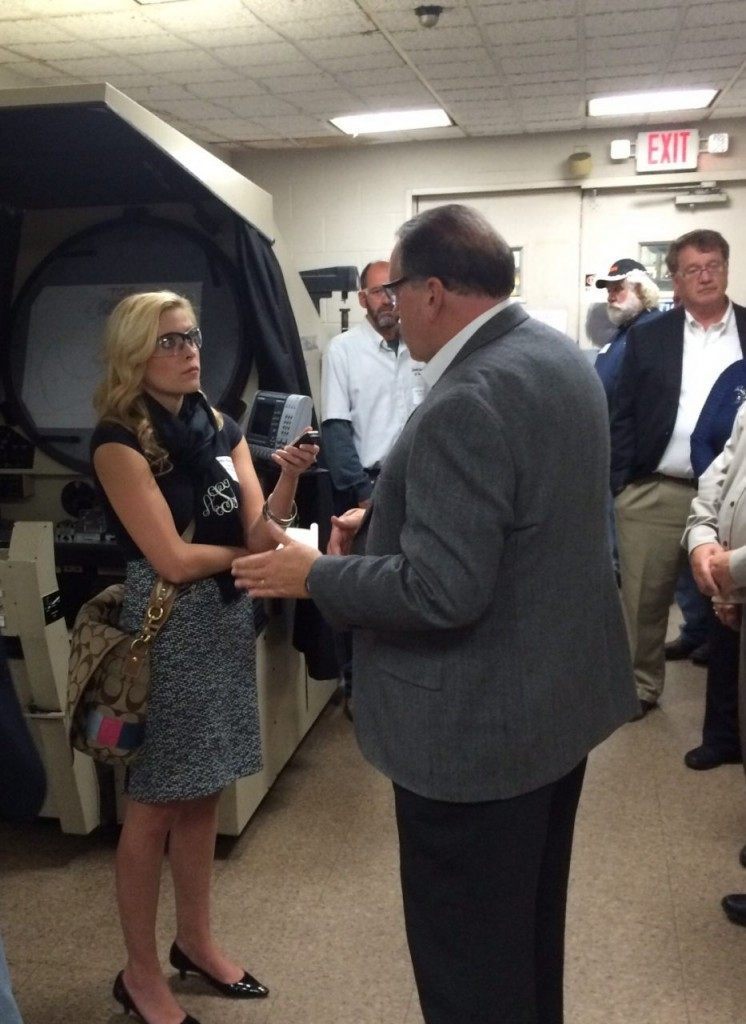 Huckabee pointed to the displaced workers at Disney to demonstrate how increasing H-1B visas negatively impacts the American worker.
Look at what happened to Disney. There were a bunch of high-tech Disney workers – excellent job performance – and not only were they replaced by foreign H-1B workers, but to add insult to injury, the Disney workers were required to train their foreign replacements. And if they didn't, they would lose all their severance.
Huckabee argued that what happened to the Disney workers wasn't because their work was inferior "because the work they brought in from the H-1B was not up to the quality of the people who are veteran Disney employees, but it was because it was cheap labor."
He said the H-1B visas import cheap labor but are taking jobs away from Americans.
"I don't know why anyone would want to displace high-tech workers in America to bring somebody from overseas and basically just chop the legs out from under the American worker," he said. "I think it's the opposite of what we should be doing."
Breitbart News pointed out that Indonesia – the largest Muslim country – is expected to join President Obama's Trans Pacific Partnership trade deal – which reportedly contains a chapter on immigration relating to worker visas – and asked Huckabee how this could impact American workers.
"We're undercutting American workers and American wages, and we're getting a less quality product because people don't have the same commitment to the quality," he responded.
What I've seen on this factory floor is great evidence, the variances are just so very small that it requires extraordinary engineering, and exceptional precision. So, you bring someone in that has no idea what that's like, but even if they can learn it, why would we import labor from another country when we have that labor right here?
Huckabee said the excuse that America doesn't have these workers, doesn't work. "Well, let's find them and train them," he countered.
"We have enough Americans out of work right now – lowest labor participation force. So far, our trade deals we run since 1990 have resulted in an $11 trillion trade deficit. I'm all for free trade, but it's not free if it's not fair," Huckabee explained.
He said America isn't playing on a level playing field with other trading partners.
The result is we're taking a gut punch as Americans and we're seeing all kinds of jobs – particularly manufacturing jobs – that are going overseas not because we can't do it well over here – but because our tax, regulatory and lack of an enforcement of the trade deals has cost us $11 trillion five million manufacturing jobs since the year 2000 alone, and 60,000 manufacturing plants have closed since 2000.
Huckabee then challenged both Rubio and Cruz for supporting increasing H-1B visas. "So, I'd love those Senators to tell me why they'd like to be president so we can ship more jobs to Mexico, China, or Indonesia. I'd like to see a few more jobs here."
Following Breitbart's exclusive interview, Huckabee spoke to a group of factory employees and addressed the impact H-1B visas and foreign workers have on American jobs.
One of the real challenges that we face in America is, we have a lot of people coming here from other countries to displace American workers. That makes no sense to me. What I see you guys do out there on that factory floor is incredibly impressive because of the precision of which you have to do those jobs. It's not just that you want to please the customers. Some of the things you're doing out there, people's lives depend on the quality of work you do on this factory floor.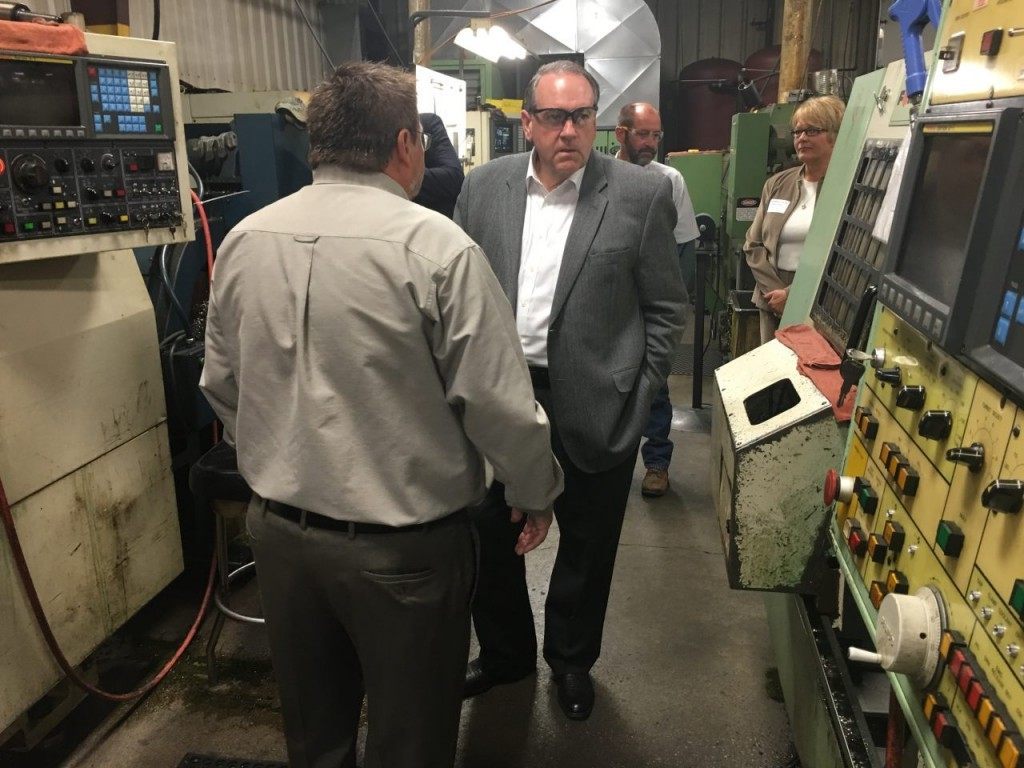 Huckabee emphasized the fact that the employees working at this particular plant are building parts for AR-15's and rockets.
"There are military applications that are going to be used. If something isn't done right and it doesn't work like it's supposed to, the failure of something made on this floor could result in someone's life," he added.
One of the frustrations that I have…is that when our government does things and they're so stupid that it cost Americans jobs and that means it cost this country its livelihood, cost families. It means that people have less money. It means they have less to spend, they have less to spend – that affects everything from them buying a car, buying a house, sending their kids to college, putting clothes on their back, even something as simple as taking the weekend off to go see family.
"Everybody loses when that happens," he stressed.
"I just want to thank you for what is really extraordinarily good, solid, hard work and I hope we can see a lot more Americans employed in trades – doing things that have to be done and they need to be done in America for our sake," he added.
We got to be able to fight for ourselves – this is where you guys come in. If we can't make our own bullets, bombs, trucks and tanks, then whoever is making those for us, they hold the key to our freedom. I believe our freedom is on the line if we can't manufacture our own weapons for self defense.
Before concluding his speech and taking questions from the employees, Huckabee said a lot of Americans act like they don't care whether something is made in America.
"Well, I sure as heck do, because when we don't make things – whatever it is – then we got a problem."