Starbucks' decision to rip all Christmas symbols off its coffee cups further alienated conservatives who were already fed up with the Seattle-based company's liberal politics. However, in the wake of the Starbucks red cup controversy, which was first reported by Breitbart London's Raheem Kassam, a new coffee tumbler stands to reignite the latest battle in the War on Christmas.
Just in time for Cyber Monday, Breitbart News launched today its first-ever, limited edition Merry Christmas coffee tumbler. The bright red tumbler is emblazoned with a snowflake-encircled Breitbart 'B' donning a Santa hat with "Merry Christmas" printed in bold across its face. The cup's back features tongue-in-cheek barista boxes denoting the strength of one's brew, with "Honey Badger"—a Breitbart community mantra for being "in your face," based on the viral Internet video—representing the strongest blend.
"Caution: This beverage contains common sense," appears at the bottom.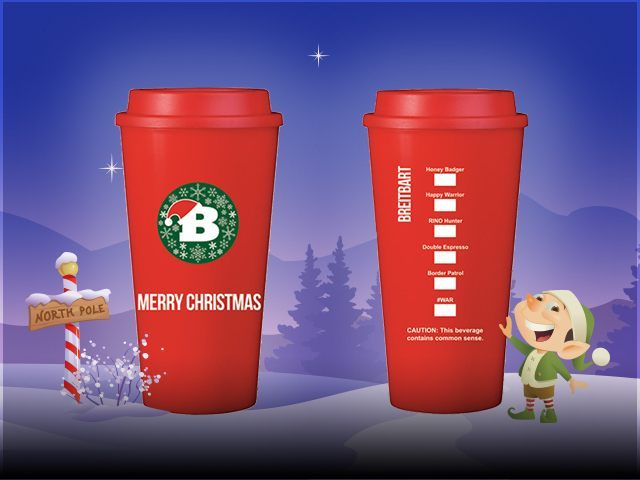 The Breitbart Merry Christmas tumblers cost $9.95 plus shipping/handling; given the limited quantities, there is a limit of four cups per order.
A portion of the proceeds will go to benefit American Veterans organizations.