The immigrant population in the U.S. is expected to grow by more than 700 percent over 1970 levels, according to an analysis of Census data from Senate Subcommittee on Immigration and the National Interest Republican staff.
In a chart released this week, the subcommittee reveals that by the year 2060, if immigration laws remains unchanged, the immigrant population would reach 78.2 million — nearly twice as high as the immigrant population in 2015, which clocked in at a record high 42.4 million.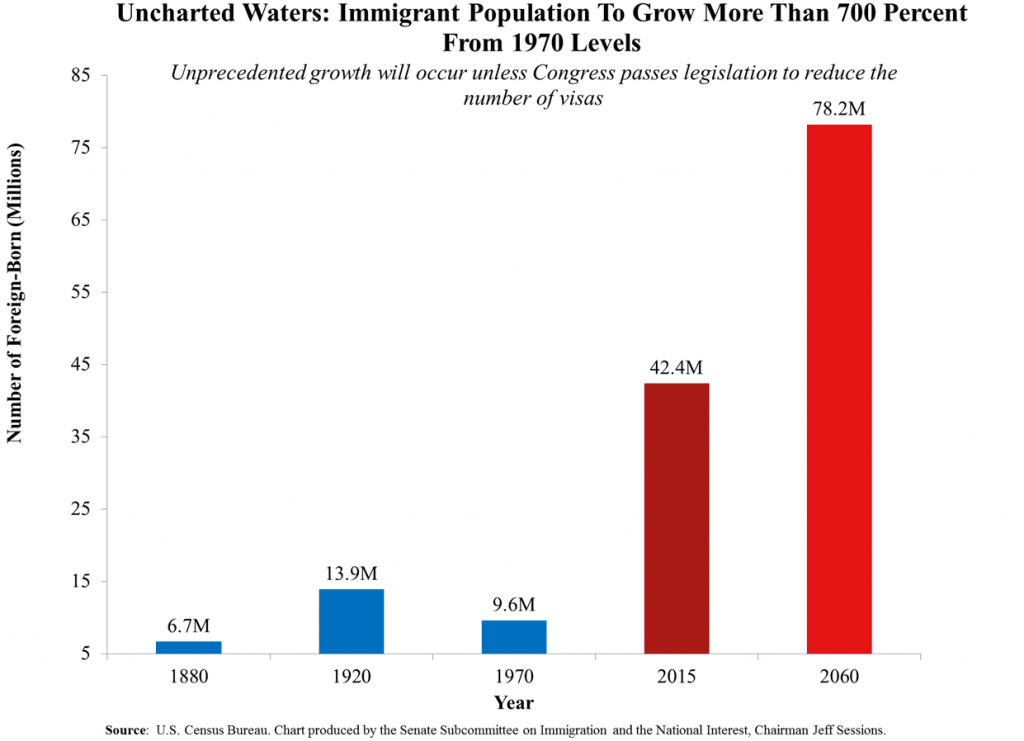 The committee staff highlights that in 1970, the immigrant population was 9.6 million–down from the 1920s 13.9 million when Congress placed restriction on immigration. Those restrictions followed the 1880-1920 immigration wave. From 1920 until 1970 the immigrant population shrank as the population of the U.S. increased.
"Covering the entire time period from 1880-1970, the foreign-born population grew roughly 40 percent," the committee wrote in an analysis. "By comparison, from 1970 through 2060, Census data shows the immigrant population will increase an unprecedented 715 percent – unless Congress reduces visa allocations."
According to the committee, the current immigrant population at 42.4 million, while already at a record high raw level, is on pace to exceed previously recorded record highs as a percentage of the overall population. From there it is expected to continue to grow.
With 1 in 4 Americans of working age not employed and median incomes lower than they were 15 years ago, the committee argues that the excess labor reduces wages for workers. It added that a majority of Americans say Congress should raise wages rather than bringing in more cheap foreign labor.
"Yet, the Gang of Eight bill would have radically accelerated the already-colossal and historic flow of foreign labor by tripling the issuance of green cards over the next ten years and doubling the flow of foreign workers. And the recently-passed omnibus funded a large refugee expansion and dramatically increased the inflow of H-2B workers to fill blue-collar jobs," the committee's analysis reads.
The analysis further recalls that every three years, the U.S. will add the population equivalent of the city of Los Angeles via new immigration. When the children of new immigrants are include in the calculation immigration will add another 25 Los Angeleses to the population over 50 years.