Donald Trump and Bernie Sanders were huge frontrunners before New Hampshire's first-in-the-nation primary. But as Barack Obama found out in 2008, pre-election polls in the Granite State can often be wrong. If Sanders wins New Hampshire, pressure will mount on Clinton to win crucial primary states like South Carolina. If Trump wins New Hampshire, GOP candidates who finish behind him will battle to emerge as the anti-Trump alternative heading into South Carolina in the days ahead.
Stay tuned to Breitbart News for live updates throughout the evening.
1:20: David Brody writes that Trump's "silent majority was extremely vocal Thursday night in New Hampshire" and argues that it was also an excellent night for fellow anti-establishment candidate Cruz:
Donald Trump's Silent Majority was extremely vocal Tuesday night in New Hampshire. As a matter of fact they were so loud that the whole country heard them loud and clear. That's what happens when you trounce the field by double digits. For the first time, Trump took his, "huge fabulous poll numbers" and made them count at the ballot box. What Trump's victory shows is that the billionaire's populist 'angry at politicians" message' resonates with voters who are both moderate and dissatisfied with the Republican Party. There are plenty of them up in New Hampshire. Now Trump needs to be able to take that momentum and be able to translate it to states like South Carolina that lean more conservative and more evangelical. Iowa was similar in that regard and Trump did well. But he'll need to somehow get the ground game going full tilt in South Carolina because Cruz's team is a machine and they proved it in Iowa.

Speaking of Ted Cruz, it was an excellent night for him. His strong top tier finish in New Hampshire needs to be put in perspective. Strong evangelical candidates typically don't play well in the more moderate libertarian New Hampshire. But Cruz has depth. He not only has evangelical 'street cred' but he also has libertarian 'street cred' since he is, after all, a constitutionalist at heart. In other words, he can play in both camps and that's a major plus.
1:15:
Trump: 35.2%
Kasich: 15.9%
Cruz: 11.5%
Bush: 11.1%
Rubio: 10.6%
(92 % reporting)
12:20: Decimal points matter for the campaign narrative. Just ask Hillary Clinton after Iowa 2008 (finished just behind John Edwards).
Trump: 35.2%
Kasich: 15.8%
Cruz: 11.7%
Bush: 11.1%
Rubio: 10.8%
(74.5% reporting)
12:08: He speaks for many:
I can't go to bed.

The worst g*ddamn smugs I've ever come come across in my life are having a bad night & I don't want it to end.

— John Nolte (@NolteNC) February 10, 2016
12:00: Trump tells MSNBC's Chris Matthews that he likes the primary system a lot better than the caucus system. He says he thinks South Carolina will be "very special" just like New Hampshire was. Matthews asks Trump how he will rebuild the U.S. military, and he says he has a "great relationship" with the vets. He says our military is "laughed at" and "scoffed at" and we are going to "rebuild it." Trump says our military is "not in a good state of preparedness" and "hopefully we're not going to have to use it." Trump says, like the drug/medical business, the military often buys things that they don't want because of big-donors control the politicians. He says he will not be beholden to anybody because he was self-funding his campaign. Trump says he has patched things up with Fox and will go to all of the debates. Trump says he likes the debates and thinks he did "very well" at the last debate. Trump says Rubio is a "good guy" but "took a beating" at the debate and it "certainly did not help him."
"The ultimate poll is the one we just had," he says. Trump says Rubio would have been a lot higher had he not misfired.
11:55: GOP #Smartset:
Sticking with my prediction: Trump will win no caucuses or primaries, and will run behind Ron Paul 2012 in IA and NH.

— Bill Kristol (@BillKristol) December 8, 2015
11: 25: Victorious Trump
Thank you, New Hampshire! Departing with my amazing family now! #FITN #NHPrimaryhttps://t.co/rbFfcq8gQq pic.twitter.com/73aoZk8uMG

— Donald J. Trump (@realDonaldTrump) February 10, 2016
11:15: Gloves coming off in South Carolina.
INTERNAL JEB memo on RUBIO: "Rubio has demonstrated no respect for the nomination process and expects this to be a coronation."

— Alex Isenstadt (@politicoalex) February 10, 2016
11:00: Maddow and Todd on MSNBC are trying to convince viewers–and maybe themselves–that Trump will flame out like Pat Buchanan. But they are smarter than that and they seem to realize, based on their tone, that that is not likely going to happen. Trump has way more cash than Buchanan and can self-fund his campaign. Buchanan also never faced an establishment that was as fractured as the one Trump is facing this election cycle.
11:07: Mickey Kaus on Rubio's vow to never repeat his talking points like a robot:
Rubio says "It will never happen again" and then does it again (goes into memorized little stump paragraphs)

— Mickey Kaus (@kausmickey) February 10, 2016
11:05: Andrea Mitchell says groups like the Business Roundtable are not comfortable with Donald Trump, perhaps because he opposes comprehensive amnesty legislation and the Trans-Pacific Partnership agreement.
11:00: With 62.3% reporting:
Trump: 34%
Kasich: 16.3%
Cruz: 11.8%
Bush: 11.4%
Rubio 10.6%
10:59: Bitter Rubio supporter:
Congratulations to Right 2 Rise, you'll have a couple of weeks to waste another $30 million and give TV stations needed revenue.

— John Podhoretz (@jpodhoretz) February 10, 2016
10: 45: New York Daily News calls Trump supporters "mindless zombies" and depicts Trump as a clown on its Wednesday cover. The fish wrap also had a "Drop Dead Ted" cover earlier in the year.
Tomorrow's front page:
DAWN OF THE BRAIN DEAD – Trump comes back to life with N.H. win: https://t.co/rkj242rGEf pic.twitter.com/LRWPDIJJfL

— New York Daily News (@NYDailyNews) February 10, 2016
10:40: Fiorina reportedly will continue her campaign.
10:33: Christie reportedly headed back to New Jersey to take stock of  his campaign.
BREAKING: Christie heading home to New Jersey to 'take a deep breath,' take stock of presidential bid.

— The Associated Press (@AP) February 10, 2016
10:28: Cruz says the real winner tonight is the "conservative grassroots" who propelled his campaign to an outright victory in Iowa and a far stronger result in Iowa than anyone predicted. Fox News cuts away before Cruz finishes.
10:16: Fox News leaving former Fox News contributor and second-place finisher John Kasich for fifth-place Rubio, who finished three spots below where his campaign had projected. Rubio admits he didn't do well in Saturday's debate and says it "will never happen again." CNN stays with Kasich.
10:10: Kasich says "maybe we're turning the page on the dark part of America politics" because the "light overcame the darkness of negative campaigning." He says, "And you made it happen. You made it happen. You made it happen." Will he be giving out cars to everyone? He sounds more like an analyst. Rubio did a better job projecting "victory" after not winning a race. Kasich says when he's president of the United States (delayed cheers), "we're going to have a battering ram" to knock down the walls of the city if it doesn't want to change. He says we will solve the problems of America by not being extreme.
10:00: Trump big-footed Jeb's speech. Jeb: "This campaign is not dead."
9:59: Trump supporters start chanting "USA!" Trump thanks New Hampshire. Nobody tuning in to the 2016 election has any idea what his campaign is still about at this point. He congratulates Sanders and says Sanders wants to give away this country and "we're not going to let it happen." He says "we're going to make America great again" the "old-fashioned" way by beating China, Mexico, etc. on trade. He blasts the political hacks negotiating deals that are screwing America. He says the world "is going to respect us again. Believe me."
Trump mentions that what caught on was that he was self-funding his campaign. He says the lobbyists who fund campaigns don't love our country and "we have to do something about it." He says "when you see the kind of deals made in this country," the politicians are making them for their benefit and now "we're going to make the deals for the American people."
He says in a nutshell, "we're going to make great trade deals" and "rebuild our  military" to make it "so powerful" that "nobody is going to mess with us." He says "we're going to take care of our vets." Trump says "we're going to have strong, incredible borders" and "people are going to come into our country and they're going to come into our country legally." He says "we're going to build a wall and it's going to be built." He says we're going to repeal and replace Obamacare. He says we're going to get rid of Common Core and preserve "our very sacred Second Amendment." He says victims of San Bernardino/Paris terror attacks could not protect themselves. He says he is going to be the "greatest jobs president that God has ever created."
9:56: Trump says, "We are going to make American great again." Trump pays homage to his late parents. He said they loved this country and they are very happy right now. Trump thanks his late brother Fred as well. Trump should save these thank yous for the end of the speech and start off with his message/by defining what his campaign is about when all eyes are on the campaign. The attention spans of viewers watching political speeches are short.
9:54: Newsweek's Matt Cooper argues Sanders/Trump are appealing because they are putting America First:
The stunning victories of Bernie Sanders and Donald Trump in the New Hampshire primaries marks the first time both parties have been so upended at the same moment. The 69-year-old casino mogul and 74-year-old socialist have changed everything. And the question now is what does it mean both for the nomination and the country.

Take the country first.

So many banalities have been used to compare Bernie Sanders and Donald Trump: "They're outsiders." "They're anti-establishment." "Their supporters are angry."

All of that is true. But the big thing the two insurgents have in common is as obvious and ignored as their stump speeches. Whenever each of them mounts the podium they take time to state how America is stacking up poorly against other nations.
9:50: Spurs coach Greg Popovich not happy with New Hampshire's primary results when told Sanders/Trump won during in-game interview:
Popovich gonna Popovich #SASatMIA https://t.co/rEb69k39s3

— NBA on TNT (@NBAonTNT) February 10, 2016
9:40: Sanders gave his traditional stump speech and recited his standard talking points from the debates/forums. But many Americans were hearing him for the first time. That said, he could have done more to make a direct pivot/appeal to Nevada/South Carolina.
I'm underwhelmed by this Sanders speech … same speech he gave in Iowa; no pivot to NV and SC

— Michael Cohen (@speechboy71) February 10, 2016
9:35: Dr. Ben Carson on the New Hampshire primary:
"One of the most enjoyable aspects of the election process is getting to meet so many great people across the country, and New Hampshire has been no exception. I'm honored and humbled to have the generous backing of so many citizens of The Granite State, and I thank everyone for their kind hospitality and support. I commend the many staff and volunteers from New Hampshire who worked tirelessly to spread our call to return faith, integrity and common sense to American leadership. Across New Hampshire I heard from people who were sick and tired of D.C. insider political games and manipulation. Voters around the country are looking for new leadership in Washington, which is why I'm working so hard to return 'We the People' to the White House. I will carry on this fight for as long as the people stand with me. As we now move on to South Carolina, Nevada and the Super Tuesday states, I will continue to stand for integrity, accountability and honest leadership."
9:29: "Thank you New Hampshire," Sanders says. He says Clinton called and was very gracious.  "We won because of  your energy," he says. Sanders says government belongs to all of the people and not just a handful of wealthy campaign contributors and their super PACs. He says he had no campaign organization, money, and were taking on the most powerful political organization in the United States of America when he started his campaign nine months ago. He speaks about the "Yuge" voter turnout and says that's the excitement that the Democratic party needs to succeed in November. He says Dems need to be "aroused" like the New Hampshire electorate. "That needs to happen all over this country." He says "let us never forget that Democrats and progressives win when voter turnout is high" and "Republicans win when people are demoralized and voter turnout is low." He says tonight "we served notice to the political and economic establishment in this country that the American people will not continue to accept a corrupt campaign finance system is undermining democracy" and a rigged economy where all new income and wealth goes to the top 1%.
He says voters in New Hampshire sent a message to the political/economic/media establishment. He says "what the people here have said is given the enormous crisis facing our country, it is just too late for the same old, same old establishment politics and establishment economics. The people want real change." Sanders says he hears this from conservatives and moderates as well and rails against a campaign finance system that allows Wall Street to buy elections. He says Americans understand that that is "not what democracy is about. That is what oligarchy is about. And we will not allow that to continue." He says he does not have a Super PAC and he doesn't want a Super PAC. He says he is deeply moved that his campaign's financial support comes from more than one million Americans who have made more than 3.7 million individual contributions. "That is more individual contributions in the history of the United States up until this point in the election," he says. Sanders says he is going to New York city for a Wall Street fundraiser but says he is holding a fundraiser right here. And asks people to go to this website and contribute. "Please help us raise the funds we need…to take the fight to Nevada, South Carolina, and the states on Super Tuesday."
Sanders says he will pay for all of his plans by imposing a tax on "Wall Street speculation."  Sanders says he has the feeling "that the kitchen sink is coming pretty soon as well" after saying his opponents have thrown everything at him besides the kitchen sink.
9:27: Yikes: American flags crumpled on floor at Clinton campaign HQ:
With many hours to go, Clinton's staff has flags ready for their election night party // photo by @melinamara pic.twitter.com/a9ZvkJNiZp

— Post Politics (@postpolitics) February 9, 2016
9:26: Van Jones on CNN says Clinton sounds like a "technocrat."
9:16: Clinton's speech is way too much prose when it needed to be more poetry tonight. She is not Bill. She seems like she's reading a term paper and checking off boxes about why she and Sanders agree on various issues.
Clinton claims she and Sanders both want to get secret money out of politics. She points out that Citizens United was about a movie that was targeting here. She says they both agree that Wall Street needs to be checked and she knows how to do it.
Clinton talks about a "growth" and "fairness economy." Then speaks about "breaking through the barriers of bigotry."
"African-American parents shouldn't have to worry that their children will be harassed, humiliated–even shot–because of the color of their skin," she says, starting to appeal to all of the party's interest groups. "Immigration families shouldn't have to lie awake at night listening for a knock on the door. LGBT Americans shouldn't be fired from their jobs because of who they are and who they love."
Clinton then talks about "equal pay for women."
Clinton says we need to break down barriers and build ladders of opportunity for every person. She talks about her history of fighting against "injustice" and says "when people anywhere in America are held back by injustice, that demands action." She yells about "human rights across the board for every single American." She says she knows she has work to do with young people. She says she knows how it feels to stumble and fall and says it doesn't matter if you get knocked down but whether you get back up.
9:14: From Breitbart's Alex Swoyer: Trump supporters boo as Hillary Clinton takes podium on to speak.
9:11: Clinton camp worried Sanders will get infusion of cash after New Hampshire to sustain his campaign for the long haul:
Source close to the Clintons: Main worry after NH blowout: "Bernie's ability to raise millions off of this" — perpetual financial oxygen.

— Glenn Thrush (@GlennThrush) February 10, 2016
9:09: Fox News projects Kasich will finish in second.
9:07: Another mainstream media reporter says Trump's win is still "stunning."
I know we've seen it coming for weeks, but stunning nonetheless for Hillary Clinton to be felled in NH — by Sanders, and by double digits.

— Philip Rucker (@PhilipRucker) February 10, 2016
Trump is headed for the biggest win margin in a NH GOP primary since McCain's 19-point victory over Bush in 2000.

— Philip Rucker (@PhilipRucker) February 10, 2016
Given high turnout today, Trump is poised to get more raw New Hampshire votes than Romney in his commanding 2012 victory.

— Philip Rucker (@PhilipRucker) February 10, 2016
9:05: Hillary Congratulates Sanders in Tweet:
To @BernieSanders, congratulations. To New Hampshire, thank you. And to our volunteers: I'm so grateful for what you built. Now, onward. -H

— Hillary Clinton (@HillaryClinton) February 10, 2016
9:04: Exit polls showing Sanders defeating Clinton among all women voters:
In NH exit polls Sanders is beating Clinton among ALL women voters, not just millennials. #FeelTheBern #takethatgloriasteinem

— Tashia G. (@TashiaTweets) February 10, 2016
9:03: Before polls closed in New Hampshire, Sanders played basketball with his grandchildren.
9:02: So much for the 3-2-1 strategy.
Rubio camp preparing for long haul, continue picking up delegates but insist they don't need to win SC. Believe race will stretch into March

— Manu Raju (@mkraju) February 10, 2016
9:00: Sanders supporters reportedly chanting, "Bernie has our back, we don't need no Super PAC," per Fox News's Ed Henry.
8:59: More Krauthammer:
.@krauthammer: Christie's 'Suicide Attack' on Rubio Helped @realDonaldTrump Win #NHPrimary https://t.co/t75Z8Qcvow pic.twitter.com/JfSwizt42w

— FoxNewsInsider (@FoxNewsInsider) February 10, 2016
8:57: On Fox News, a New Hampshire voter said voted for Trump because of trade/immigration issues. He said he "was sold on Trump as soon as I heard" him on immigration.
The Flag Man: Donald Trump 'A Prototype'; Telling 'Neglected Truths'
By Alex Swoyer (Breitbart News)
MANCHESTER, New Hampshire — Bill Shields, who is nicknamed "The Flag Man," decided to start making a new model of flags, the Donald Trump "Make America Great Again" flag.
"Donald Trump is a prototype," Shields, a flag maker from Connecticut, said of Trump. "The man is a human being, but he represents a lot more than being a human being, as far as regular Americans [being] fed up and sold out."
"We've been neglected," Shields said of Americans – in particular, Trump supporters.
Breitbart News met Shields at Donald Trump's New Hampshire Primary Party.
"We've been kicked to the side. Finally, we hear the ring of truth in one man and that man is Donald Trump," he stated. "I really wasn't a big fan of Donald Trump until I saw him on the escalator and I heard what he was saying about what was happening in this country, neglected truths that have been going on for decades, and I said, 'This man is the man that we need.'"
"I went into the flag business in 1992," he told Breitbart News as he was selling Trump flags in the parking lot of Trump's New Hampshire Primary Party on Tuesday night in Manchester. "I've been into it for awhile."
Shields told Breitbart News this is the first time he's actually been to a Trump event selling the flags, and if he has enough interest, wants to set up an online website for supporters.
(Photo: Alex Swoyer/Breitbart News)
8:46: Millennials value "authenticity" and "realness." Say what you want about Trump, but he doesn't sound like the traditional politician that voters are used to hearing every election cycle.
Millennials cite Trump being anti establishment as the single most important reason they voted for him. Rubio getting boo'd by the crowd.

— Jake Horowitz (@jacobdhorowitz) February 10, 2016
I've spoken to many young voters who say Rubio's debate collapse was what swayed them to Trump. His robot perception stuck here for voters.

— Jake Horowitz (@jacobdhorowitz) February 10, 2016
8:43: Even Charles Krauthammer concedes:
.@krauthammer: "This is a huge night for @realDonaldTrump… his margin over #2 is really astonishing." #NHPrimary pic.twitter.com/69uhyANONM

— Fox News (@FoxNews) February 10, 2016
8:40: Rubio campaign's new argument to try to muscle Bush out of the race? Bush could say the same thing about Rubio's campaign:
The longer Jeb stays in this race, the more likely that Donald Trump will be nominated by the GOP, Rubio spox @AlexConant tells @CNN

— Manu Raju (@mkraju) February 10, 2016
8:38: John Sununu (the real John Sununu), who once said that "Iowa picks corn and New Hampshire picks presidents," concedes this was a "big" win for Trump on Fox News while speaking Megyn Kelly.
8:35: ABC News's Matt Dowd, an establishment GOP sympathizer, concedes:
Said on @ABC "Trump and Sanders wins are a 7 on the Richter scale – serious establishment foundation damage. Aftershocks still to be felt"

— Matthew Dowd (@matthewjdowd) February 10, 2016
Trump won both moderates and conservatives. Independents and republicans. Men and women. Huge victory for him. Dominating.

— Matthew Dowd (@matthewjdowd) February 10, 2016
8:32: Sanders thanks New Hampshire:
When we stand together, we win. Thank you, New Hampshire! pic.twitter.com/dPV9qISkHO

— Bernie Sanders (@BernieSanders) February 10, 2016
8:30: Bad news for Rubio.
So far, Marco Rubio has cracked fourth place in only one town of any substantial size: Portsmouth. On track to get clobbered tonight.

— Dave Wasserman (@Redistrict) February 10, 2016
8:27: His campaign promoted its "3-2-1" strategy:
If Rubio can finish ahead of Jeb, he's still in the game. If not, he's going to find himself in a heap of trouble.

— Tom Bevan (@TomBevanRCP) February 10, 2016
8:24: Sarah Palin: NH living up to state motto:
NH Living Up to State Motto: "Live Free or Die"

NH competitive primary reveals this independent state's choice… https://t.co/CgxBjRJL4N

— Sarah Palin (@SarahPalinUSA) February 10, 2016
8:20: Kasich (say what you want about John Weaver, but give him credit–he gets New Hampshire)/Cruz/Bush/Rubio battling for second place.
8:16: Huffington Post losing its marbles: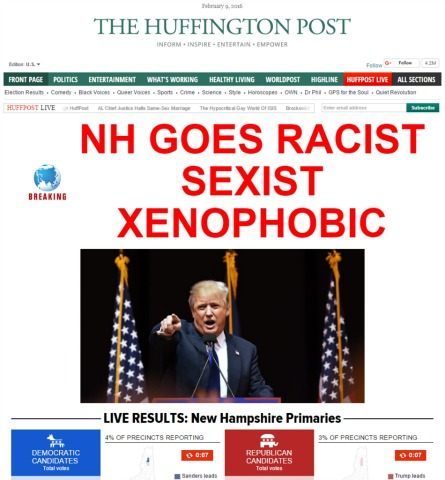 8:15: From Breitbart News's Alex Swoyer: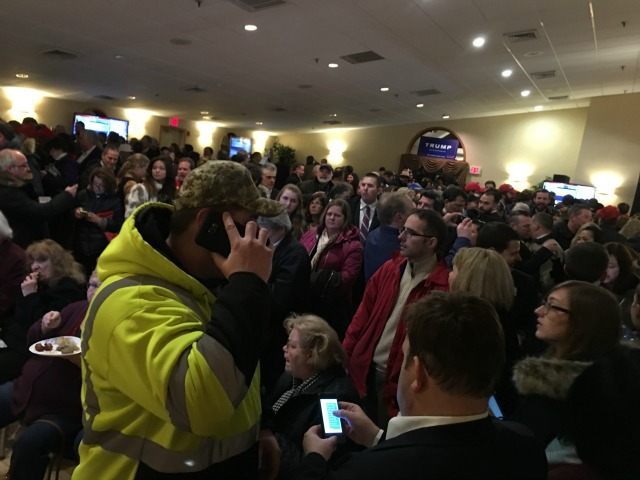 (Photo: Alex Swoyer/Breitbart News)
8:11: Barack Obama's "concession" speech ("Yes, we can!") after his New Hampshire loss was one of the best concession political speeches ever given, and it set him up to win the states that followed. We'll see if any of the candidates can come up with something similar tonight.
8:10: Clinton campaign concedes defeat in a memo. Campaign Manager Robby Mook says the nomination will be won in March. He argues that the "March states better reflect the true diversity of the Democratic nation and the nation."
8:07: CNN's Acosta predicts that Trump's campaign will be a "difficult" one to stop after tonight.
8:04: Mainstream media heads spinning:
Donald Trump has won the Republican presidential primary in New Hampshire. Just take a moment to let that sink in.

— McKay Coppins (@mckaycoppins) February 10, 2016
8:00: Polls close in New Hampshire. CNN Projects Trump, Sanders win New Hampshire. AP also projects Trump, Sanders victories.
7:59:Broad appeal for Trump.
Seabrook is a classic middle-to-working class, moderate, coastal New England town https://t.co/ZBzfSBhDDq

— Nate Cohn (@Nate_Cohn) February 10, 2016
7:55: Sens. Rubio and Cruz will return to the Senate tomorrow to cast their votes on the North Korea sanctions bill.
7:47: Hillary confused by the phrase "going viral" per the New York Times:
When a voter approached her at a polling station at Parker Varney School in Manchester, N.H., on Tuesday to ask for a picture, he explained that his friend had taken a selfie with the former first lady on Monday and he was jealous because the shot "went viral."

"You went viral?" Mrs. Clinton said to the man's friend. "That sounds like some kind of disease."
7:45: The place to be in New Hampshire tonight?
Trump primary watch party in Manchester filling up pic.twitter.com/kVaFgl4z3k

— Carol Lee (@carolelee) February 10, 2016
7:42: Another Bernie supporter in Hollywood (General Hospital's Brenda Barrett)? Wasn't Clinton supposed to have Hollywood locked up?
"The revolution is real" young generation using their brains…..

— Vanessa Marcil (@VanessaMarcilM) February 10, 2016
7:38: Sanders campaign getting excited. Worth noting that "income inequality" was one of the top issues for Dem. primary voters.
We repeat: @BernieSanders is NOT beholden to the 1%! #FeelTheBern #NHPrimary pic.twitter.com/BVb3l13EQn

— People For Bernie (@People4Bernie) February 10, 2016
7:36: Top spenders in New Hampshire. Trump not near the top.
Total ad spending in NH: $111m. Top spenders (campaign + PAC): Bush $36m, Christie $18m, Rubio $15m, Kasich $12m, Clinton $11m, Sanders $8m

— Reid Wilson (@ConsultReid) February 9, 2016
7:34: New Hampshire voters wanted to know what Trump called Cruz.
The top trending question on @realDonaldTrump in New Hampshire was what he called @tedcruz https://t.co/jOltQlfwaN pic.twitter.com/D54TI7W7pX

— GoogleTrends (@GoogleTrends) February 9, 2016
7:30: Images of the Sanders campaign:
I remember being one of only two or three cameras at Sanders events #fitn pic.twitter.com/PxBTERowKl

— MaryAlice Parks (@maryaliceparks) February 10, 2016
Sanders party tonight at a high school – press getting coffee from cafeteria pic.twitter.com/p8ssiCcQoJ

— MaryAlice Parks (@maryaliceparks) February 10, 2016
7:24: CNN points out that, unlike in Iowa, where late-deciders went for Rubio, undecideds "have broken from Rubio" in New Hampshire.
7:20: Nia-Malika Henderson on CNN thinks Hillary Clinton is going to take a "drubbing" tonight.
7:15: Though half of GOP primary voters in New Hampshire feel betrayed by their party, 82% of Democrats in New Hampshire DO NOT feel betrayed by their party:
7:05: Donna Brazile tells New Hampshire voters to stay in line at the polls.
If you're still in line when the polls close, you have the right to vote. Don't go anywhere. State officials must keep the polls open.

— Donna Brazile (@donnabrazile) February 10, 2016
7:03: Last-minute Google search results for Kasich spiked in New Hampshire.
Kasich is really trending. People are clearly thinking about him at last minute. https://t.co/CLKI27wsip

— Stephens-Davidowitz (@seththoughts) February 9, 2016
The last-minute Google Kasich interest is just in New Hampshire, nowhere else in USA.

— Stephens-Davidowitz (@seththoughts) February 9, 2016
7:00: Trump campaign officials reportedly want polls to stay open across New Hampshire.
6:58: Some NH heat maps as the results come in soon.
NH HEAT MAP: Income levels throughout the state; warmer colors = higher income (via @l2political) pic.twitter.com/HV87vJiLNw

— CBS News Politics (@CBSPolitics) February 9, 2016
#L2data excited to be working with @CBSPolitics @CBSNews on #NHPrimary night. Heat map of young voters. pic.twitter.com/6FqovLrGUF

— L2 Data (@L2political) February 9, 2016
6:55: Not good news for Clinton.
Exit polls show 32% of NH Dem. voters say being honest and trustworthy is the most important quality of a candidate pic.twitter.com/H587w6IQlc

— Anthony Salvanto (@SalvantoCBS) February 9, 2016
6:53: Fox News accidentally declares Trump, Sanders win:
Jeff Misenti, chief digital officer of Fox News, said that the fake results appeared as a part of the site's tests for its upcoming coverage.

"During routine testing in preparation for the New Hampshire primary a malfunction occurred which briefly showed errant data on our website. This error has been rectified. We apologize for any confusion this may have caused," he said in a statement to Mashable.
6:50: A warning about exit polls from David Axelrod:
In 2008, Obama's lead in NH exit polls shrunk with each wave. As I recall it, from 8 to 5 to 3. He lost by two. Best to wait for real #s!

— David Axelrod (@davidaxelrod) February 9, 2016
6:43: Rubio's campaign incessantly touted its 3-2-1 plan. So anything less than second should be treated like a loss just like many treated his third-place finish in Iowa as a "win."
Campaign Carl points out @marcorubio talking today about pulling delegates out of NH, not momentum.

— Trip Gabriel (@tripgabriel) February 9, 2016
6:41: Every once in awhile, even the New York Times gets some things right:
Why Trump was favored today & still is: if you were with him through Muslim ban, saying "pussy" isn't going to sway you. Every undecided 1/

— Maggie Haberman (@maggieNYT) February 9, 2016
2/ would have to be for him. And "ground game" ™ matters in close races, not so much wider margins

— Maggie Haberman (@maggieNYT) February 9, 2016
6:37: Smart move by the Sanders campaign to get Emily Ratajkowski to campaign for him last night and challenge Clinton's monopoly on feminism and Hollywood. Big pop culture win for his campaign over Clinton.
#notherefortheboys #VoteTogether #FeelTheBern pic.twitter.com/t18qFcrs7m

— Emily Ratajkowski (@emrata) February 8, 2016
6:31: There may be a record turnout tonight:
Line of people waiting to vote in #NHPrimary estimated to be 2 miles long in Merrimack https://t.co/3ktMY2ZER2 #WCVB pic.twitter.com/jcHDKgf2ue

— Steven (@StevenWCVB) February 9, 2016
6:29: Hillary Clinton's staff gets some of his Rubio news from Breitbart News Washington Political Editor Matt Boyle:
So the Rubio fan who drop tackled the guy in the robot costume…is actually Rubio's NH state chairman. https://t.co/8B380tyU3r

— Rob Flaherty (@Rob_Flaherty) February 9, 2016
6: 27: Late deciders went to Trump and Kasich
Late deciders, per Fox: Kasich 21, Trump 21, Rubio 13, Jeb 13

— Josh Kraushaar (@HotlineJosh) February 9, 2016
6:25: Will be interesting what the numbers are in South Carolina. Clinton has been arguing that she will protect Obama's legacy and continue his policies.
The most fascinating exit poll data on the Dem side:
Continue Obama's policies: 41%
Change to more liberal policies: 40%

A party divided

— Mark Murray (@mmurraypolitics) February 9, 2016
6:20: According to MSNBC's exit polling, 66% of GOP primary voters support a ban on Muslims entering the United States — 31% opposed.
6:18: Breitbart's Nolte (read more here):
Not good for Rubio. pic.twitter.com/xVRSN6e1Uq

— John Nolte (@NolteNC) February 9, 2016
6:16: Some Bernie voters didn't like the Clinton's campaign's "bullying," according to NPR's political reporter.
2 Bernie voters were young women,they didn't like Clinton "bullying" on gender. Clinton voter was older woman, she wants to see woman prez

— Jessica Taylor (@JessicaTaylor) February 9, 2016
6:13: Hillary Clinton's allies on Capitol Hill are gearing up to attack Sanders in the days ahead:
Hillary Clinton's supporters on Capitol Hill are bracing for a win by Bernie Sanders in the New Hampshire primary Tuesday, but warn the Vermont senator will face increased scrutiny in the next phase of the campaign.

"I think when someone starts to look into Bernie Sanders' record, sure, things change. I think that hasn't happened," Sen. Dianne Feinstein of California, a Clinton backer, told CNN. "Look at the seven taxes he would raise to do single payer (health coverage). There are a lot of technical things that show a person's record that just haven't come out yet and I think later on there is room for that."
6:12: CNN's John King says "Mr. Trump" or "businessman Trump" benefits when half of GOP primary voters feel betrayed by Republican politicians because he doesn't have "Senator" or "Governor" in front of his name.
6:10: Hillary reacts to a Trump supporter in New Hampshire
This pic of Hillary reacting to a Trump supporter in NH is a gift #NHPrimary (@sullyfoto / Getty) pic.twitter.com/kZtxPLA1hL

— Joel Pavelski (@joelcifer) February 9, 2016
6:08: MSNBC's Ari Melber on a potential Trump victory in the Granite State:
Whatever one thinks of Donald Trump's policies, a primary victory here, by any margin, would be a huge tsunami. Undeniable.

— Ari Melber (@AriMelber) February 9, 2016
6:07: CNN's David Chalian points out that 50% of GOP primary voters "feel betrayed by Republican politicians."
6:00: CNN's Jim Acosta says that there is "such a huge demand" to get into Trump's victory party that organizers have actually pushed some people back at the front door because things got "so hectic." Acosta says there are "a lot of excited supporters" who want to get in.
5:56: NBC's Chuck Todd says exit polls seem to indicate that Sanders may have a big night.
5:55: More from early exit polls:
Republican voters expressed deep worries about both the economy (three-quarters were very worried) and the threat of terrorism (6-in-10 very worried). About 9-in-10 said they were dissatisfied with the federal government, including about 4-in-10 who were angry about the way it was working. And for many, the dissatisfaction extends to the GOP itself. Half said they felt betrayed by politicians from the Republican Party, and about the same share said they wanted the next president to be from outside the political establishment.

Though Democrats voting on Tuesday were less apt to say they felt betrayed by their party or to express anger with the federal government, about three-quarters said they were worried about the economy. About 4-in-10 said they thought life for the next generation of Americans would be worse than life today, and 9-in-10 said they thought the nation's economy favored the wealthy.
5:52: Breitbart's John Nolte points out that exit polls found that nearly half of Republicans made up their minds today:
The early exit polls show that nearly half of Republican voters (46%) polled today made up their minds today. The same is true for fewer than one-quarter of Democrats. This could make the polls in the Republican race, all of which show Donald Trump with wide leads, less reliable than Democrat polls, which showed Sen. Bernie Sanders (I-VT) 16%way ahead with Hillary closing a bit.