Sensing that Illinois might be an opportunity, if not to beat Donald Trump to at least dip into his Illinois delegates, Texas Senator Ted Cruz hastily set up five events in Illinois to convince Republican primary goers to vote for him on March 15.
Save for a lone animal rights protester, Cruz was well received at his Glen Ellyn stop this afternoon.
Illinois is a "winner-takes-most" state where the overall winner gets 15 of the state's 69 delegates and the rest are divvied up among the candidates who do best at the district level.
Cruz mounted the stage at around 12:45 to a standing room only crowd of around 1,000 at the Abbington banquet room in the northwestern suburb of Chicago.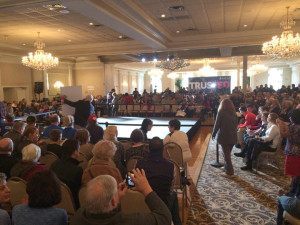 Cruz was preceded on stage by WLS radio host Dan Proft and Chicago GOP Party chief Chris Cleveland. But when Cruz bounded onto the stage the room erupted in a sustained level of applause and cheers.
For the most part the candidate gave his standard stump speech but peppered his comments with a question to the audience as to whether or not they want Democrats like former Obama Chief of Staff and sitting Chicago Mayor Rahm Emanuel to remain in charge of Illinois. Cruz also lambasted Democrats like former Illinois Governor Rod Blagojevich–now a convict serving time in prison for corruption—painting them as everything wrong with Illinois.
But while most of the speech went at the candidate's preferred pace, about halfway through the presentation a lone animal rights protester leapt onto her chair and began screaming about animal rights. Cruz handled the unwanted intrusion well, remarking from the stage that she had a right to speak her mind while the crowd chanted "We Want Ted" in an attempt to shout her down.
At one point, as the woman continued to scream about animals, Cruz said "I also happen to care about human beings."
Eventually secret service personnel removed the protester to the cheers of the crowd.
From the stage Cruz remarked upon how it was a great thing that a protester can have her say without violence breaking out. He also joked that if his little girls, Caroline and Catherine, heard the protest was for animals they may have jumped right up and protested, too.
Cruz spoke for about 25 minutes before he was off to Peoria, his next stop in Illinois.
Follow Warner Todd Huston on Twitter @warnerthuston or email the author at igcolonel@hotmail.com