On the same day that supporters of Republican presumptive nominee Donald Trump were viciously attacked by a violent Democrat-supporting mob, Politico chose to highlight artwork depicting violence against Trump himself by a would-be Bernie Sanders as Captain America.
In an article exhibiting the Sanders-related artwork of grassroots artists, Politico chose the image of Bernie/Captain American punching Trump/Hitler as among "the best art that has been inspired by Bernie's unlikely and dogged quest for the presidency."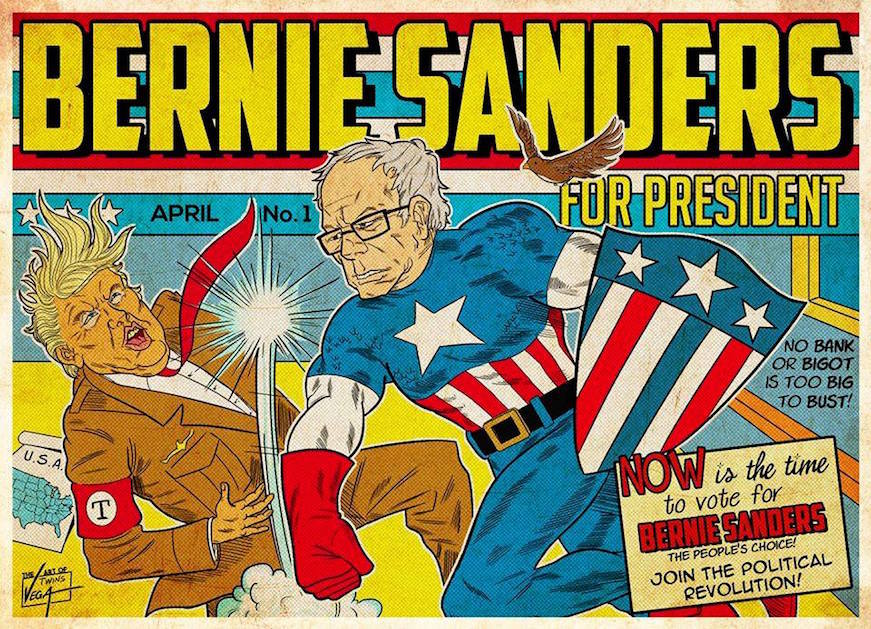 Poltico's Matt Wuerker and Brianna Gurciullo write of the image:
The above art is by Miguel and Alejandro Vega, two teenage twins from Los Angeles. The description on their website reads: "Democratic presidential candidate Bernie Sanders is depicted as Captain America in an homage to the hero's first issue by Joe Simon and Jack Kirby! The First Avenger leaps into battles and delivers a blow against the forces of evil!" You can find more of their work on their The Art of Twinsvega page on Facebook.
The following video tweeted by Politico's own director of photography, M. Scott Mahaskey, shows a mob of Bernie supporters violently attacking Trump supporters at the San Jose rally Thursday night, while chanting, "Bernie, Bernie!" at one point.
Raw video: Fighting continues in streets following @realDonaldTrump rally in San Jose. pic.twitter.com/PR9zaAzZKy

— M. Scott Mahaskey (@smahaskey) June 3, 2016
Mahaskey also captured footage of Trump supporters being sucker punched by Democrat assailants in the same manner as the artists' depiction:
Raw video: Punches thrown in clashes following @realDonaldTrump rally in San Jose. pic.twitter.com/U4d7vSbkf2

— M. Scott Mahaskey (@smahaskey) June 3, 2016
Similar punching footage was captured by others on the scene in San Jose:
I called 911 but no one answered. Donald trump protest in San Jose, CA pic.twitter.com/LwaWyeYZfq

— Marcus DiPaola (@marcusdipaola) June 3, 2016