PHILADELPHIA, Pennsylvania — Hundreds of delegates for Sen. Bernie Sanders (I-VT) walked out of the Democratic National Convention on Tuesday evening and staged a sit-in inside the media center in protest against a "rigged" election.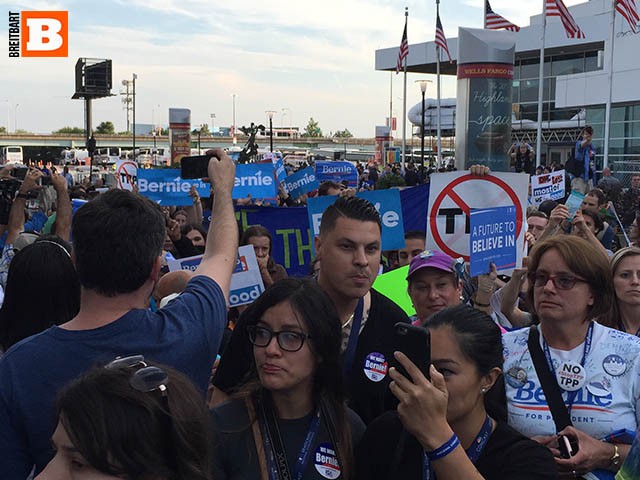 The delegates waited until the roll call vote to nominate former Secretary of State Hillary Clinton was complete, with Sanders himself closing the process. Then they donned black gags, raised protest signs, held their fists high, and walked out en masse.
Hundreds of delegates managed to enter the media center and sat down in the center of the first of three large tents inside the convention perimeter. Some chanted: "This is what democracy looks like!" Most were silent, and deferred media questions.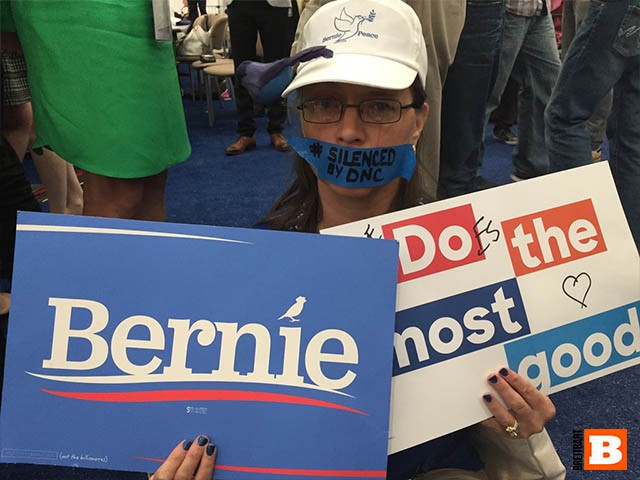 Police quickly closed the doors to the media center and prevented further protesters from entering. They also formed a cordon around the delegates on the floor. Some explained to police that they intended to be peaceful. The mood was tense but quiet.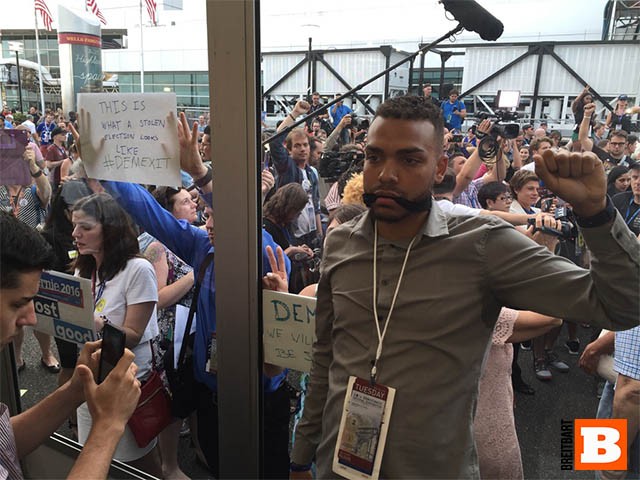 Breitbart News spoke with one Sanders delegate, Theresa Haas of Texas, who explained that the party had done little to reach out to Sanders supporters, and that Hillary Clinton alienated them by choosing Sen. Tim Kaine (D-VA) as her running mate. As for whether she would consider voting for Donald Trump, she said: "That's a decision that many people in here are going to have to make in November." Others told Breitbart News that they intended to vote for Jill Stein of the Green Party.
The momentum for "#Demexit" built up as a result of recent revelations that the Democratic National Committee (DNC) had been colluding with the Clinton campaign to ensure that Sanders was defeated. Emails released by the controversial Wikileaks organization showed, for example, DNC officials discussing planting questions in a public forum questioning Sanders's faith. Protesters held up modified party signs that once read "Do the most good," and now read: "DNC lost most of us for good."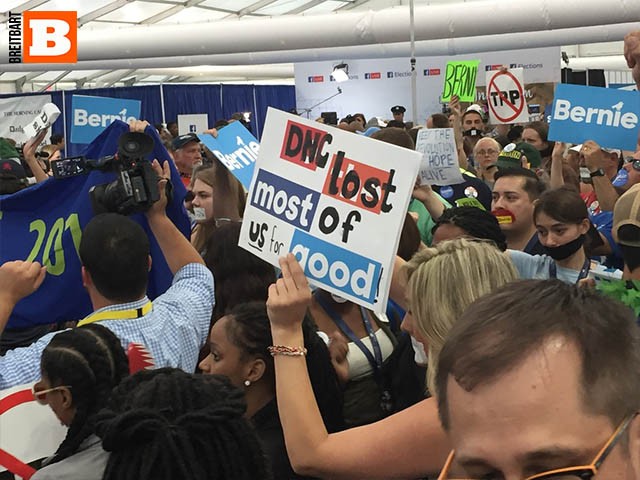 Another Sanders delegate, Kimberly Tucker of Virginia, said that the DNC had suppressed the the votes of those who had participated in the primary, calling the system a "poll tax" — a reference to discriminatory policies in the Jim Crow South.
https://slack-redir.net/link?url=https%3A%2F%2Fyoutu.be%2FxUddPtZto3A
Several told Breitbart News that they felt "silenced" by the party, and that they had been told not to express opposition to Hillary Clinton's nomination. Some were tearful and exchanged hugs, congratulating each other silently for staging the demonstration. A few pressed their hands up against the glass, connecting with protesters outside in a gesture of solidarity.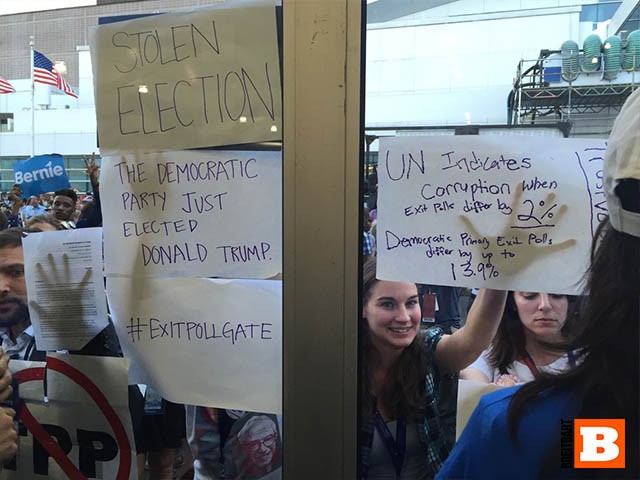 Inside the Wells Fargo Center, the convention continued, with Sen. Chuck Schumer (D-NY) and other speakers addressing a half-empty hall. The major news networks carried the convention speeches, but new media and international press covered the protest. Outside the convention perimeter, street protests continued for a second day.
The "#Demexit" interrupted what was meant to be an evening of party unity, as Sanders cast Vermont's votes for his former rival, and former president Bill Clinton prepared to address the delegates.
After an hour, the Sanders delegates ended their sit-in and continued protesting outside.
Joel B. Pollak is Senior Editor-at-Large at Breitbart News. His new book, See No Evil: 19 Hard Truths the Left Can't Handle, is available from Regnery through Amazon. Follow him on Twitter at @joelpollak.