WASHINGTON, D.C. — Billionaire Donald Trump, the Republican nominee for president, toured his new hotel at the Old Post Office Building in downtown Washington, D.C., on Friday last week before his speech at the Values Voter Summit hosted by the Family Research Council. The hotel ensures that no matter what happens in November, Trump will have a presence on Pennsylvania Avenue in Washington, D.C. — either at just the new Trump International Hotel, or both at the hotel and at the White House as President of the United States.
Exclusive photos and videos that the Trump campaign provided to Breitbart News show the real estate magnate, his daughter Ivanka Trump, former New York City Mayor Rudy Giuliani, and retired U.S. Army Lt. Gen. Mike Flynn interacting with the staff. Trump did tweet one of the photos from the event, for which press wasn't allowed inside, but the rest and the video was provided exclusively by the campaign to Breitbart News.
Stopped by @TrumpDC to thank all of the tremendous men & women for their hard work! pic.twitter.com/oGcJL4N454

— Donald J. Trump (@realDonaldTrump) September 12, 2016
"Well this is actually a fabulous and wonderful example of what he can do for the whole country," Giuliani says in the more-than-seven-minute long video clip the Trump campaign provided to Breitbart News:
He can get it done under budget, in less time than expected, and he can create something beautiful that puts thousands of people to work. That's what we want for the whole country right? If we can do this over and over again every time it's done, that's the kind of leadership we need for the United States — somebody who can bring us jobs, security, a wonderful diverse workforce, nobody left out, everybody a part of the team. That's the Donald Trump I know and that's the Donald Trump I'm supporting for president.
Trump himself, in the video, introduced Flynn as "one of the great generals" and a "warrior."
"I love what you guys represent and what we represent here in the United States of America," Flynn said. "It's people. It's people trying to find a better life, and work hard, and do the things that we need to do."

Pointing to Trump, Flynn said, "this is a pretty amazing guy right here."
"He creates things," Flynn continued:
He creates opportunities. He creates all sorts of things for the people of this country, and that's what we're hearing and that's what we're seeing around the country every place we go to — like the great mayor of the great city of New York just said, this is the kind of example of the kind of thing he's going to get done for this country.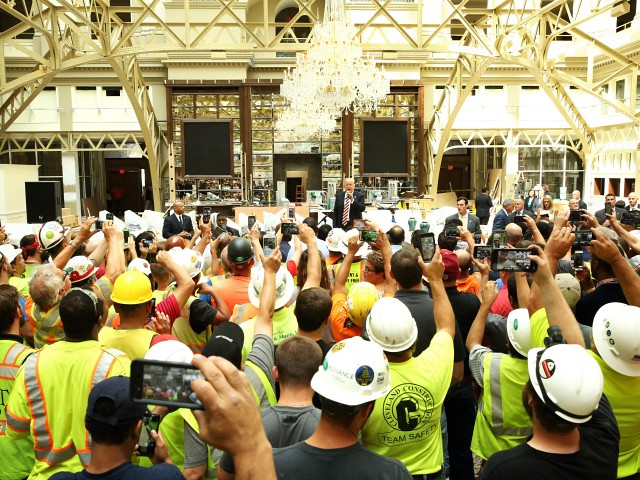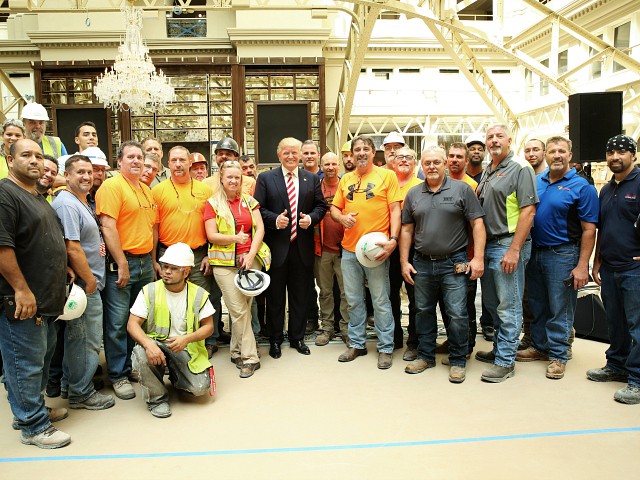 Trump himself noted that in the hotel, "we went from not so great surfaces to beautiful marble."
"We have the finest hotel I think anywhere in the country," Trump said:
Some say it's going to be the finest hotel in the world. You know the schedule. We're going to meet it. We're going to make this one of the greatest hotels in the world. We're going to be employing a lot of people. It's going to be so active, it's going to be so beautiful. And I just want to thank people.

I'm doing something else a little bit; you probably have been reading about it in the newspapers. We're doing well. Oh, people are getting a little nervous. They're saying this wasn't supposed to happen. They're getting a little nervous. You know, we started out with 17 people, and they said, "well, he's never done this before."

You know it's interesting, 10 months into the campaign, I had 10 months worth of experience because I never did this before — meaning political experience — and the other candidates had 219 years. Did you know that, Rudy? They added them all up. So I had 10 months, and when you added up all of the senators and governors and everybody that was running, they had 219 years worth of experience, and I said, "wow, that's a lot of experience." But, the bottom line is, here we are, and in 60 days we have an election coming up that is going to be very exciting.

You see the polls — what is happening over the last three or four weeks — we're like "boom!" We're doing okay. We're doing okay. But I just want to thank you all. Make this a great experience for our guests because if they love it, it's going to exceed levels. We have the best location there is probably anywhere in the world if you think about it, between the White House and Congress — the Capitol — and to think that this became available, to think that we got it.

You know, it was the most sought after job, they say, in the history of the General Services Administration and we got it. We got it because we have a great plan, and we have a great track record, and we have a good balance sheet because otherwise we wouldn't have gotten it, but everybody wanted it — all the hotel companies — and we have it, and we decided to build a special building much more so than we thought originally. The rooms are the best.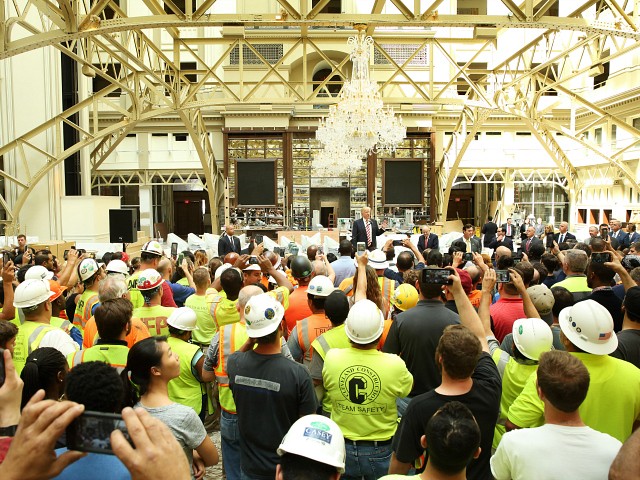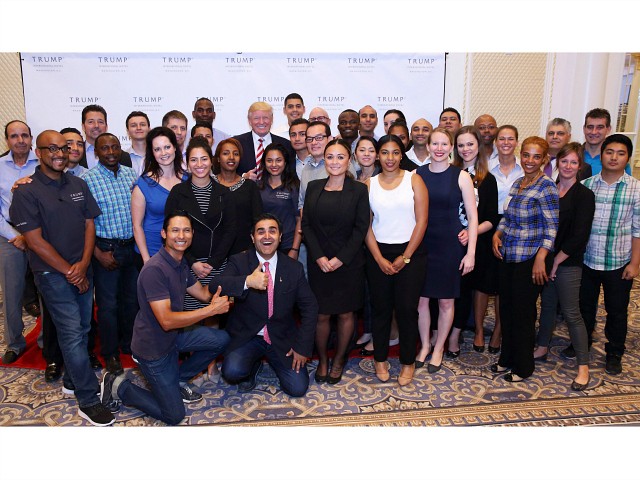 About the rooms, Trump said they are "the finest rooms in the country — the size, the ceiling heights."
"You could never build a building like this," Trump said, referring to how using the Old Post Office Building architecture provided a unique opportunity. "If you were going to start off, you'd have eight-foot ceilings. Some of the ceiling heights in some of the hotel rooms are 20 feet high — higher. And then we built a brand new ballroom, which is the largest luxury ballroom in Washington by far, and I think it's the best luxury ballroom period, forgetting about size."
Trump, in an exclusive interview with Breitbart News later in the day backstage at the Values Voter Summit, said that the hotel will be "maybe the best" hotel in the entire United States.
"We had over a thousand people in the room, and they were incredibly thrilled, and over the next few days we are going to be doing a soft opening and then we will be doing the hard opening a little bit later," Trump told Breitbart News when asked about his tour. "But it's in great shape. We're under budget and ahead of schedule. We're ahead of schedule by a year. And the hotel is going to be one of the best hotels anywhere in the United States, maybe the best."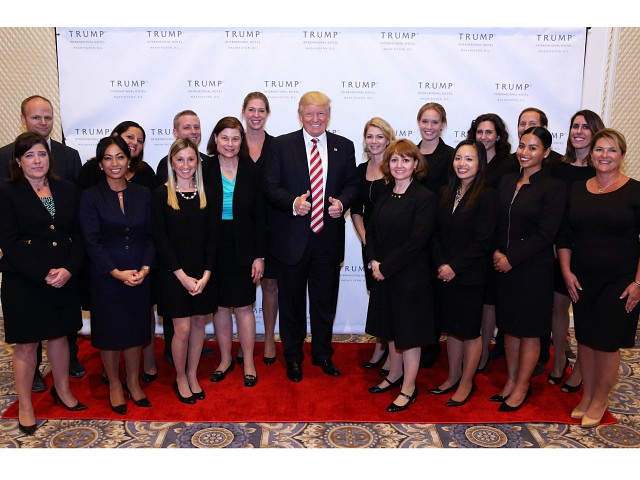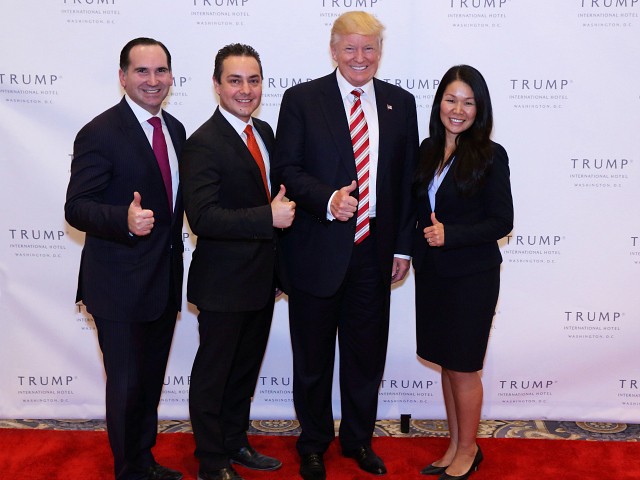 Since Trump's tour with his daughter and Giuliani and Flynn on Friday, the hotel has had its soft opening on Monday.
"Republican presidential nominee Donald Trump opened the latest outpost in his real estate empire on Monday, a luxury hotel in a historic building five blocks from the White House that underwent a two-year, $200 million renovation," Reuters reported on Monday. "While staff members at the 263-room Trump International Hotel planned little hoopla for what they described as a "soft opening," about 40 protesters opposed to the New York real estate developer's presidential run gathered outside. The opening came eight weeks before the Nov. 8 election."
One protester told Reuters that Trump will have a commanding Pennsylvania Avenue presence no matter what happens in November's general election between him and Democratic nominee Hillary Rodham Clinton.
"It kind of fits his personality that he finds a way to be on Pennsylvania Avenue, one way or another," the woman, 70-year-old D.C. artist Judy Byron, said.
Reuters noted that the hotel "includes a $20,000-a-night suite" and "is less than a mile (km) down Pennsylvania Avenue from the White House."
"The hotel is housed in Washington's third-tallest building, the 1899 Old Post Office, built in the Romanesque Revival architectural style," Reuters wrote.
Reuters also noted that Ivanka Trump, Donald's daughter, "helped negotiate the 60-year lease with the U.S. government and oversaw the building's revamp and design" and said that "the project had come in a year ahead of schedule and under budget."
"We have really positioned this hotel to not only be the finest hotel in D.C. but in the country," Ivanka Trump told Reuters.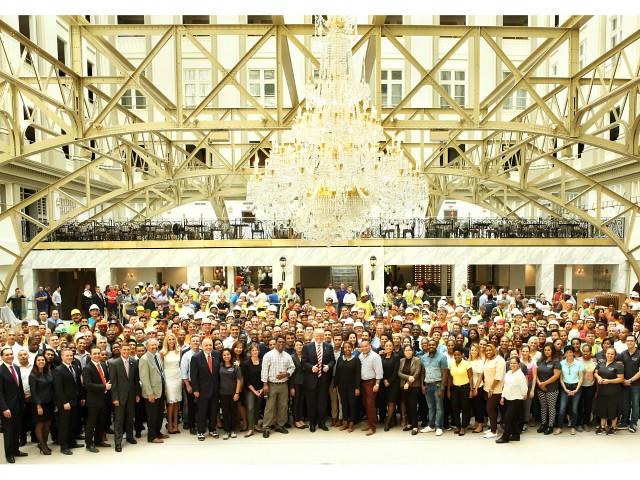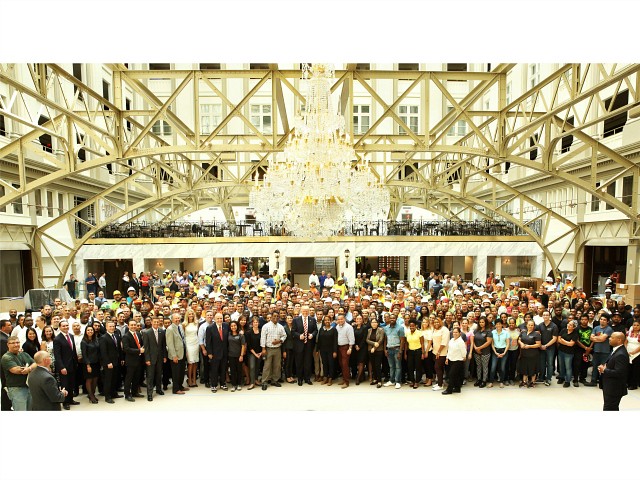 More from Trump's latest exclusive interview with Breitbart News is forthcoming.