Over the last several presidential election cycles, conventional wisdom suggested that independent voters, particularly in swing states Ohio, North Carolina, Iowa and Florida, really decide the presidential election.
With two weeks before Election Day, that is not the case in with presidential hopefuls Donald Trump and Hillary Clinton in Florida.
There remains a great deal of uncertainty about who will win the Sunshine State's 29 electoral votes on November 8. However, getting the base out seems to be the current name of the game in Florida as both of the candidates barrel down the homestretch. The key to Florida this year, it seems, it not the independent vote but rather getting out the vote.
Trump spends the most time in Florida, where he has held rallies late in the election cycle in the Republican strongholds of Pensacola and Panama City Beach, both located in the state's panhandle region.
On the same night Trump was in Panama City Beach in early August, Clinton was hosting her own rally at the opposite end of state in South Florida's solidly blue Miami at Miami Dade College's Kendall Campus with former Vice President Al Gore. Among the topics discussed at that rally was the hot-button issue of global warming, which tends to excite Democratic voters.
Candidates "Trying to Hold on to Their Base for Dear Life"
Dr. Susan MacManus, a political science professor at Tampa's University of South Florida, tells Breitbart News that both campaigns recognize the importance their party's base will play in winning Florida.
"They're trying to hold on to their base for dear life," she said. "Each of them has elements of it that are soft in their opinions and are kind of up in the air whether they're going to vote at all or cross over and vote for the other side. So, uncertainties are at a record level this time out because of the high levels of distrust of both candidates. And the fact that they're not really hearing issue positions as much as they're just hearing name-calling and personal attacks."
As for who may ultimately win those undecideds, it remains to be seen.
MacManus, also a political analyst for Tampa's ABC affiliate, referenced a focus group of undecideds the ABC station conducted during last Wednesday's presidential debate. The focus group's pre-debate commentary, she said, focused on a hope for "civility," but that there was cynicism it would happen.
"The undecideds at this point just don't feel like they get enough details on really big issues about how these candidates are going to do all these grand promises that they are making – how they are going to accomplish things," she said.
The undecided participants in the focus group had mixed reactions she said, but added they tended to favor Trump on certain issues.
"At the end of the evening, I would say half said that they would definitely vote and the other half said that they were apprehensive," she said.
All Eyes on Hillsborough County
Monday Trump held one of his largest rallies of the campaign in Tampa, the state's third most populous city, and that could prove to be important.
An analysis of the election results from Florida's county-by-county returns suggests historically the state has remained consistent with a few small exceptions and one big exception, which is Hillsborough County, the home of Tampa.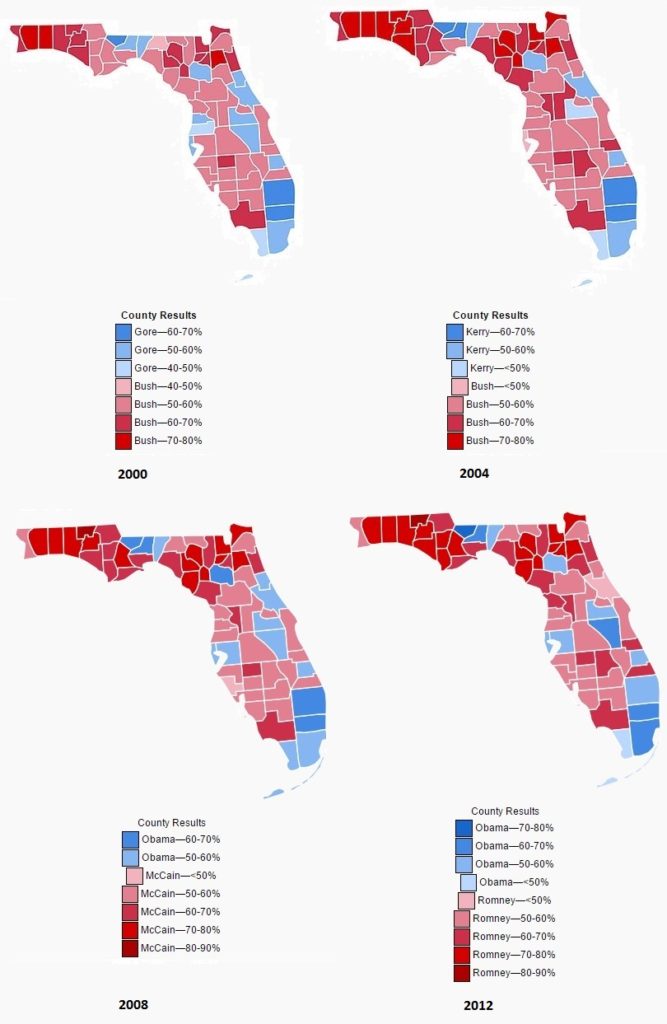 In the previous four presidential elections, as Hillsborough County voted, so went the country.
Turnout in Hillsborough County has been consistent over the previous four election cycles. It has far outpaced national turnout with the county's 2012 turnout at 72.9 percent, 2008 turnout at 73.6 percent, 2004 turnout at 74.8 percent and its 2000 turnout at 74 percent.
You have to go back to the 1996 Clinton-Dole race, a year in which national turnout was the lowest it had been since the 1920s to find it dipped down to 68.4 percent.
Both candidates have spent time in the Tampa Bay area. However on Monday, Trump made his second appearance in last 60 days in Tampa.
The Great Unknowns
As of August, the number of registered voters in Florida has jumped by 377,000. Nearly 60 percent of whom registered as a Republican.
That's in part attributable to Trump's candidacy for president.
"There's no doubt that the March 15 primary, which Trump won with 46 percent of the vote, drew a flurry of new members to the Republican Party," Jeremy Wallace of the Miami Herald's Tallahassee bureau wrote back in August. "It added 154,000 between January and March. Democrats gained only 88,000 during the same period.
However, the question remains that given tone of the campaign, will these same new voters turn out for the GOP nominee on Election Day.
"You don't really know much about them other than they're leaning toward him right now," MacManus said.
Clinton is having to deal with her own questions, which are if millennials will turn out for her on Election Day according to MacManus.
"She's trying to hold on to millennials and he's trying to hold on to these new blue-collar non-college educated voters – so they are both trying to reach groups that they are both having trouble holding on to."
Another question mark has to do with the number registered voters that declined being affiliated with a political party. Those so-called "no-party affiliation" voters are now one-quarter of Florida's registered voters, which MacManus says makes it necessary get-out-the-vote efforts
"That is something we have not had to deal with – that large a segment in any state, but including a swing state like Florida, having that high of a concentration of NPAs. And who are they? They are younger voters in general."
Polling Accuracy
With the exception of a few days here and there, Clinton has maintained a lead over Trump since the GOP convention back in July.
In a lot of those polls, the leads have not been insurmountable for Trump. The race has remained within the margin of error. And there is a concern among pollsters of a turnout surprise that could be in the Republican nominee's favor.
"There's an old rule of thumb – if every poll is in the right direction, you have to think that that is the direction, but you can have surprises if there are turnout surprises and there is also at least among some in the polling community a sense that the Trump support is a bit understated, even by the more educated people, they don't want to acknowledge to anyone that they're really – when they go into the polling booth they're going to vote their party and they're going to vote for him reluctantly, but they're still going to vote for him," MacManus said. "And we just don't know what percent. I think the softness in the traditional support groups within each party and the closeness of the polls in some key swing states is what is making people a bit hesitant to proclaim with certainty that she is going to win."
Another reason MacManus argues the polls are deserving of some skepticism is the small sample sizes the outlets are using as a basis for their polling. She said it is likely each of the campaigns with their superior resources have internal polling that is much more accurate that what the media have been able to compile.
There is a competing narrative in the polling in Florida — the U.S. Senate race between Sen. Marco Rubio (R) and Rep. Patrick Murphy (D). Even with all the negatives Trump is said to have brought for Republicans running down ballot, Rubio has maintained a lead over Murphy since declaring his intentions to run for reelection.
For now, there is a dissonance in what the future holds for Republicans across the ballot.
Signs Point to Turnout Winning the Day
Key evidence that get out the vote is a greater priority the independent vote is where each of the candidates and their surrogates are holding events.
Over the past few days, former President Bill Clinton has been on a bus tour on his wife's campaign's behalf in north Florida that spans from Jacksonville to Pensacola. Along the way, his stops have been at African-American communities.
While Hillary Clinton will struggle in the heavily GOP northern part of the state, turning out the black vote will be key. President Barack Obama won the black vote in Florida by a margin of 95-4 in 2012 over former Gov. Mitt Romney and 96-4 over Sen. John McCain in 2008.
Trump's appearances in the state's panhandle reason suggest a similar strategy is at work. While winning the panhandle is a foregone conclusion for Republicans, Trump decision to hold rallies in Pensacola and Panama City Beach late in the election cycle show Trump's campaign sees turnout as a necessary part of the equation as well.
"Campaigns are focusing on turnout, with Clinton's campaign probably doing a better job getting new voters signed up," Frank Orlando of St. Leo University's Polling Institute told Breitbart News. "It remains to be seen whether her organizational superiority on the ground wins out on Election Day, but in any race, that advantage can't be undervalued."
As we enter the homestretch, Trump is barnstorming Florida with stops in Naples, St. Augustine, Tampa, Sanford and Tallahassee. Clinton has three events penciled in for Florida in the coming days, one in Coconut Creek today, and events in Lake Worth and Tampa on Wednesday.
The push from both sides this late in the game tells us two things: 1) The state of Florida is still in play and 2) Securing the state's 29 electoral votes are essential to achieve the 270 electoral votes needed to win the White House and 3) Independents are not as prized as they were in past elections.
Follow Jeff Poor on Twitter @jeff_poor