The Clinton campaign buzzed over a picture of Bernie Sanders in his swimming suit, at the same time they were pushing stories about the Vermont Senator attending a fundraiser for Democrats with wealthy supporters.
Bill Clinton's chief of staff, Tina Flournoy, emailed the attached photo of Sanders relaxing by the pool at the DSCC retreat to Brian Fallon, Clinton's national press secretary.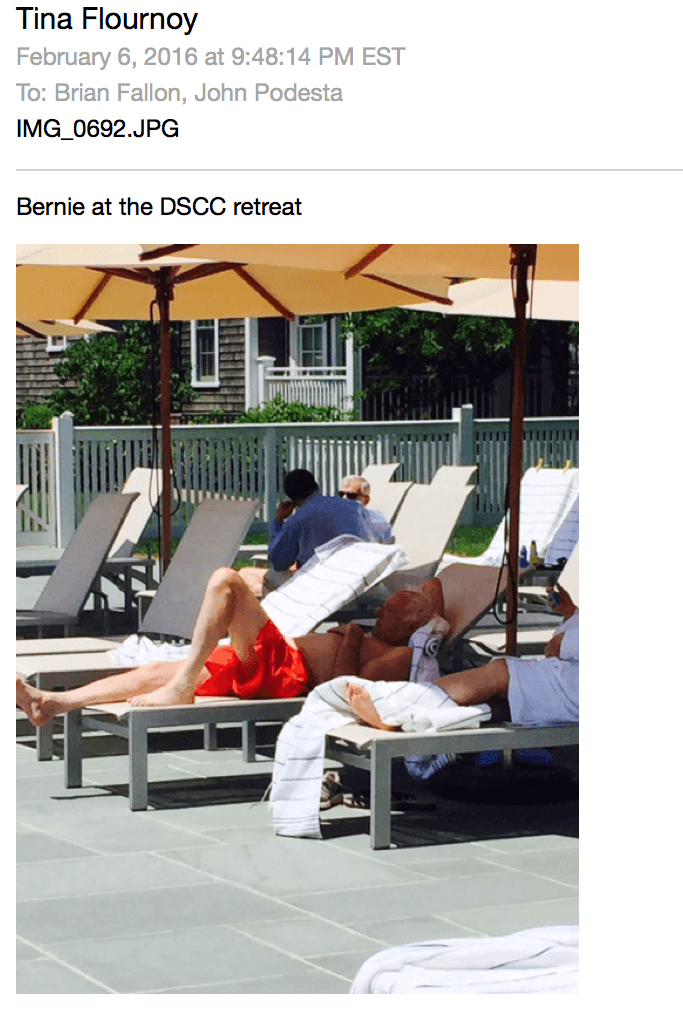 "Omg," Fallon responded.
"Can we tweet?" asked Podesta.
"I think we shd give to NY post," Fallon responded.
Flournoy added that she would send more information about the event, including the people who attended.
"Thank you," Fallon replied. "We are on this."
The conversation was made public by Wikileaks, as part of the ongoing release of emails from John Podesta's private gmail account.
It appears that the New York Post did not run the story, but that didn't stop the Clinton campaign from pushing it.
The photo was published by Perez Hilton just one day after the Clinton team discussed releasing the image.
"I wonder what Mike Bloomberg would think about this???" wrote Hilton on his blog. "Bernie Sanders lounges at elite Martha's Vineyard pool, summer 2015 after helping raise money from Wall Street lobbyists."
The following week, several stories appeared in the media questioning Sanders for attending fundraisers for Harry Reid.
"For Sanders, campaign finance purity not always possible" wrote MSNBC's Alex Seitz-Wald, citing "a guest list obtained by MSNBC" that included "previously unreported are details about who exactly attended those fundraisers."
"Bernie Sanders: Prolific Democratic Party fundraiser," wrote CNN's Eric Bradner on Monday, February 8, announcing that "CNN has obtained invitations that listed Sanders as a host for at least one Majority Trust event in each year since 2011."
Hillary Clinton and Bill Clinton picked up the torch, accusing Sanders of taking Wall Street money that week, ahead of the Democratic primary in New Hampshire.
"Senator Sanders took about $200,000 from Wall Street firms," Hillary Clinton said during a rally in New Hampshire on February 8. "Not directly but through the Democratic Senate Campaign Committee. There is nothing wrong with that. It didn't change his view. Well, it didn't change my view or my vote, either."
Bill Clinton attacked Sanders, referring directly to the CNN story and pointing out that he likely accepted money from Wall Street.
"But you'll never hear her call him a tool of Wall Street," Clinton said, referring to his wife.
Team Bernie did not take the attack lightly.
"Bernie appreciates the help he has gotten from the DSCC, whose funds come from millions of Americans' individual contributions, labor organizations, environmental groups, women's organizations and others. To say that every nickel that Bernie received came from Wall Street is beyond preposterous," Sanders' campaign manager Jeff Weaver said in a statement.