CONCORD, North Carolina — Republican presidential nominee Donald Trump is a commanding presence onstage, but at a rally in the Cabarrus Arena, he was upstaged by a man from the audience yelling, "Truuuump!"
"George," who told Breitbart News that he is originally from Queens, perched on the police barrier dividing the media tent from the main audience, which police estimated at 3,000 to 4,000 people.
At seemingly random moments in the rally, he would shout "Truuuump!" at the top of his lungs, and his voice boomed throughout the hall.
He also alternated shouts, including "Trump for President!", "We love you, Trump!", and "Lock her up!"
At one point, he also yelled: "Italians for Trump!"
Donald Trump acknowledged him from the stage, and several others who copied him, praising the "good crowd."
The Secret Service paid him a brief visit, as did local police, and told him to calm down.
Epic Trump Guy, as he will henceforth certainly be known, shared greetings with a young man named Jimbo Allen, of Salisbury, North Carolina, who came dressed in a homemade T-shirt that read: "It's time to grab America by the P**** and Make it great again!"
Rally organizers confiscated Jimbo's shirt and said they'd give it back afterwards. #Trump #Concord #NorthCarolina pic.twitter.com/iWAAOwgr0j

— Joel B. Pollak (@joelpollak) November 3, 2016
Jumbo, a licensed electrician, told Breitbart News that he was indeed a real Trump supporter and not a plant. "I'm making fun of the 'what guys say' kind of talk," he said. "Most guys I know talk that way."
He credited his girlfriend with making the shirt.
Rally organizers thought less of the stunt, and asked him to remove the T-shirt, agreeing to return it afterwards.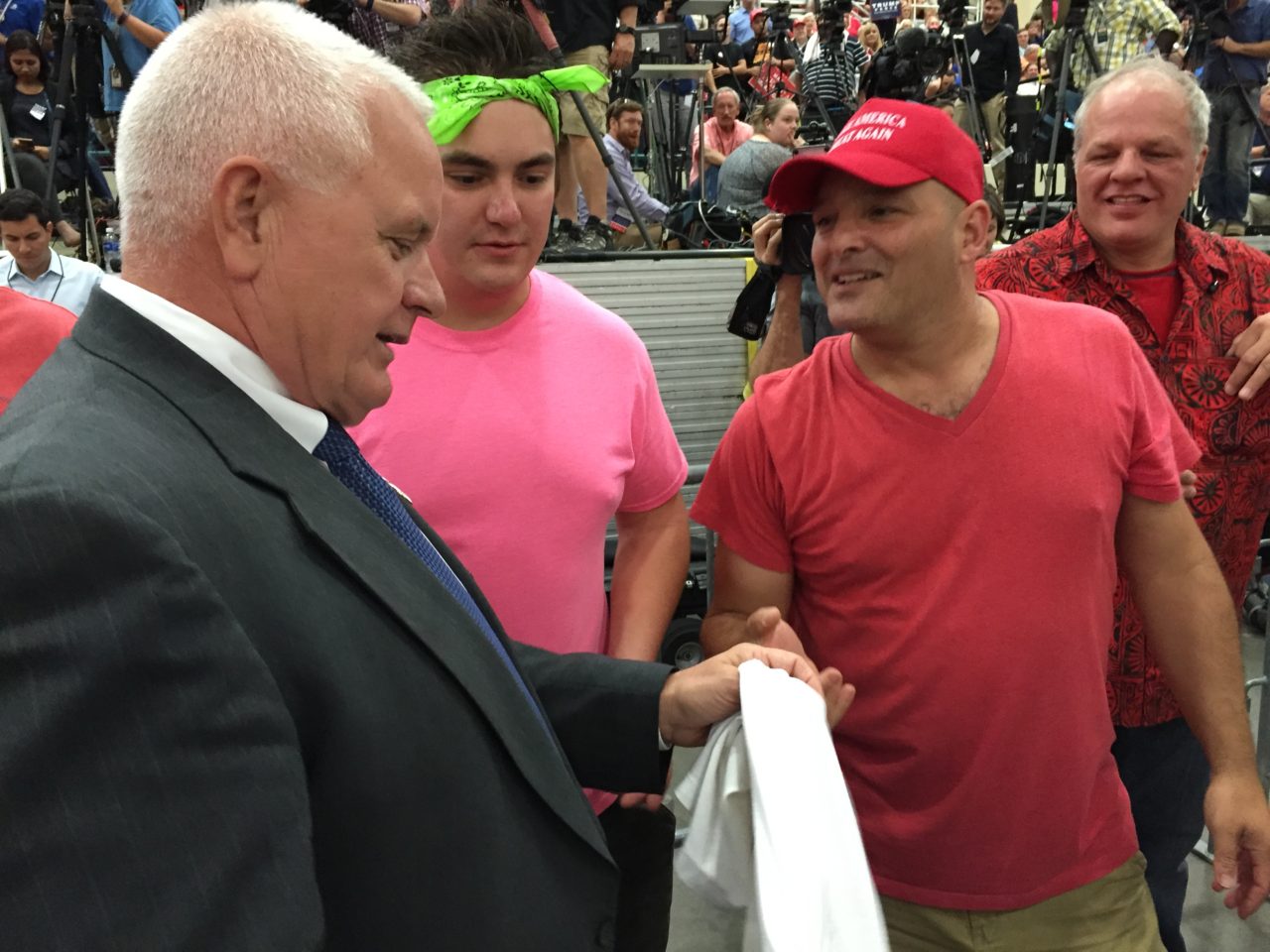 Both Jimbo and Epic Trump Guy attracted the immediate attention of the press, particularly the overseas media.
Other attendees came in costume, with several dressed as their own version of Uncle Sam.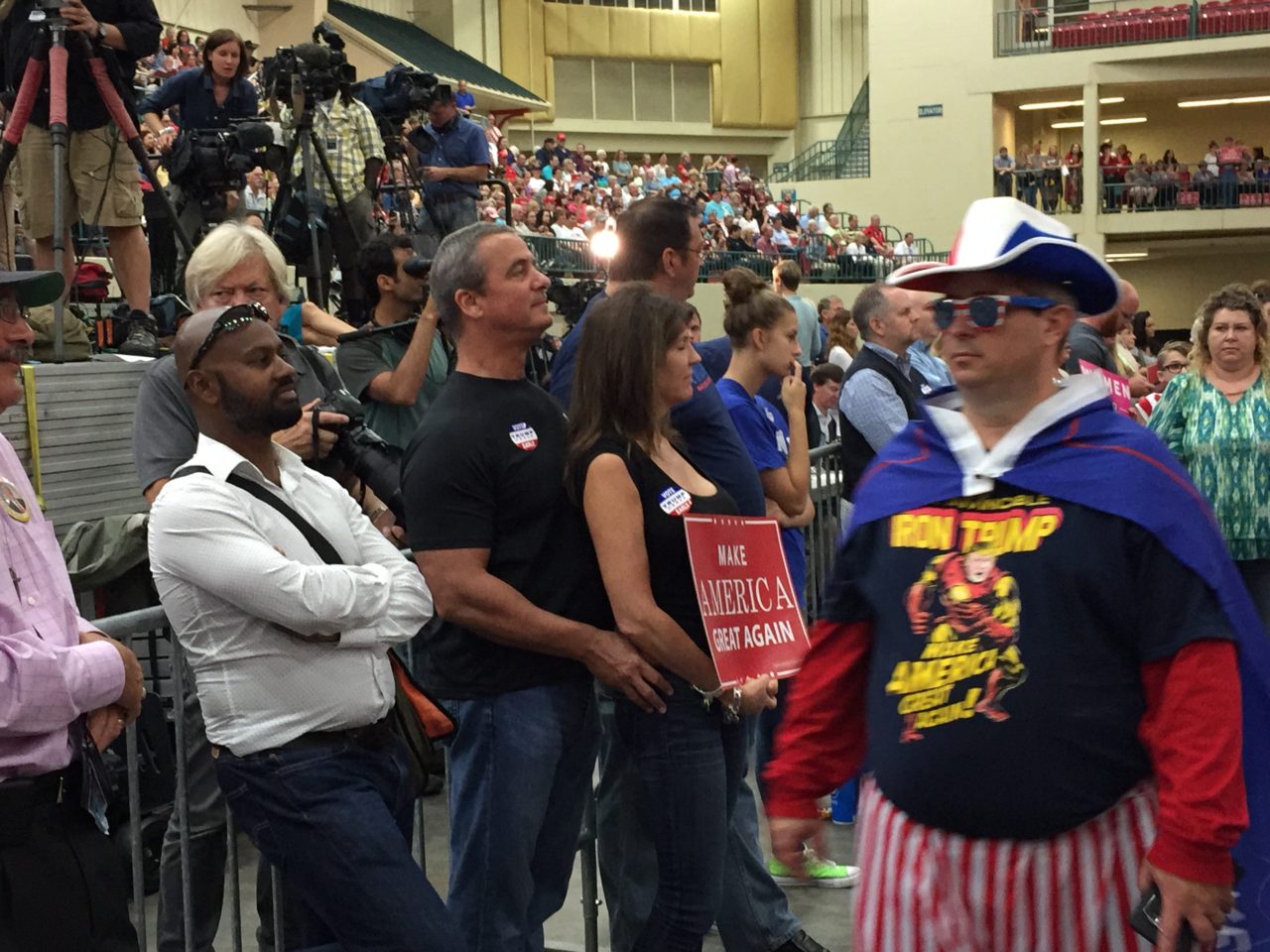 Trump delivered his stump speech, with a new tagline he used at earlier rallies Thursday: "We are five days away from the change you've been waiting for your entire life."
There were other noteworthy signs at the rally. One, "Democrats for Trump," was held up by three religious Jews on the bleachers directly behind Trump.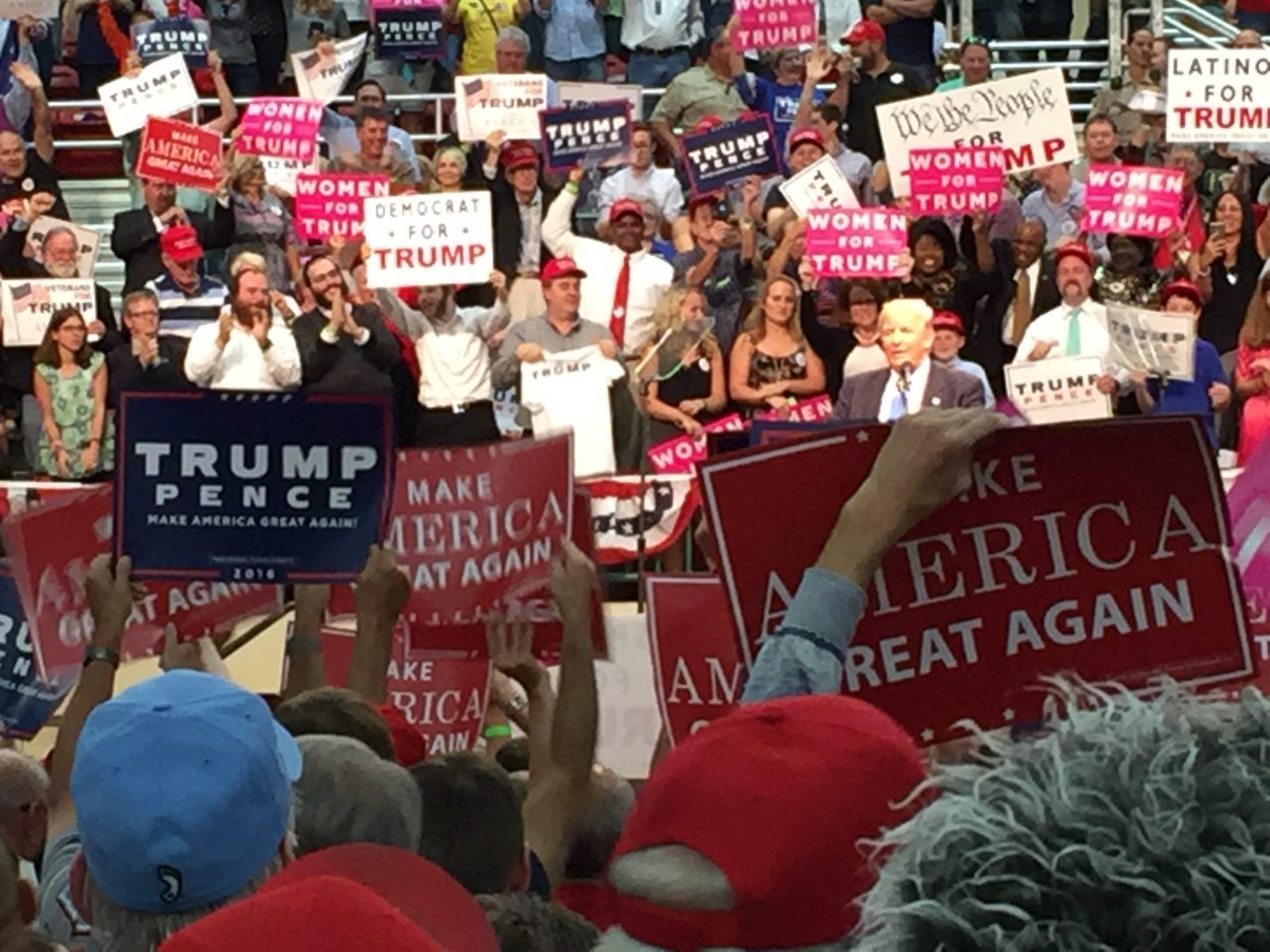 Another, higher up in the stands, read "Blacks for Trump."
Joel B. Pollak is Senior Editor-at-Large at Breitbart News. His new book, See No Evil: 19 Hard Truths the Left Can't Handle, is available from Regnery through Amazon. Follow him on Twitter at @joelpollak.