In its latest investigative report, pro-life organization Americans United for Life (AUL) provides details of hundreds of violations of state laws regulating abortion clinics.
The 200-page report, titled "Unsafe: The Public Health Crisis in America's Abortion Clinics Endangers Women," echoes the case of Philadelphia abortionist Kermit Gosnell. In 2013 he was found guilty of murdering babies born alive during abortion and in the death of one of his patients.
It also challenges the narrative put forward by abortion advocates that the U.S. Supreme Court's decision in the recent Texas case of Whole Woman's Health vs. Hellerstedt prevents state legislatures from requiring health and safety standards in abortion clinics.
"This report is the tip of the iceberg as too many state officials are turning a blind eye to this red-light district of medicine," says AUL's vice president of legal affairs Denise Burke. "AUL is calling on state attorneys general and governors to order inspections of abortion clinics and on state legislators to enact the enhanced protections for women and their unborn children featured in AUL's Women's Protection Project and Infants' Protection Project."
This is a win for Texans & women across the country who need access to abortion. https://t.co/UEatutANNk #MyDecision pic.twitter.com/vWe0D8QoxU

— Planned Parenthood Action (@PPact) June 27, 2016
"The abortion industry willingly sacrifices women's health and safety in their 'back alley' clinics, prioritizing mere access to abortion over women's health and safety," Burke, the report's author, continues, adding:
Convicted murderer Kermit Gosnell provided "mere access" to abortion, and women died in his care. During the investigation of Gosnell and his "house of horrors" abortion clinic, the grand jury found that, while there were laws on the books allowing for inspections, state officials decided not to act because of abortion politics. Women's health and safety must not be held hostage by an abortion industry willing to put profit over people.
With support from Catholic publishing company Our Sunday Visitor, AUL researchers analyzed hundreds of incidents, found in official records, in which abortion providers have been investigated or cited by state officials for violations of health and safety standards and other laws pertaining to abortions. Still, however, AUL observed a similar situation that the grand jury in the Gosnell case discovered as well:
Importantly, even limiting the scope of our investigation to the last eight years, efforts to discern the true state of abortion practices was stymied by a dearth of protective laws in a number of states, a lack of reporting in others, and limited public availability of information on abortion providers in still more states. We can easily deduce, there- fore, that the epidemic of substandard abortion practice is worse than even these pages show.
As Breitbart News reported in April of 2013, one month before Gosnell's conviction:
According to the transcript of Grand Jury testimony taken on January 20, 2011, Kermit Gosnell, the abortion doctor on trial for the murder of seven babies and an adult patient, was not caught by the Pennsylvania Dept. of Health (DOH). The discovery of what has been described as a "horror show" was accidental, the result of a police raid to seize evidence of illegal prescription sales.

It was only after this raid and the resulting media publicity of what the police found at the clinic ("the disgusting conditions, the dazed patients, the discarded fetuses") that the DOH stepped in.

What the Grand Jury testimony makes clear, though, is that very little of what was ultimately discovered could have come as a surprise to the Pennsylvania Department of Health — the government agency that should have been "the first line of defense" against Gosnell. The DOH had not only received numerous complaints about deaths and underage abortions over the years, but DOH personnel had also visited Gosnell's clinic on numerous occasions.

Despite these complaints and being an eye witness to heaven knows what, no action was ever taken.
Burke says abortion supporters should read the fine print of the high court's decision of Whole Woman's Health v. Hellerstedt.
"In the Supreme Court's June ruling…the Justices indicated that health and safety standards designed to protect women from abortion industry abuses would be constitutional if there was better evidence of the need for such regulations," she asserts. "Here's proof that women need such protections and that abortion clinics must be better regulated and regularly inspected."
When TX imposes restrictions that push safe & affordable abortion care out of reach, @ReproRights & @WholeWomans are like: pic.twitter.com/JGVFZSonrz

— All* Above All (@AllAboveAll) December 12, 2016
The report focuses on evidence collected from 32 states on hundreds of abortion clinics, both Planned Parenthood and those not affiliated with the national chain, as well as those belonging to individual abortionists.
"Unsafe is both a 'snapshot' in time, focusing only on abortion practices since 2008, and the 'tip' of the proverbial iceberg, convincingly demonstrating a nationwide pattern of abuse that characterizes an industry that fights to keep profits high and standards low," says the report's executive summary.
The report tells the stories of women who have been victimized by the abortion industry, including those who lost their lives after having abortions. It provides detailed analysis of hundreds of violations and substandard practices commonly found in abortion clinics, among them the failure to: provide a safe and sanitary environment for the procedure; to adequately document and protect patient records; and to properly train staff.
In addition, abortion clinics were found to use expired medications, to fail to maintain medical equipment, and to fail to monitor patient vital signs.
"Unsafe" also reveals "the abortion industry's reliance on a small cadre of abortion providers who travel from state to state plying their grisly trade and who are not available to women suffering post-abortive complications," AUL's press release notes, and adds:
[A]t least 13 abortion providers either failed to report suspected sexual abuse of a minor or failed to implement practices to protect minors from ongoing sexual abuse, at least 30 abortion providers failed to provide or post all required informed consent information, and more than two dozen abortion clinics failed to comply with abortion reporting requirements.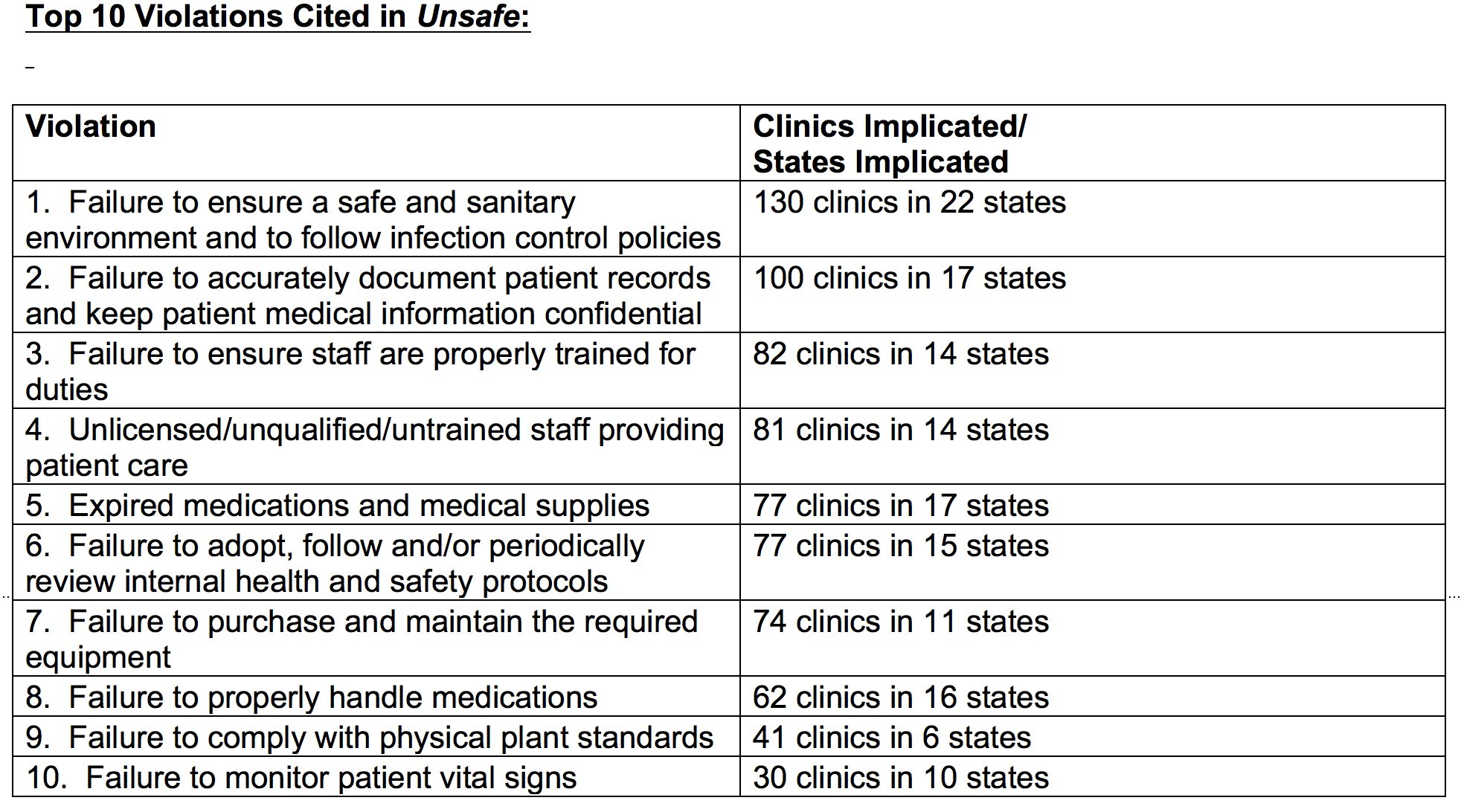 The report features 39 Planned Parenthood clinics in 15 states (Alabama, California, Colorado, Delaware, Florida, Illinois, Maryland, Michigan, Nebraska, North Carolina, Ohio, Pennsylvania, South Carolina, Texas, and Virginia). All have been cited.
AUL's analysis provides documentation showing that 227 abortion providers in 32 states were cited for more than 1,400 health and safety deficiencies between 2008 and 2016. 
Burke notes, "AUL is releasing this report in advance of the 2017 state legislative sessions so that lawmakers will have an important tool for explaining the critical need for enhanced health and safety standards and to call for further investigation."