MOBILE, Alabama — Despite on-and-off rain, President-elect Donald Trump returned to Ladd-Peebles Stadium Saturday, declaring Mobile the place "where it all" began.
Indeed, 485 days ago, Trump hosted his first major rally of the cycle at Ladd-Peebles. This time, the former candidate returned to offer his thanks and take a victory lap before a crowd of some 15,000 supporters.
Trump deviated from his usual rally walkout music, Lee Greenwood's "Proud to Be an American," for Lynyrd Skynyrd's "Sweet Home Alabama."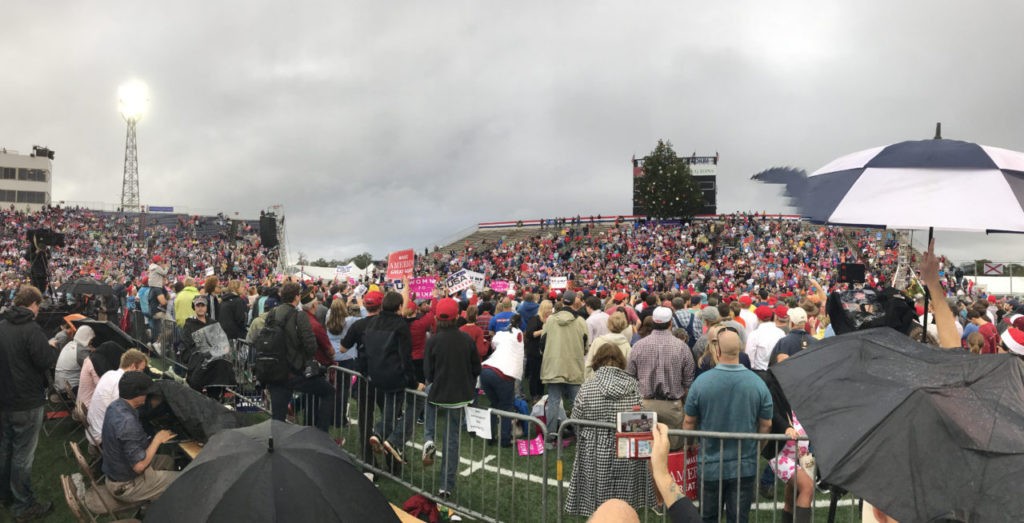 The president-elect recalled his first Ladd-Peebles event, specifically the large crowd he was able to muster.
"It was packed and incredible," Trump said. "People said something is going on there. That was the beginning. And you remember, even though you do not have to vote for me, maybe in four years we will take a look. But you know what, I said I was coming back to see you in Alabama."
Saturday's event was Trump's last stop on his "Thank You" tour – a series of rallies he launched shortly after winning last month's presidential election.
"I just want to thank the people of Alabama and I want to start by wishing you a very merry Christmas," he said. "Merry Christmas. But I am here today for one reason, and that is to thank the incredible people. I recognize them, so many from Alabama. I want to thank the people of Alabama. We are really the people that love this country."
Trump's decision to host his final rally in Mobile was noteworthy — all of the president-elect's previous stops on the post-election tour were in swing states. Alabama, however, is solidly Republican and has not gone for a Democrat since the 1976 presidential election between then-Georgia Gov. Jimmy Carter and incumbent President Gerald Ford.
Trump remained on message for much of the rally — offering praise for the military, vowing to build the border wall, cutting back on wasteful spending by specifically naming the Air Force One project, reforming the tax code, stressing his mission to create jobs, emphasizing "fair trade," and punching back at political correctness.
"I get this 'person of the year' from the Financial Times and from Time magazine this week," he said. "So which is better – now remember women, because if it is a woman that gets it, we have to think about that. So they do it because they want to be politically correct. You run the magazine, you run the Financial Times or you run Time magazine, do you go 'man of the year' … or do you go 'person of the year?' We'll do 'person' first. Which is better? Person of the year? Or man of the year? It is pretty simple. If it is a woman, you go woman of the year, right?."
Mobile is also the hometown of Sen. Jeff Sessions (R-AL), one of Trump's early supporters and the president-elect's pick for U.S. Attorney General. Midway through his speech, Trump introduced Sessions – among the most popular politicians in the state – to thunderous applause.

"What a great honor it is to have you back in my hometown – Mobile, Alabama," Sessions said. "I do remember that event 16 months ago. How many of you were here on that day? It was an eye-opening event for the entire world and the United States political establishment."
Trump also responded to first lady Michelle Obama's remarks given in an interview with Oprah Winfrey,in  which she said she and her husband were "feeling what not having hope feels like," given the results of the election.
"Michelle Obama said yesterday that there is no hope," Trump said to boos. "But I assume she was talking about the past and not the future. I'm telling you that we have tremendous hope. We have tremendous promise and we have tremendous potential. We are going to be so successful as a country again. We are going to be amazing."
According to Trump, Mrs. Obama did not really mean what she said.
"I honestly believe she meant that statement in a different way than in the way that came out, because I believe that there is tremendous hope. And beyond hope, we have such potential. This country has such potential. You watch, it will be so special. Things are going to happen like you haven't seen in many, many decades."
The president-elect also took his obligatory shots at the "dishonest" media, calling them out for being wrong about the election outcome and for their reluctance to show the size of the crowds at his rallies.
One member of the media he called out in particular was The New York Times' Paul Krugman who, suggested yesterday that Trump was hoping for a 9/11-type terrorist attack to boost his popularity
Thought: There was (rightly) a cloud of illegitimacy over Bush, dispelled (wrongly) by 9/11. Creates some interesting incentives for Trump

— Paul Krugman (@paulkrugman) December 16, 2016
He did not refer to Krugman by name, but suggested the Times columnist was "demented."
"They said that I wanted to have another catastrophe like that because it is good for my base," Trump said. "Anybody that says that — this guy is demented. He is a demented person. That is why the Times is failing."
Other local Republicans made appearances at Saturday's rally, including Rep. Bradley Byrne (R-AL), Alabama Republican chairwoman Terry Lathan, and Alabama Attorney General Luther Strange. Christian evangelist Franklin Graham and campaign staffers Cliff Sims, Stephen Miller, and Kellyanne Conway also spoke.
Follow Jeff Poor on Twitter @jeff_poor