American oil production will soar over the next five years, supplying much of the world's growing demand for oil, the International Energy Agency said on Monday.
U.S. production of crude oil, condensates, and natural gas liquids will rise to 17 million barrels a day by 2023, up from 13.2 million in 2017, according to IAE's forecast. As a result, U.S. production will supply around 80 percent of the increased global supply of oil, which the IAE sees rising 6.4 million barrels per day to 107 million barrels a day.
Demand for oil will rise by 6.9 million barrels a day to 1.04.7 million, the IEA forecast.
The rising U.S. production means the U.S. will become close to being energy self-sufficient, a huge shift from the era not so long ago when the U.S. was the world's largest oil importer.
"The United States is set to put its stamp on global oil markets for the next five years," Fatih Birol, the IEA's executive director, said in a statement.
The projections come from Oil 2018, the IEA's five-year market analysis and forecast. The chart below shows where the IEA sees future oil production coming from. NGLs is short for Natural Gas Liquids, which is a family hydrocarbons that includes ethane, propane, butane, isobutane, and pentane. LTO, the largest growing segment, is short for Light Tight Oil, industry jargon for shale oil.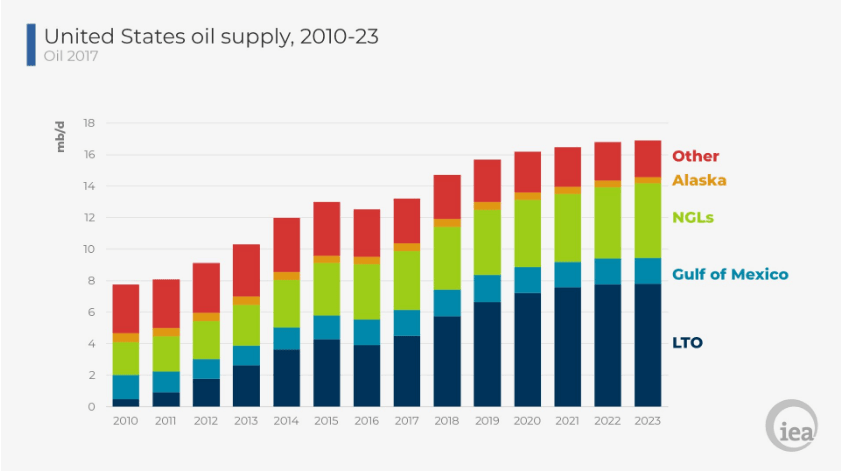 "Over the next three years, gains from the United States alone will cover 80% of the world's demand growth, with Canada, Brazil and Norway – all IEA family members – able to cover the rest," the IAE said.
The report notes that despite falling costs, additional investment will be needed to spur supply growth after 2020. That may be aided by recent tax cuts in the U.S., which dramatically lower the rates for corporations and allow for faster deductions for capital expenses.