A majority of Hispanic and black Americans support President Trump's deal on immigration that would allow a small group of illegal aliens to remain in the United States while drastically cutting legal immigration levels to give American workers a wage and quality of life boost.
In the latest Harvard-Harris poll, more than 60 percent of Hispanic Americans said they support Trump's immigration deal that would allow nearly 800,000 illegal aliens shielded from deportation by the President Obama-created Deferred Action for Childhood Arrivals (DACA), so long as it was coupled with immediate relief for American citizens.
That relief would come in the form of reducing legal immigration — whereby the U.S. imports more than one million legal immigrants every year — to somewhere between 500,000 to 750,000 legal immigrants a year.
Those immigrants, under such a plan, would be admitted to the country based on merit, skills, and English proficiency, rather than the current system of chain migration, whereby newly naturalized citizens are allowed to bring an unlimited number of foreign relatives to the U.S. no matter their skill-set.
Additionally, the legal immigration-cutting plan would entirely eliminate the Diversity Visa Lottery, a program that randomly gives out 50,000 visas every year to foreign nationals from a multitude of countries, including those with known terrorism problems – such as Afghanistan, Algeria, Egypt, Iraq, Lebanon, Libya, Nigeria, Saudi Arabia, Somalia, Trinidad and Tobago, Venezuela, Yemen, and Uzbekistan. Winners have undergone only minor screening by immigration officials, even when their ideology is hostile to American laws and culture.

Meanwhile, black Americans by a majority support Trump's effort to historically reduce legal immigration to benefit America's working and middle class.
The Harvard-Harris poll found that about 55 percent of black Americans said they would support a plan to give DACA-enrolled illegal aliens amnesty under the condition that the amnesty is attached to Trump's plan to greatly reduce legal immigration to the U.S.

White Americans are the most supportive of Trump's legal immigration-cutting plan, with about 65 percent saying they support the plan.
As Breitbart News reported, reducing legal immigration levels is vastly important to Republican voters, despite a majority of the party's politicians from the business-first wing, opposing the importation of one million new legal immigrants a year.
Poll of Republican Voters: Reducing Immigration More Important than Replacing Obamacare, Destroying ISIShttps://t.co/CD9WsH7zVw

— John Binder 👽 (@JxhnBinder) February 22, 2018
According to the Harvard-Harris poll, 16 percent of Republican voters said reducing overall immigration levels to the U.S. should be a top priority for Trump and Congress.

This makes reducing immigration a bigger priority for Republican voters than repealing and replacing Obamacare, destroying ISIS, and passing an infrastructure bill.
The only issue that outpaces reducing immigration levels as the biggest priority for Republican voters is stimulating American jobs, which can be directly tied to immigration.
America's working and middle class have suffered under decades of poor job growth, stagnant wages, and increased public costs to offset the importation of millions of low-skilled foreign nationals. Meanwhile, Trump is the first president in recent history to push Congress to reduce legal immigration to give relief to Americans.
A reduction in immigration would potentially mean higher wages for American workers, who would see less competition with cheaper foreign workers and a less saturated labor market where there are more workers than there are U.S. jobs.
Opponents of reducing immigration levels include the establishment media, the billionaire GOP mega-donors the Koch brothers, the Democratic Party, the Republican establishment, the Bush dynasty, corporate interests, and the open borders lobby.
As the Center for Immigration Studies (CIS) notes, the U.S. Census Bureau projects that "the nation's population will increase from 309.3 million in 2010 to 436.0 million in 2050 — a 126.7 million (41 percent) increase in just four decades."
If immigration to the U.S. is fully stopped, the nation's population would stabilize, still growing by about 30 million people. More Americans support zero immigration to the U.S. than they do current legal immigration levels, as Breitbart News reported.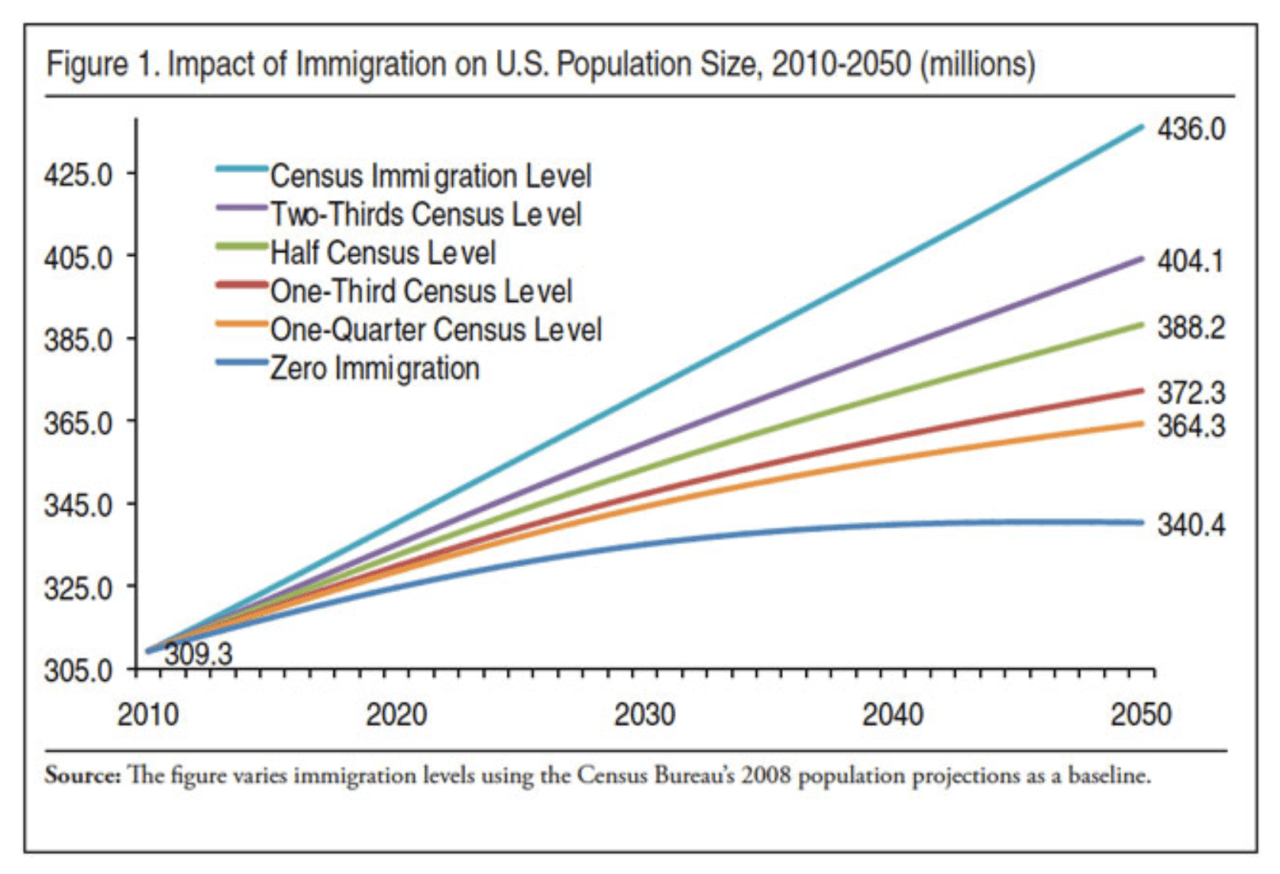 Every year, the U.S. admits more than 1.5 foreign nationals, with the vast majority deriving from chain migration. In 2016, the legal and illegal immigrant population reached a record high 44 million. By 2023, CIS estimates that the legal and illegal immigrant population of the U.S. will make up nearly 15 percent of the entire U.S. population.
John Binder is a reporter for Breitbart News. Follow him on Twitter at @JxhnBinder.