Like the Common Core State Standards, the Obama-era school leniency directive aimed at ending the "school-to-prison pipeline" for minorities is yet another failed progressive policy that has made matters worse for all students.
The 2015-16 Civil Rights Data Collection's (CRDC) School Climate and Safety report released by the U.S. Department of Education shows that nearly 1.1 million incidents of serious offenses were reported in public schools throughout the country during the 2015-2016 academic year. The figure below shows the breakdown of serious offenses: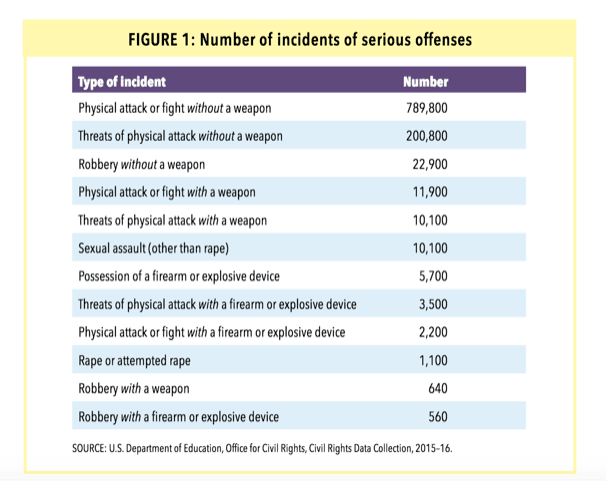 According to the data, black students represented 15 percent of students enrolled in 2015-2016, but accounted for 31 percent of students referred to law enforcement or arrested. That outcome is five percent higher than in 2013-2014.
During the 2015–2016 school year, white students represented 49 percent of students, and accounted for 36 percent of those referred to police or arrested. Two years before, white students were 50 percent of the student enrollment and 38 percent of students who were referred to law enforcement or arrested.
The data are released as an Obama-era directive that coerced schools into reducing reports of suspensions, expulsions, and arrests of minority students is being considered for rescission by the Trump administration. Under the Obama policy, schools need to show they are shrinking the gap between reports of disciplinary actions for white and minority students in order to avoid federal investigations and the withdrawal of federal funding.
Instead of conventional discipline, the Obama administration recommended "restorative justice" counseling and peer talking circles to remedy the behavior of violent and threatening minority students.
The ideology behind the school discipline policy claims that minority students are referred to law enforcement and for suspensions and expulsions more often than white children due to systemic racism on the part of school officials and teachers who discriminate against minorities.
"This should cause alarm for all of us," Catherine Lhamon, chairwoman of the Commission on Civil Rights, who served as the top civil rights official at the U.S. Education Department in the Obama administration, said about the CRDC data released, according to the Associated Press. "Students were and are treated in very different ways. The reality is that those students experience discrimination."
However, Attorney Peter Kirsanow, also a member of the U.S. Commission on Civil Rights, tells Breitbart News the School Climate and Safety Report showing "increasing disparities" in school discipline is "consistent with common-sense expectations that the lowering of disciplinary standards will produce more offenses and even greater disparities."
"You don't have to be an expert to figure this out," adds Kirsanow, who also chairs the board of directors of the Center for New Black Leadership. "But apparently, this is too complicated for those who promulgated the absurd Obama-era guidance that purports to reduce racial disparities in school discipline by lowering disciplinary standards."
Kirsanow says the data show the Obama policy is "horribly flawed."
"What stands out in the report is the appalling level of violence in schools: 789,000 physical attacks, 2,200 attacks with firearms or explosives, 10,000 sexual assaults, etc.," he notes. "The galactically misguided Obama guidance needs to be rescinded immediately before the violence increases even more."
Max Eden, a senior fellow at the Manhattan Institute and education policy expert, observes to Breitbart News the CRDC data "shows that suspensions have gone down by 100,000, and law enforcement referrals have gone up by about 5,500."
"That's a very bad tradeoff," he explains. "But when we take tools away from teachers to manage misbehavior, it makes it more likely that matters will deteriorate to the point where you need to call the cops. The fact that police involvement is rising is especially troubling, given that major districts (like New York City and Broward County) have aggressively reduced police involvement."
The CRDC data are consistent with research conducted by Paul Sperry for RealClearInvestigations (RCI) on Broward County Public Schools (BCPS), where the PROMISE and other behavior intervention programs were likely used as models for the Obama policies. BCPS has been under scrutiny since confessed shooter Nikolas Cruz, a former student with an extensive history of violence and assaults – but no arrests – was able to obtain a firearm for a shooting rampage in February that left 17 dead and 17 more wounded.
The RCI research shows BCPS, under the direction of superintendent Robert Runcie – who worked for Obama Education Department secretary Arne Duncan while both were in Chicago – embraced the Obama-era policies aimed at ending the "school-to-prison pipeline" for minority students. Within the first year of the policy's implementation, student arrests declined dramatically. Nevertheless, data indicate the school district has grown increasingly unsafe.
"Broward County now has the highest percentage of 'the most serious, violent [and] chronic' juvenile offenders in Florida, according to the county's chief juvenile probation officer," the RCI report notes. "Since 2015, at least three other pupils have brought loaded firearms into schools and threatened to go on shooting sprees."
Eden explains the problems with the "disparate impact" philosophy.
"When Broward went down this discipline reform path, the absolute numbers declined but the relative 'disparities' increased," Eden says. "That's a pretty consistent finding."
"Yet the social justice activist groups bemoan the 'disparity' without taking into account the actual numbers, much less the true causes of the disparities," he continues. "The disparity is tragically unsurprising: it reflects broader inequalities in America around poverty, family structure, and neighborhood crime. Yet these social justice activists want to blame it on alleged teacher racial bias and undercut their authority in the classroom. That makes students of color feel less safe and supported. But that's something this data can't show and, unfortunately, it serves primarily as a prop and a hammer for activists."
Obama-era federal education policy aimed at shrinking the achievement gap between white and minority students has backfired as well.
Recently released scores of fourth graders in the United States on an international measure of reading skills showed overall decline of U.S. students, with the lowest-performing students declining the most.
Results released by the National Center for Education Statistics (NCES) indicate the nation's drop from fifth in international ranking in 2011 to 13th in 2016 out of 58 international education systems.
"We seem to be declining as other education systems record larger gains on the assessment," said Peggy G. Carr, acting commissioner for the federal NCES, according to the Washington Post. "This is a trend we've seen on other international assessments in which the U.S. participates."
The results came five to seven years after most states adopted the Common Core standards – a progressive public-private partnership reform brought to life in a competitive grant program in President Barack Obama's 2009 stimulus bill. The primary intent of Common Core was to shrink the achievement gap between white middle- and upper-class students and those – mostly minorities – from the lower socio-economic levels.
Education Dive reported:
In the years since most states have adopted the Common Core standards, reading achievement has declined among America's 4th-graders, both in terms of the average score as well as in comparison to their peers in other countries, according to the results of the Progress in International Reading Literacy Study (PIRLS), the National Center for Education Statistics (NCES) announced today.
Additionally, a report on the National Assessment of Educational Progress (NAEP) in April showed the reading and mathematics scores of higher-performing eighth-graders increased, while already lower-performing students in the same grade slid further. Higher performing fourth graders showed no significant change in reading or mathematics, but weaker students declined further.
Ted Rebarber, CEO of AccountabilityWorks, told Breitbart News:
Several years after the full-scale implementation of Common Core in nearly all states in the fall of 2014, the national results are in. No overall improvement in student achievement since then at any of the grades or subjects measured, and statistically significant declines in fourth-grade math, eighth-grade math, and in both subjects for students in the bottom quarter and for African Americans, Hispanics, Students with Disabilities, and English Learners.
Jane Robbins, senior fellow at the Washington, DC-based American Principles Project, observed the tendency by some experts to avoid naming Common Core as a major culprit in the continued decline in American education performance.
"It's fascinating how many commentators ignore the elephant in the room," she recently told Breitbart News. "Education Secretary Betsy DeVos suggests school structure is the problem, others blame recession and poverty. No one admits the glaringly obvious fact that the downward spiral of academic performance coincides with the implementation of Common Core."
"How much more evidence do we need that Common Core was a terrible idea from the beginning and should be scrapped?" Robbins adds.