The U.S. Chamber of Commerce is launching a nationwide campaign against President Trump's popular tariffs on imported steel and aluminum, the free trade loyalists announced.
In an exclusive Reuters report, Chamber of Commerce President Tom Donohue revealed that the big business lobby will fight Trump's tariffs on steel and aluminum, claiming that the organization wants "free and fair trade" but does not support the economic nationalist approach to the issue.
"The administration is threatening to undermine the economic progress it worked so hard to achieve," Donohue said.
The Trump administration has been fierce in its efforts to protect American workers and U.S. industry by cracking down on imports. That agenda has come in the form of a 25 percent tariff on all imported steel and a ten percent tariff on all imported steel.
American workers thanked Trump when the steel and aluminum tariffs were implemented, as Breitbart News noted, despite major pushback from the Chamber of Commerce and the pro-mass immigration billionaire Koch brothers.
Trump: "Our factories were left to rot and to rust all over the place. Thriving communities were turned into ghost towns." https://t.co/HsndDhzXN9 pic.twitter.com/CPrxQNV9XU

— John Binder 👽 (@JxhnBinder) March 8, 2018
Much like the Chamber of Commerce — which pushed for the implementation of the job-killing Trans-Pacific Partnership (TPP) —  the Koch brothers have launched their own campaign against Trump's pro-American tariffs.
Though the business lobbying class and economic elite continue to oppose Trump's tariffs on imported steel and aluminum, Americans have remained split on the issue, but Republican voters are overwhelmingly supportive of tariffs to protect American industry.
"If you really look at it… different countries that have been kind of burdening us with these unfair tariffs over the last decade and [Trump] is trying to correct the course now…" one Harley-Davidson worker said.https://t.co/C9Fa6tZhjS

— John Binder 👽 (@JxhnBinder) June 27, 2018
In the latest Harvard/Harris Poll, 56 percent of Republican voters say they believe Trump's tariffs will result in American jobs being protected. About 40 percent of voters living in rural America said the same.
Additionally — although the free trade absolutists in the Republican Party have desperately tried to promote job-killing free trade deals — more than 55 percent of American voters say they associated tariffs with the Republican Party. Less than ten percent of voters say they identify tariffs with the Democrats, showing the massive transformation that Trump has made in reshaping the Republicans into a party of economic nationalism, rather than globalist, multinational trade.
Since 2001, free trade with China has cost millions of Americans their jobs. Between 2001 and 2015, about 3.4 million U.S. jobs were lost due to the country's trade deficit with China, as Breitbart News reported.
Of the 3.4 million U.S. jobs lost in that time period, about 2.6 million were lost in the crippled manufacturing industry, making up about three-fourths of the loss of jobs from the U.S.-Chinese trade deficit.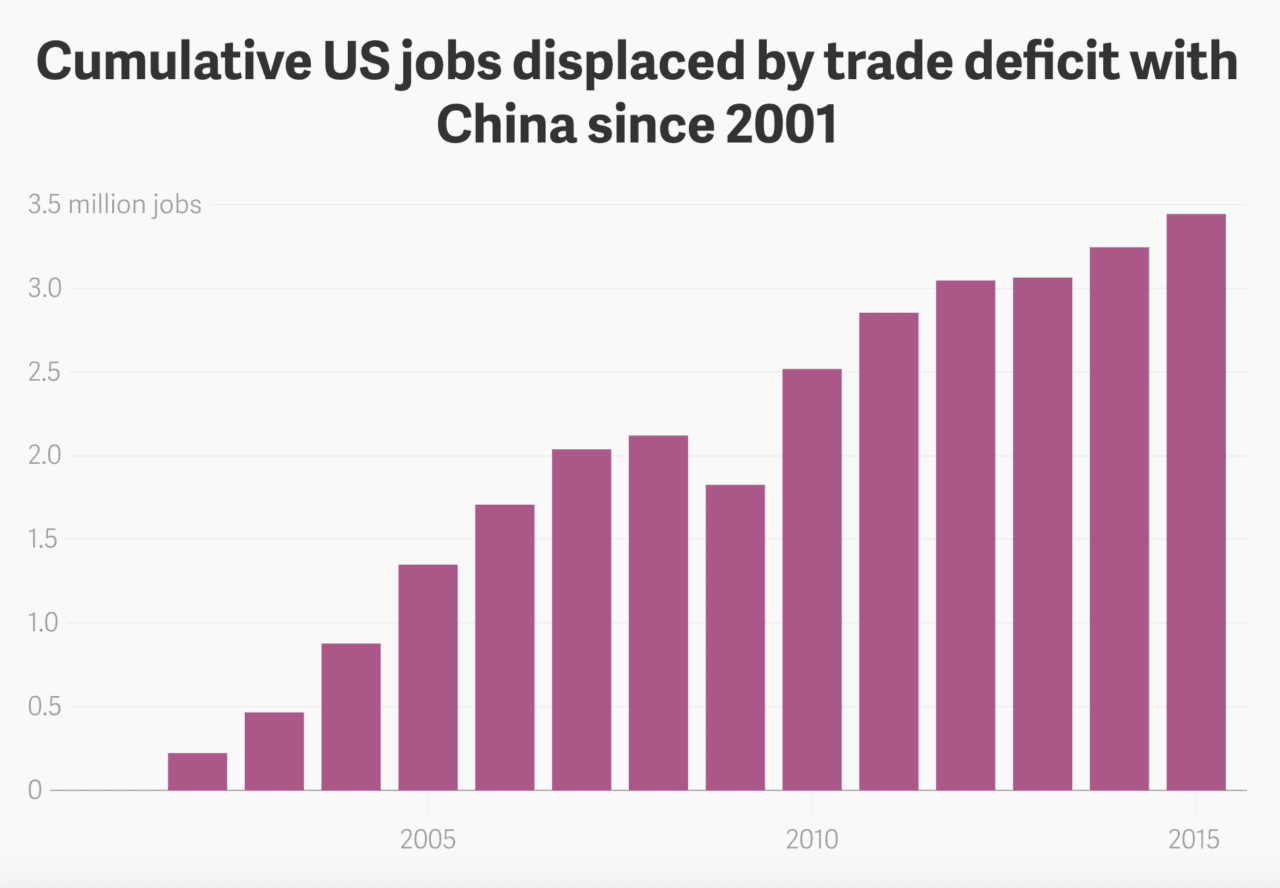 With free trade, foreign markets have been readily opened to multinational corporations, allowing them to offshore American jobs while easily exporting their products back into the U.S.
The Rust Belt has been one of the hardest regions hit because of U.S. free trade with Mexico. In total, about 700,000 U.S. workers have been displaced, including:
14,500 American workers displaced in Wisconsin
43,600 American workers displaced in Michigan
2,600 American workers displaced in West Virginia
26,300 American workers displaced in Pennsylvania
34,900 American workers displaced in Ohio
34,300 American workers displaced in New York
6,500 American workers displaced in Iowa
24,400 American workers displaced in Indiana
34,700 American workers displaced in Illinois
Meanwhile, since the North American Free Trade Agreement (NAFTA) took effect in the 1990s, at least one million net U.S. jobs have been lost because of the free trade deal. Between 2000 and 2014, there have been about five million manufacturing jobs lost across the country as trade deficits continue soaring.
One former steel town in West Virginia lost 94 percent of its steel jobs because of NAFTA, with nearly 10,000 workers in the town being displaced from the steel industry.
John Binder is a reporter for Breitbart News. Follow him on Twitter at @JxhnBinder.