Progressives and lobbyists are urging business groups to block President Donald Trump's "public charge" merit-reform of the nation's immigration laws.
The reform allocates green cards to foreigners who less likely to need taxpayers' aid because they are skilled, healthy, or young. The reform likely saves many billions of dollars that would be otherwise spent on the welfare, healthcare, and retirement costs of unskilled, unhealthy or old migrants.
That reform is a big economic gain for ordinary Americans, but also a big economic loss for business because every dollar spent on needy legal (or illegal) immigrants is also a hidden subsidy for business, including landlords, hospitals, groceries, and Wall Street.
"Some of the harms & consequences of the radical "public charge" rule proposed by DHS [are]… "reduced revenues for healthcare providers participating in Medicaid" … "reduced revenues for … grocery retailers participating in SNAP [in effect, nearly all grocery stores]," said Tweets from Shawn Fremstad, a pro-migration leader at two progressive advocacy groups.
Fremstad is a "senior associate" at the Center for Economic and Policy Research and a "senior fellow" at the Center for American Progress. He his Tweeted claim by displaying quotes from the 477-page draft regulation released Sept. 22. He argued that the reform would also ensure:
 "increases in uncompensated care in which a treatment or service is not paid for by an insurer or patient" … "reduced revenues for … agricultural producers who grow foods that are eligible for purchase using SNAP" … "reduced revenues for … landlords participating in federally funded housing programs" … "new direct & indirect costs" on "immigration lawyers, immigration advocacy groups, health care providers of all types, non-profit organizations, non-governmental organizations, and religious organizations"
The Department of Homeland Security regulation says it will impact roughly 382,000 foreign people per year who want to become legal immigrants. The regulation sketches possible savings of perhaps $10 billion per year while spotlighting losses for business:
For example, the rule might result in reduced revenues for healthcare providers participating in Medicaid, pharmacies that provide prescriptions to participants in the Medicare Part D low-income subsidy (LIS) program, companies that manufacture medical supplies or pharmaceuticals, grocery retailers participating in SNAP, agricultural producers who grow foods that are eligible for purchase using SNAP benefits, or landlords participating in federally funded housing programs.
But the taxpayers' savings likely would be far higher than a few billion dollars because the rules would reduce the immigration of poor, unhealthy and unskilled people. For example, the reform will likely bar elderly parents who need government-funded retirement homes and medical care unless they can show they have enough funding to care for themselves.
In 2015, officials approved the arrival of 132,961 elderly parents who were sponsored by legal immigrants. But if each parent cost taxpayers only $10,000 for ten years, the cost of that single year's 132,961 parents will add up to $13.3 billion over the next ten years. That is a huge taxpayer-funded transfer subsidy to the owners of the nation's medical, rental and grocery businesses.
Nationwide, the government's immigration policy has provided business and investor groups with 44.5 million legal immigrant customers, plus another 17 million children of immigrants, according to the Census Bureau.
Fremstad is a progressive who favors easy immigration. On Sept. 24, he shared the Tweeted claim that Trump's pro-American reform is "racist" because the benefit for Americans is paired to a loss for foreigners, most of whom are not the descendants of Europeans.
https://twitter.com/shaneferro/status/1044207478098071552
Fremstad's progressive appeal to business groups was retweeted out by two D.C. business groups which lobby Congress for a continued supply of cheap labor.
Todd Schulte runs the FWD.us. lobby group created by Mark Zuckerberg, Bill Gates and other billionaires who gain from the federal government's inflow of foreign workers.
For example, Schulte's investors own slices of many high-tech companies gain which save on salaries because the government floods the college-graduate labor market with a huge population of legal foreign white-collar workers. This population includes the roughly 1.5 million visa-workers in the H-1B, L-1, and OPT visa-programs, and the roughly 80,000 foreign college graduates who get green cards each year.
Very important thread—with all the things you can learn about the public charge rule and why it hurts all Americans. https://t.co/prEbn4oY7P

— Todd Schulte (@TheToddSchulte) September 23, 2018
Schulte's investors can also cut their payroll costs because taxpayers fund much of their legal-immigrant employees' health care, retirement, and monthly income. This profit earned from this taxpayer-subsidized labor force was touted by FWD.us' investors in a Sept. 14 statement: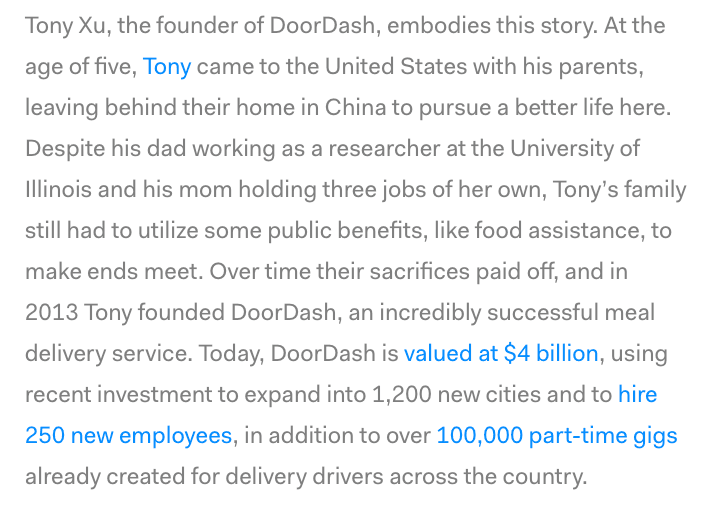 The FWD.us statement links to articles showing the FWD.us investors' gains from Xu's company, and to a USA Today article which describes how Americans' wages decline when the investors can hire additional taxpayer-subsidized legal immigrants:
In New York, Chris Whyte, 26, started delivering by bicycle five years ago. Back then, with few people in the trade, he says the demand was high. He would average $400 in a two-day weekend shift. But these days, with a flood of available delivery people, he makes about $150 a weekend and is struggling to make a living.

"And that's if I'm lucky," Whyte says. "That's if I'm hauling a–."
Ali Noorani runs a similar lobby group for companies which hire non-college workers and farm workers. His board shows his work for the dairy industry, WalMart, the SEIU union, Uber, teachers' unions and other groups that gain when the federal government provides them with a steady inflow of new legal-immigrant workers and customers. In a Tweet, Noorani endorsed mass-immigration policies which reduce wages so much that migrants are pressured to work three jobs:
The oppo to immigrants says "A Honduran with a 6th grade education level isn't morally flawed, but he works 3 jobs and still can't feed his family."

Personally, I think anyone who works 3 jobs, contributing, should be able to reach their potential. 1/ https://t.co/YwhOKTlkaT

— Ali Noorani (@anoorani) September 22, 2018
The issue is also exemplified by the health care sector, which provides needed medical services to legal immigrants — but which also greatly drives up the taxpayers' annual cost of supplying roughly 1 million new workers, consumers, and renters to business.
A statement from the President of the American Academy of Pediatrics, Dr. Colleen Kraft, denounced the new rules, saying:
The proposed regulation expands the test to consider whether a parent and, in some cases, her child has used or is likely to use government programs, including Medicaid, the Supplemental Nutrition Assistance Program (SNAP) and housing assistance.

More than 46 million children in the United States relied on Medicaid and the Children's Health Insurance Program (CHIP) in 2017 … "Pediatricians will oppose any proposal that puts children's health at risk, and we will continue to speak out to ensure that all children, no matter where they or their parents were born, can be healthy and safe," said Dr. Kraft.
But immigration also delivers many young customers into the AAP's commercial sector, as the AAP statement notes:
The American Academy of Pediatrics is an organization of 67,000 primary care pediatricians, pediatric medical subspecialists and pediatric surgical specialists dedicated to the health, safety and well-being of infants, children, adolescents and young adults. 
Four million young Americans will join the workforce this year, but the federal government will also import 1.1 million legal immigrants, and allow an army of at least 2 million white-collar and blue-collar visa-workers to work U.S. jobs, alongside additional asylum-claiming migrants and at least 8 million illegal migrants.
Overall, the Washington-imposed economic policy of economic growth via immigration shifts wealth from young people towards older people by flooding the market with cheap white-collar and blue-collar foreign labor.
That flood of outside labor spikes profits and Wall Street values by cutting salaries for manual and skilled labor offered by blue-collar and white-collar employees. The policy also drives up real estate prices, widens wealth-gaps, reduces high-tech investment, increases state and local tax burdens, hurts kids' schools and college education, pushes Americans away from high-tech careers, and sidelines at least 5 million marginalized Americans and their families, including many who are now struggling with opioid addictions. Immigration also pulls investment and wealth away from heartland states because investment flows towards the large immigrant populations living in the coastal states.