Russia wanted to vanquish the stereotype that women athletes are manly by having their female athletes pose in racy lingerie. But is anyone shocked? After all, President Vladimir Putin is obsessed with his physical image and often photographs himself shirtless.
However, there are a few outlets that find the stunt demeaning. Matt Essert at PolicyMic said the photographs now make the women objects and wants to know if there is "no middle ground."  He claimed it was to bring in males and make them cheer for the Russian team and asserts that it would have been better had they been photographed in their uniforms. Despite the outrage, Essert posted the racy images in the article. 
Here are a few of the women in their uniforms that prove the Russians did not have to pose in their underwear to prove they are feminine.
Here is Anna Sidorova while curling. Hardly any makeup, but it does not take much to know the woman is beautiful. (Photo Credit: AFP)
Ekaterina Galkina shows her true beauty while curling. (Photo Credit: AP)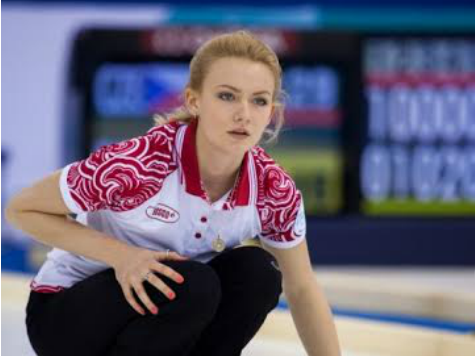 Alexandra Saitova is another beautiful curling athlete from Russia. (Photo Credit: AP)
Ekaterina Bobrova is a figure skater. Why strip her down? There are plenty of images of her skating that show she is not muscular and manly. (Photo Credit: AP)
Anna Prugova is on the Russian hockey team, but even in her uniform one can tell she is not manly. (Photo Credit: AP)
Svetlana Kolmykova is a hockey player, but a quick Google search leads one to her VK (the Russian Facebook) page and her profile picture shows how beautiful she is without posing in lingerie.
Tatiana Borodulina looks gorgeous even when she is skating. (Photo Credit: AP)
Maria Komissarova looks fierce and feminine in this picture. (Photo Credit: AP)