BOSTON—"Tell Jose I want that belt spit-shined when he comes to Ireland," featherweight Conor McGregor shouted at his open workout on Thursday.
But McGregor fights in Boston, not Ireland, and against Dennis Siver, not UFC featherweight champion Jose Aldo, this Sunday night on Fox Sports 1. Whether McGregor's talent or arrogance sparks him to talk about a future adversary when a formidable one awaits him, he undeniably strikes a nerve in an opponent feeling disrespected.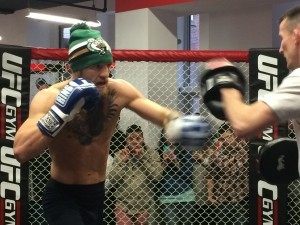 McGregor asks Breitbart Sports, "How can you disrespect a man that has been popped for a substance that hides the substance? It's a different level of cheating. He cannot claim disrespect when he's done what he has done. I do not not care what he thinks. I do not care what anyone thinks."
What Siver thinks is that McGregor talks at a championship level but doesn't fight on one. He tells Breitbart Sports, "Connor insulted me a lot in the lead up to the fight." He later maintained on Thursday that his opponent said "quite a few things that went over the line" but refused to cite specifics. Whereas McGregor eloquently uses his tongue as much as his fists to break into the headlines, the soft-spoken Siver says very few of the few words he speaks in English. Through a translator, Siver concedes: "He talks a lot more than anybody I've faced."
The Russian-born German takes it personally. He shouldn't. That's the game of the Irish Muhammad Ali. McGregor dismissed Dustin Poirier as "a quiet little hillbilly" before dispensing him in the first round at UFC 178. He called muscle-bound wrestler Cub Swanson a "midget" and responded to his challenge by bluntly informing: "I can rest my b—s on your head." The charismatic cage-fighter demanded that Cole Miler thank him for allowing him to step in the same octagon with him. He called the 30-years-young Miller a "balding," 42-year-old "jobber" before Miller dropped out of the fight. The brash brawler proceeded to back up his trash-talking by making 26-year-old replacement Diego Brandao look like a 42-year-old jobber with a full head of hair.
McGregor clearly regards Siver as his latest stepping stone. He tells Breitbart Sports, "The goal at the end of the day is world titles"—a conscious use of the plural that suggests that winning the featherweight belt from Aldo similarly serves as a stepping stone to capturing hardware in the lightweight division.
The UFC and its fans clearly have jumped on the bandwagon. The meteoric rise of a fighter, who just two years ago relied on the dole for much of his living and now headlines a card that has already set the MMA attendance record at the TD Garden, leaves many gazing in astonishment at the sport's latest star. The promotional posters focus on McGregor with Siver in the background peering over his shoulder. Thursday's open workouts at the UFC gym in Boston attracted fans seven hours before McGregor's arrival. Significantly, UFC President Dana White, who no-showed the workouts of Donald Cerrone, Benson Henderson, and Dennis Siver, entered the gym shortly after McGregor did and remained for the entirety of his elongated 45-minute workout.
Dennis Siver doesn't believe the hype. He sheepishly responds to his opponent's boasts: "He's not the savior of MMA."