"No doubt he came to represent the realization of life's large promises," Fredrick Exley writes of Frank Gifford in A Fan's Notes.
Gifford, who died this weekend at 84, lived as a man too blessed. A Pro Bowler at running back, wide receiver, and defensive back who threw fourteen touchdown passes for good measure, offseason actor, product pitchman for Vitalis, Lucky Strikes, and Palmolive, staple of the Monday Night Football booth for more than a quarter century, and husband of Kathie Lee, Frank Gifford so obviously would make an excellent fictional character that he naturally became one.
Frederick Exley's A Fan's Notes reads about the meaning of alcoholism, and the weight of a late but accomplished father hanging about a son's neck, and the catharsis a vicarious existence lived in the bleachers provides. But, superficially at least, the greatest football book ever written was about an obsession with Frank Gifford.
"I cheered for him with such inordinate enthusiasm," Frederick Exley writes, "my yearning became so involved with his desire to escape life's bleak anonymity, that after a time he became my alter ego, that part of me which had its being in the competitive world of men; I came, as incredible as it seems to me now, to believe that I was, in some magical way, an actual instrument of his success. Each time that I heard the roar of the crowd, it roared in my ears as much for me as him; that roar was not only a promise of my fame, it was its unequivocal assurance."
The aahs and oohs that followed Frank Gifford corresponded with the rise of the league in which he competed. Frank Gifford played in two of the NFL's most famous games. That they both took place in the House That Ruth Built hints at the league's once-secondary status and the transformative star power of Frank Gifford that pushed the NFL to the forefront.
In 1958, Gifford's New York Football Giants fell in overtime to the Baltimore Colts in a game so magnificent that it left NFL Commissioner Bert Bell in tears after the proceedings. If that contest captured the rise of the NFL in one game, Frank Gifford's brutal fall in Yankee Stadium two years later served as Exhibit A in why football's ensuing domination never became total, always leaving the squeamish to pursue some other avocation on fall Sundays.
The narrator's moods in A Fan's Notes rise with Frank Gifford's fortunes and his life crashes when Gifford crashed into Chuck Bednarik and Don Borroughs in a November 20, 1960 loss to the Philadelphia Eagles.
I watched Bednarik all the way, thinking that at any second Gifford would turn back and see him, whispering, "Watch it, Frank. Watch it, Frank." Then, quite suddenly, I knew it was going to happen; and accepting, with the fatalistic horror of a man anchored by fear to a curb and watching a tractor trailer bear down on a blind man, I stood breathlessly and waited. Gifford never saw him, and Bednarik did his job well. Dropping his shoulder ever so slightly, so that it would meet Gifford in the region of the neck and chest, he ran into him without breaking his furious stride, thwaaahhhp, taking Gifford's legs out from under him, sending the ball careening wildly into the air, and bringing him to the soft green turf with a sickening thud. In a way it was beautiful to behold. For what seemed an eternity both Gifford and the ball had seemed to float, weightless, above the field, as if they were performing for the crowd on the trampoline. About five minutes later, after unsuccessfully trying to revive him, they lifted him onto a stretcher, looking, from where we sat high up in the mezzanine, like a small, broken, blue-and-silver mannikin, and carried him out of the stadium.
A policeman's fatal coronary in Yankee Stadium fostered a rumor amid the overflow crowd that Chuck Bednarik had walloped Frank Gifford to death that Sunday. When his doctor advised him to sit for several weeks, Gifford called him a "crepe hanger." But the concussion actually sidelined him several years. Gifford missed the rest of the 1960 season and skipped the following season, too, before reincarnating as a flanker in 1962.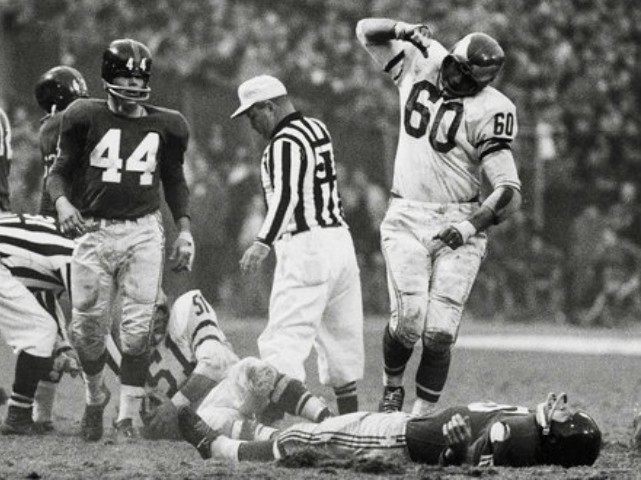 Frederick Exley notes how, mirroring his hero, he received a terrible beating in a drunken fight that evening. But Frank Gifford's high-flying days as a golden boy, not his lifelessness grounded in the dirt, closely paralleled the NFL's future history. That 1960 loss to the Philadelphia Eagles corresponded with the league announcing the addition of the Minnesota Vikings and the expansion into a 14-game season. The madhouse in the Bronx fueled desires for a new Big Apple stadium—dubbed "ill advised" by one city councilman because it would seat less than 90,000 people—in Flushing ultimately built and demolished in Frank Gifford's lifetime. "More than 20,000 fans were turned away from the Stadium after the last of 11,000 bleacher seats had been sold been sold in the morning," the New York Times reported of the day Chuck Bednark knocked the football from Frank Gifford's hands and the marbles from his brain. "Many of the lucky early birds arrived at the Bronx field at 6:30 a.m. –more than seven hours before the kickoff. The line eventually snaked completely around the Stadium and halfway around again."
When America watched Frank Gifford, America watched as the prolate spheroid eclipsed the baseball, growing to such gaudy proportions as to make one Sunday a month or so after New Year's Day an unofficial national holiday more universally celebrated than most of the official ones.
Frank Gifford was present at the creation. And Frederick Exley was there, too—on a bar stool or in a bleacher seat—watching as his hero partook in the rough trade of doing.
Sports stars, as A Fan's Notes illustrates, make us feel alive even when we aren't quite. They make us feel too mortal when they die.