Conor McGregor says he's back on UFC 200 after his refusal to commit to media events forced him off the card last week. Dana White says no he's not.
UFC.com remained mum on an announcement of any kind. But after a lackluster performance by Jon Jones this weekend in a decision victory over Ovince St. Preux, the notion of a Jones-Daniel Cormier rematch to top the marquee on the promotion's signature 2016 card looked less appealing. So, when King Conor said his name again rules the pay-per view, why would anyone doubt him?
Happy to announce that I am BACK on UFC 200!
Shout out to @danawhite and @lorenzofertitta on getting this one done for the fans. #Respect

— Conor McGregor (@TheNotoriousMMA) April 25, 2016
But UFC President Dana White insists he doesn't know why McGregor posted this statement.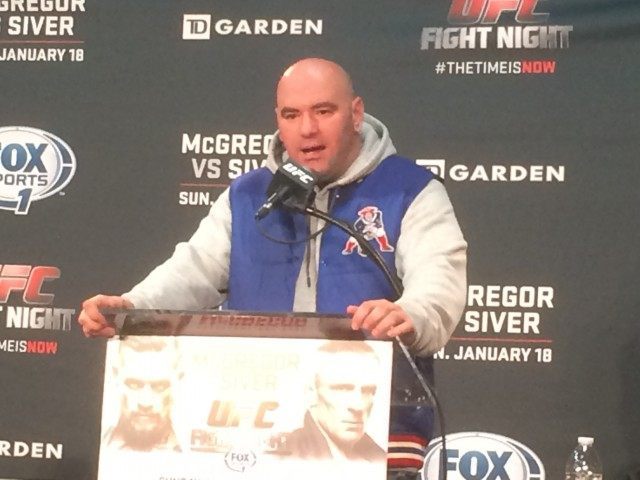 "All the media keeps asking me that," he told TMZ. "I feel like the scene in Step Brothers when they ask if they can build the bunk beds. I don't know how many more times I can say the fight is off or how many more press conferences I can have saying the fight is off for people to believe it's off."
The restoration of McGregor to the card would enable him to avenge his second-round submission loss to Nate Diaz from last month. McGregor, the 145-pound champion, again strangely seeks to fight at 170 pounds against Diaz. But, like White, Diaz says the fight is off.
Happy to announce that I'm going on vacation #gone #100 ✌️

— Nathan Diaz (@NateDiaz209) April 26, 2016
"There had been 10 million dollars allocated for the promotion of this event is what they told me," McGregor said in response to the UFC originally pulling him from the fight. "So as a gesture of good will, I went and not only saved that 10 million dollars in promotion money, I then went and tripled it for them. And all with one tweet."
The featherweight champion's "thanks for the cheese" retirement tweet shattered the record number of re-tweets Kobe Bryant's "Dear Basketball" retirement tweet received last year.
The Irishman had rationalized bucking press conferences in the United States for training in Iceland by saying, "There comes a time when you need to stop handing out flyers and get back to the damn shop."