Curt Schilling's politics got him fired from ESPN. Abby Wambach's politics didn't prevent her from getting hired.
And neither did her recent DUI arrest, which resulted in a guilty plea less than a month ago and admissions of past marijuana and cocaine use.
ESPN hired Wambach to analyze soccer at the Olympics, and venture into more contentious matters with "Outside the Lines" and on a planned podcast called "Fearless Conversation with Abby Wambach," a program the AP describes as one in "which she promises won't shy away from controversy."
Wambach owns two Olympic gold medals and a World Cup victory. Her 184 goals in international play give her the all-time record. She retired from soccer in December but did not retire from issuing provocative opinions.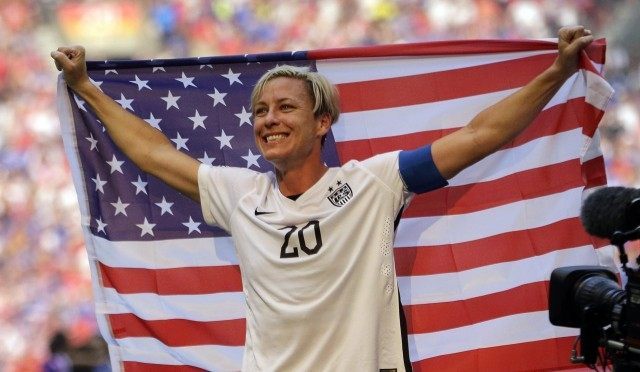 "The way that he has brought in a bunch of these foreign guys is not something I believe in wholeheartedly," Wambach said in calling for the firing of U.S. men's team coach Jurgen Klinsmann. "I don't believe in it. I don't believe in it in my heart."
The remarks advocating an American team of American-born players, publicized on the day of her retirement, led to charges of xenophobia and bigotry. Wambach holds that she won't hold back her passions when analyzing and reporting at ESPN, something that would seem to make her an ideal talking head but a quality that nevertheless resulted in Curt Schilling's termination as a baseball analyst at the network.
"Talking and reporting on things that I'm passionate about really, really was the selling point to me," Wambach explained to the Associated Press. "Because I don't want the rest of my life to be based on the fact that I played soccer. I want to be able to venture and learn about different things."
What Wambach is "passionate" about includes Hillary Clinton, whom she campaigned for prior to the New Hampshire presidential primary, and Athlete Ally, an organization for which she serves as an "ambassador" that calls on competitors to "stand against homophobia and transphobia in sports."
At the ESPY awards last summer, Wambach presented the Arthur Ashe Courage Award to Caitlyn Jenner, whom she called "courageous" and "stunning." When Schilling expressed himself on transgender issues last month, ESPN fired him. The network that gave Jenner several minutes of airtime to advocate for normalizing transgenderism insists that it strictly forbids mixing politics and sports.