British millionaire and model Lily Cole has spent the last three years and £200,000 of taxpayers' money on a failed charitable social network featuring a store that sells £230 vegan handbags, leading the Left to hail her as a hero who is "changing the world".
Impossible, a "charitable" social network which allows users to "wish" for things, received £200,000 in grants from the state in 2012 while Cole was worth £7m, and has since received tremendous support from the liberal elite, including ex-Beatle Paul McCartney, Huffington Post co-founder Arianna Huffington, and Wikipedia co-founder Jimmy Wales.
Of course, it failed spectacularly. Three years later and the extent of what the site has to show for is a Huffington Post interview, 5,000 Twitter followers, and a moribund user-base who sign in occasionally to use the network as a sort of Facebook for virtue-signalling. (Shudder.)
"I wish homophobia didn't exist" and "I Wish #war in #Ukraine was stopped" are just two examples of what people actually use Impossible to wish for — somewhat removed from the examples suggested by Cole in her recent HuffPost interview, which included wishing for "assistance with moving house" and "emotional support."

Slave labour also seems to be encouraged. Well, sort of. While signing up to the service, all new users are confronted by the following screen: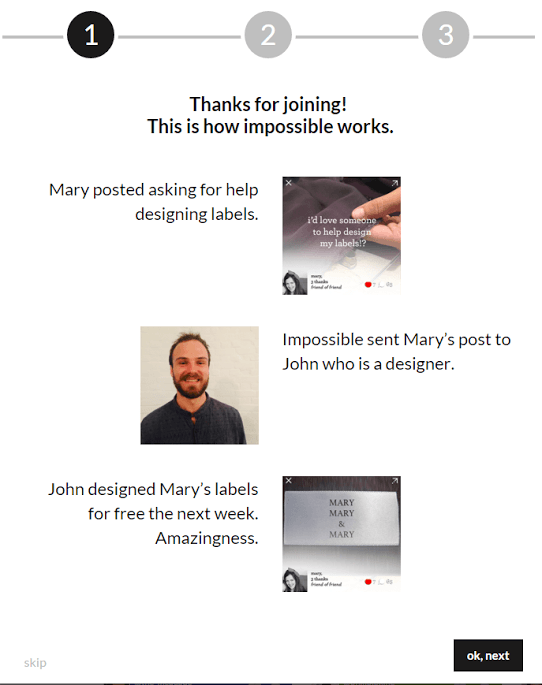 For a service that was originally thought up "while on a trip to a refugee camp on the Thai-Burmese border in 2010", it's ironic that the user-base appears comprised of middle-class westerners begging for free labour.
Perhaps unsurprisingly, Cole's cooing sycophants on Twitter didn't seem overly concerned about their tax money being spent on a digital socialist dystopia.
Great community get involved. @lilycole is trying to change the world with her @impossible website https://t.co/qxU38AScUT via @HuffPostUK

— Ryan Waugh (@ryanwaugh) January 4, 2016
This, is quite a fabulous idea. Go generosity and kindness!! https://t.co/HWZRhpuqf7

— Kyle MacDonald (@kylemacd) January 3, 2016
A fantastic endeavour by Lily Cole and team @impossible @SALT_now https://t.co/2qdtigfMKX

— Emma Cutting (@EmmaCutting) August 7, 2015
Luckily a few Twitter users, most notably Business Insider editor James Cook, have been criticising the platform online.
@katybeale Biting the hand that feeds her? Tory govt gave millionaire Lily Cole £200k of our money to fund her 'Impossible' social network

— @tarasyoung (@tarasyoung) September 16, 2015
Impossible is the worst startup I've ever seen. Funded by taxpayer money, a total ghost town, and it's completely useless.

— James Cook (@JamesLiamCook) January 4, 2016
Just checked – the Impossible app ranked as one of the top 1500 social networking apps in October (that means nobody is using it)

— James Cook (@JamesLiamCook) January 4, 2016
One user even compared the platform to disgraced charity Kids Company, which went into liquidation in 2015, taking millions of pounds of government grants with it.
@JamesLiamCook @brokenbottleboy They really should rebrand to "Kids Company"

— James Clark (@Ronin_Jim) January 4, 2016
Cook also took to Twitter to highlight the bizarre and wildly expensive items that Cole has been selling on the website's store, a new addition to the platform.
Lily Cole has big plans. She wants people to pay to use Impossible. com emails https://t.co/nqmgCXDDSq pic.twitter.com/yjrTJx7GEa

— James Cook (@JamesLiamCook) January 4, 2016
Impossible is now selling £230 vegan handbags instead of bread stools https://t.co/dlDpwtVO2N pic.twitter.com/fpusfVpNMS

— James Cook (@JamesLiamCook) January 4, 2016
Taxpayers gave this supermodel £200,000 for her startup — now she's using it to sell stools made from bread https://t.co/p9nNzuBhru

— James Cook (@JamesLiamCook) January 4, 2016
Impossible is a prime example of why governments should not invest in startups. Especially startups headed by famous millionaires. There are next to no success stories about largely government-funded startups who have gone on to benefit society.
This example should serve as a giant flashing warning sign — with its façade of charitable giving and narrative of "changing the world," it is unlikely that anyone will learn their lesson.
Charlie Nash is a libertarian writer, memeologist, and child prodigy. When he is not writing, he can usually be found chilling at the Korova Milk Bar, mingling with the infamous. You can follow him on Twitter at @MrNashington.