News of James Comey's firing dominated social media this evening, as commentators and members of the public gave their thoughts on President Trump's removal of the FBI director.
"James Comey" was the number one trending topic on both Twitter and Facebook as of 19:30 EST.

Twitter was also dominated by the topic, with "Comey," "FBI Director" and "TrumpRussiaInvestigation" trending as the top three topics in the United States.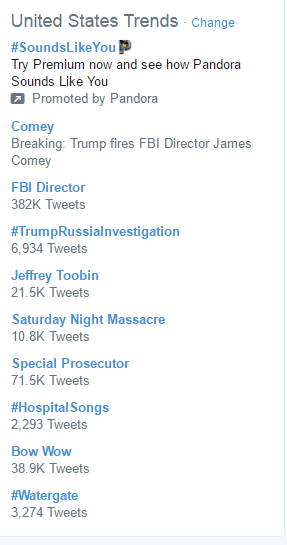 Democrats were quick to tie the firing to their conspiracy theory about the President having improper ties to Russia. Failed Democratic presidential candidate Hillary Clinton previously blamed James Comey and his decision to reopen the "emailgate" investigation late in the campaign for her defeat by Donald Trump. Now the Democrats seem to be Comey's best friend.
If we don't get a special prosecutor, every American will rightfully suspect that the decision to fire #Comey was part of a cover-up.

— Chuck Schumer (@SenSchumer) May 9, 2017
Comey should be immediately called to testify in an open hearing about the status of Russia/Trump investigation at the time he was fired.

— Ron Wyden (@RonWyden) May 9, 2017
Firing of #Comey compromises investigation of White House ties to Russians – no doubt now special prosecutor is necessary.

— Richard Blumenthal (@SenBlumenthal) May 9, 2017
Trump fires FBI Dir Comey. Maybe he was getting too close to the Russia connection?

— Gerry Connolly (@GerryConnolly) May 9, 2017
Trump firing Comey shows how frightened the Admin is over Russia investigation

— Tim Kaine (@timkaine) May 9, 2017
MSNBC presenter Chris Hayes took a similar approach.
Hearing from a number of quite non-partisan long-time law and order, prosecutor/FBI types who are *freaked the eff out* by this firing.

— Chris Hayes (@chrislhayes) May 9, 2017
The WH has made the calculation that however bad this looks, it's better than letting Comey continue to supervise the investigation.

— Chris Hayes (@chrislhayes) May 9, 2017
Morning Joe host and former Republican congressman Joe Scarborough called the move an "abuse of power," and called President Trump a "lifelong Democrat."
Senate Republicans, you will be judged forever by how you check this abuse of power by a lifelong Democrat who took over your party. https://t.co/pD00zSuXzv

— Joe Scarborough (@JoeNBC) May 9, 2017
NSA whistleblower Edward Snowden called on "every American" to condemn the "political interference" in the FBI's work.
Set aside politics: every American should condemn such political interference in the Bureau's work. https://t.co/hROwSMg1vd

— Edward Snowden (@Snowden) May 9, 2017
This FBI Director has sought for years to jail me on account of my political activities. If I can oppose his firing, so can you. https://t.co/zUp5kquy8q

— Edward Snowden (@Snowden) May 9, 2017
Others, like conservative author Dinesh D'Souza, were more positive about the President's decision.
WHY I'M SMILING TODAY: This capo James Comey allocated $100,000 to investigate my $20 K case–all to please his mob bosses Holder & Obama pic.twitter.com/XHdnvspNYz

— Dinesh D'Souza (@DineshDSouza) May 9, 2017
I hear crime syndicates worldwide are all awaiting the opening of the law firm COMEY, LYNCH, HOLDER & BHARARA

— Dinesh D'Souza (@DineshDSouza) May 9, 2017
Wikileaks founder and editor-in-chief Julian Assange, who Comey recently condemned as peddling "intelligence porn," predicted the battle between Comey supporters and opponents would lead to more leaks.
Comey's firing will be an extraordinary boon for transparency as his loyalists leak and the admin counter-leaks. Will he run for 2020?

— Assange Defence (@AssangeDefence) May 9, 2017
Others, including Breitbart editor-in-chief Alex Marlow, highlighted the irony of Democrats complaining about Comey's removal when they themselves had the FBI director in their sights following Hillary Clinton's loss to Donald Trump, which some (including Hillary) attributed to Comey's decision to reopen the "emailgate" investigation in October.
https://twitter.com/AlexMarlow/status/862086758695002116
https://twitter.com/mrwalsh8/status/862086761954111488
https://twitter.com/MarkDice/status/862085083125104641
You can follow Allum Bokhari on Twitter and add him on Facebook. Email tips and suggestions to abokhari@breitbart.com.