Parents at one North Texas middle school are outraged over an online book called Killing Children that graphically describes murderous rampages. The "kill list" of characters are the schoolmates of the eighth grade male author. Many of the parents see him as a threat to the safety and well-being of their children and, in response, at least 50 of them protested peacefully outside of Tidwell Middle School in Justin, on Monday morning, March 23.
Angela Abella was among the  concerned parents at the protest. She told Breitbart Texas that none of the parents were there to target the boy. "We want help for him. We don't feel that the school is taking things quite as seriously as they could."
Many brought homemade signs on  colored poster board that read "Are you going to let his story become reality?" and "Stop taking chances with our childrens' lives."
Last Friday, Tidwell Middle School principal Kim Barker notified parents of the situation by email. The message stated that campus administration had been notified of the blogged novel "allegedly using disturbing language and mentioning other students by name" and that "a full investigation was initiated." She stated that the "safety and security of students and staff in Northwest ISD and Tidwell Middle School is a top priority. It is not uncommon for school districts to receive alleged threats by students."
The letter also stated "in the event an incident does not occur on school property or using school district equipment, as in this case, the district cooperates with local law enforcement."
Breitbart Texas spoke with Northwest Independent School District (ISD) Communications Director Emily Conklin. She called this a "difficult situation" because school officials first learned of the matter in February, 2015 when, the boy was re-enrolled at Tidwell. He was a student there from August-September 2014. The book was written during the time he was not a student in Northwest ISD.
Conklin added that the matter was in the hands of the Tarrant County District Attorney's office and they were working to determine if "this is a police matter, a criminal matter, or a protected speech matter."
She also pointed out that the district has to determine if the situation is a disturbance to the educational learning environment or not. When this was brought their attention, it was not. What has caused the disturbance, Conklin agreed, is a lot of upset parents.
Abella is one of the parents who is frustrated with a seemingly selective zero tolerance policy. Her own son has been sent by the same school to In-School-Suspension (ISS) repeatedly for far less reasons than writing a book with a "kill list."
She told Breitbart Texas, "My son has been in ISS so many times for being late to class or being in the hall after the bell rings or listening to his music during class when he's not supposed to. It's been ridiculous."
The principal's letter also noted that school officials hands may be tied on further action against the boy or in keeping him removed from Tidwell because the book was not written using school property or on school property.
The online book became a volatile issue because it graphically described the stabbings and sexual assaults of other students by name, including entries that described cutting off hair, stabbing tongues, using scissors to puncture jaws, and stabbing a boy so that "his insides spill out."
Parents were also alarmed because of fiction entries that read "wondering if/when this story ends, it will end with a BANG, I promise. And to those that wanna write a hate message, how about you just re-read the first 9 chapters, and imagine my victims as yourself? Okay?"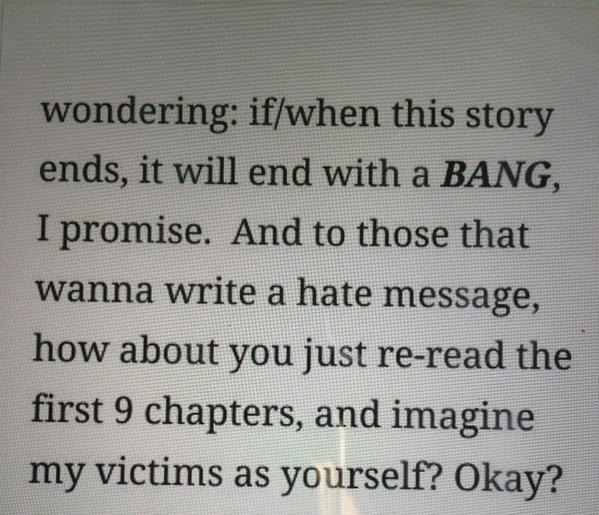 The principal's letter also said that the parents of the student "author" were notified and that the campus was continuing to monitor the situation.
On Sunday, the district released a statement reiterating that "the safety and security of students and staff in Northwest ISD and Tidwell Middle School is a top priority. The concerned parents are asking the district to do something that we legally cannot do.  This is a police matter and is currently under investigation by law enforcement. To our knowledge, an arrest has not been made. Should any NISD student be arrested, the district would consider options available in the Student Handbook and Code of Conduct."
The statement also included comments from the boy's father which said that the recent Tidwell Middle School situation involving his son had caused a lot of confusion. He stated his child was evaluated for two weeks and then released. He additionally indicates his son was encouraged to write, writes frequently and has no intentions of harming anyone."
FOX-4 reported that the dad called this a "big misunderstanding" and that the book was only a story and not a threat, which was why he son was allowed back in school.
Parent Dani Lillywhite has a seventh grade child at Tidwell, who, for now, she is keeping home. She told Breitbart Texas, "It's crazy when kids with pop tart guns are getting expelled and we have this happen and it's a freedom of speech issue supposedly."
According to Lillywhite, a similar incident occurred at Tidwell last year. She said that "kill list" was written on paper and found in a classroom. Her son was one of four children named on the hit list.
She was not sure if in keeping her 13-year-0ld home the absences were being considered excused or unexcused. Breitbart Texas asked Northwest ISD spokesman Jerry Cantu. He said "no determination" on Killing Children related absences was being made at this time, although Tidwell parents who posted on Facebook reported they were told they were unexcused absences.
Breitbart Texas has reported on unexcused absences as part of the practice of truancy. Texas is only one of two states that imposes criminal penalties when a student receives three unexcused absences in a four-week period or 10 in a six-month period. It can result in fines, penalties and a criminal record.
On the eve of the protest, a half dozen parents and their children gathered outside of Tidwell to pray for the safety and security of the children and staff of the school, said Northwest ISD taxpayer Andrew Bennett, who was one of the participants.
"We felt like we needed to lay hands on the school and pray for its protection," said Bennett.
Follow Merrill Hope on Twitter @OutOfTheBoxMom.