An American woman is believed to have been the leader of a robbery crew that had been preying on people who were traveling into Mexico as they drove through the border city of Nuevo Laredo.
Tamaulipas state police officers recently arrested 31-year-old Brandy Hutler along with 33-year-old Francisco Javier Resendez Cubos and 40 year-old Julio Cesar Trevino Rodeo, information provided to Breitbart Texas by the Tamaulipas government revealed. Mexican authorities identified Hutler as a U.S. citizen but did not specify where she is originally from.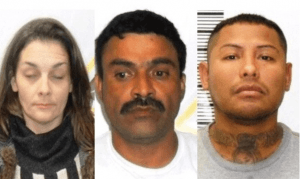 The targets of the robbery crew are called "Paisanos" which is a term used in Mexico to describe Mexicans legally living in the U.S. who travel into Mexico during the holiday season. A program called Paisano was originally designed to help the travelers deal with Mexico's immigration laws and to avoid the abuse of corrupt officials. The "Paisanos" have a long history of being targets for corrupt officials and criminals since they travel into Mexico in newer vehicles, carrying cash and bearing gifts for their loved ones.
Authorities received an anonymous tip that a group of persons riding in a Nissan Murano had been robbing travelers as well as local residents from Nuevo Laredo. Authorities were able to track down the vehicle and arrested Hutler and her two henchmen.
While searching the vehicle, authorities found three cell phones, a push to talk radio, a black face-mask and a knife. Authorities are working to find out how many robberies the group carried out.
As previously reported by Breitbart Texas Nuevo Laredo has been a city under the control of Los Zetas drug cartel. In their method of operations Los Zetas use a network of lookouts and enforcers to control major crimes in the city as to prevent a rival cartels from moving in on their territory. It remains unclear if Hutler's crew had been given a blessing by Los Zetas to operate in Nuevo Laredo or how she managed to carry out the robberies without sparking the wrath of the drug cartel. The information provided by Tamaulipas officials make no mention of firearms being used in the robberies. Breitbart Texas could not find a criminal history for Hutler in Texas.